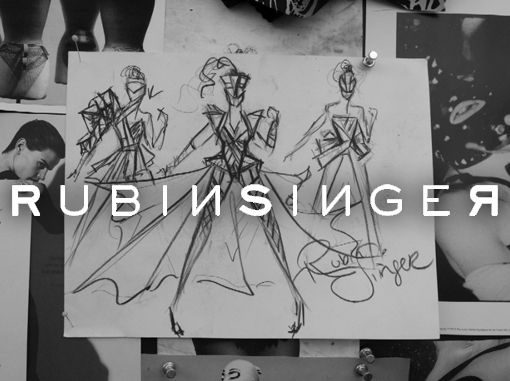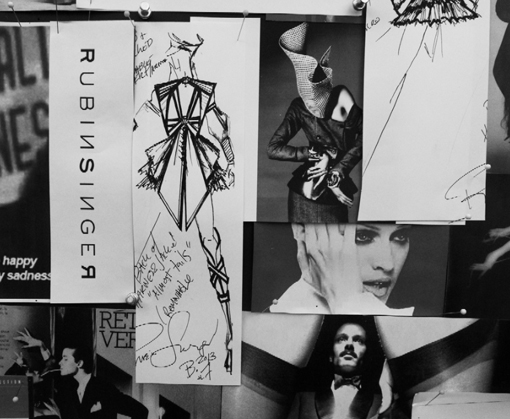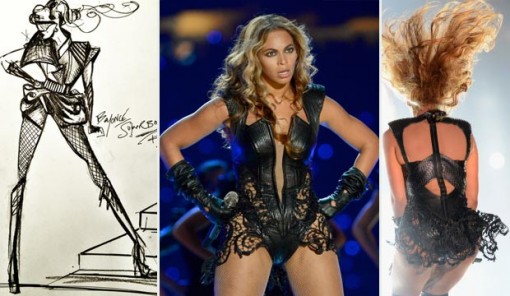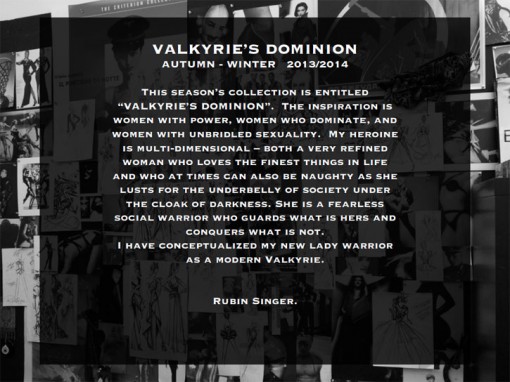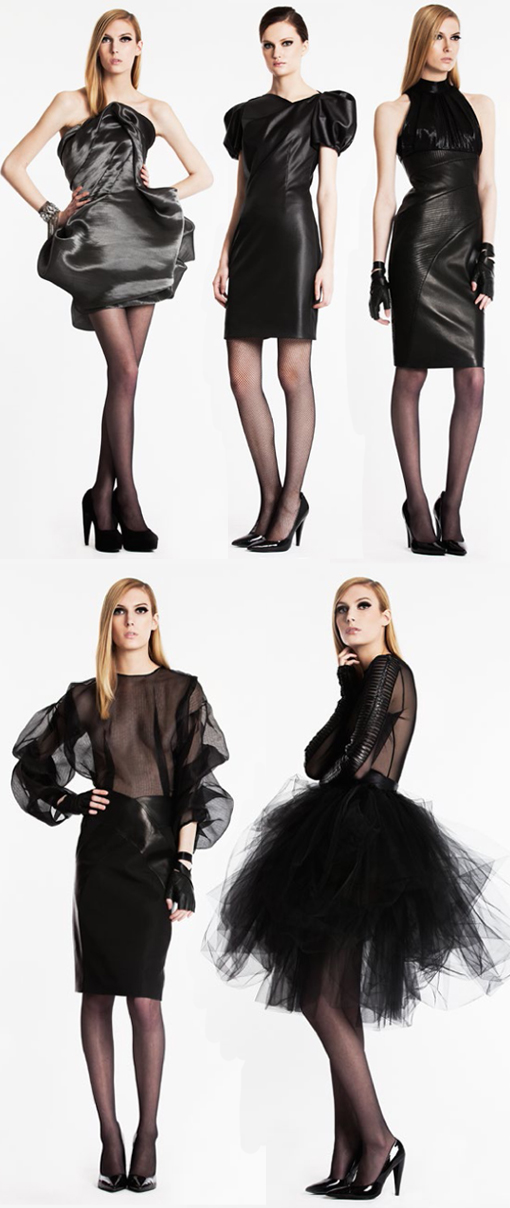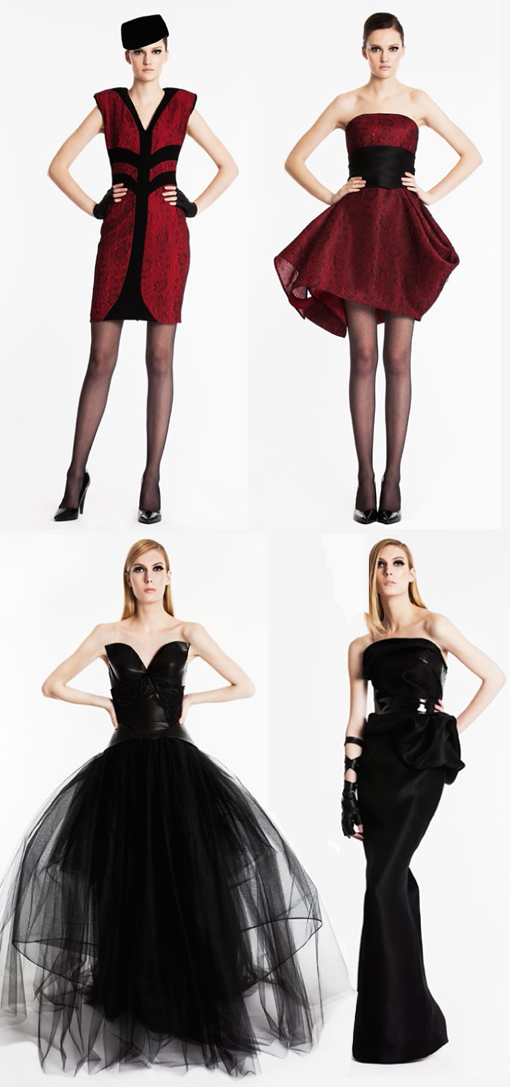 Did you ever wonder what designer produced Beyoncé's spectacular Super Bowl costumes last winter? I know I did. Let me connect the dots. Life is full of coincidences. I have a treasured neon yellow cashmere coat with bejeweled buttons from designer Rubin Singer. Love it. Love it. Love it. It's a true showstopper.
This year that coat traveled with me to to New York, Hong Kong and London as well as made the rounds in LA. Of course, I always wanted to meet Rubin. A few weeks ago as I am racing through Neiman Marcus on a quick fashion mission, I literally almost mowed Singer down. He was presenting his much talked about Valkyrie's Dominion Autumn/Winter 2013/2014 Collection.
I caught my breath, apologized, and you know me, fired away with tons of questions. Rubin couldn't have been nicer about it all. Somehow, I didn't realize just how in demand Singer has become. He's now a go-to favorite of celebrities from Beyoncé to Lucy Lui, Heidi Klum, Alicia Keys, Queen Latifa, and their stylists, editors and many a socialite.
It seems to all have ramped up when Singer presented his Fall/Winter 2013/2014 collection titled "Valkyrie's Dominion" (above) to Beyoncé's stylists Raquel Smith and Ty Hunter right after Thanksgiving 2012. Shortly thereafter, BINGO! Rubin and his team put over 200 man hours into Beyoncé's amazing Super Bowl costumes. Here's a bit of the inside scoop and a look into the inspiration behind the collection.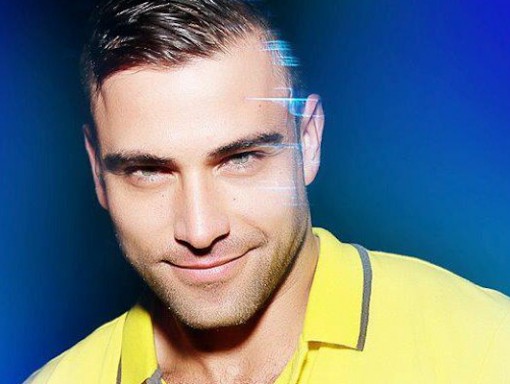 Designer Rubin Singer
B&B: What's' the inspiration for the "VALKYRIE'S DOMINION " Collection and the name?
RS: The inspiration is women with power, women who dominate, and women with unbridled sexuality. My heroine is multi-dimensional – both a very refined woman who loves the finest things in life and who at times…lusts for the underbelly of society under the cloak of darkness.

She is a fearless social warrior who guards what is hers and conquers what is not. I have conceptualized my new lady warrior as a modern Valkyrie.
B&B: Tell us about your collaboration with Beyoncé? What an exciting surprise. She's so inspiring. How do you think, together, you've inspired and empowered women with your fashion collaboration?
RS: It was a huge undertaking and privilege. Working with such a mega star for a production of this magnitude was an honor and tremendous challenge. The objective was to create an über sexy and strong look. I believe we achieved it by the overwhelming responses and feedback.
B&B: Was this your career changing moment?
RB: This definitely was a tipping point in my career. Beyoncé Knowles became MY Valkyrie, and for the one billion viewers around the world that night. She was OUR dominion.
B&B: How difficult or easy is it to create a new line? It seems as if designers have to meet more and more demanding schedules.
RS: The design process is very abstract. For me, it begins with the nucleus of the collection, whether it's a time period or a historical reference, a painting or a film.

Surviving and succeeding in this industry is a daily challenge, it takes a lot of resilience. You must constantly evolve and at the same time remain consistent for your client following.
B&B: If you had to select one piece from this collection as the "must have" item, what would it be?
RS: My paneled crepe jersey dresses with leather.
B&B: Do you like certain looks or colors better on a blonde versus a brunette or redhead?
RS: Of course! Hair color, skin color, body type… the only two colors that look good in everyone are black and white.
B&B: What's the best way to update your wardrobe? An investment piece. For me, it's always your signature cashmere coats in a neon shade.
RS: That's it for me too!
B&B: Do you think there are any rules, o.k., maybe advice, about the style a woman wears at different times and ages in her life?
RS: A women should always look and feel amazing in the clothes that she wears. Sexiness and restrain are key.
B&B: Any favorite pieces or looks from the MET Gala this year?
RS:The MET Gala this year had a very similar theme to the collection that I just presented, Valkyrie's Dominion, so it was very interesting to see different interpretations of the them on the Red Carpet.

The Journalist, Today Show contributor and author of the best seller book: Green Goes with Everything, Sloan Barnett attended to the Gala with one of my Fall/Winter collection designs, so of course, she was my favorite!
B&B: Who or what inspires you?
RS: Everything! From paintings, films, music… I have based collections on the study of grammar and sentence structure as well as on light refractions through time and space.
B&B: Favorite new fashion trend?
RS: Leather and lace combos.
B&B: Any special style do's and don'ts?
RS: Just because is tight doesn't mean it looks good.
B&B: Today's woman is busier than ever. What is the easiest/quickest way to turn a day/work look into something that works for a night out?
RS: Slipping into a crepe jersey and leather Rubin Singer dress.
B&B: Favorite Red Carpet moment?
RS: Solange Knowles at the Amfar Gala wearing one of my Spring/Summer 2012 pieces. She looked stunning!
B&B: The sexiest look for a woman is…
RS: An empowered look. One that calls all eyes to her, that is suggestive, seductive and never too revealing.
B&B: A confident woman wears…
RS: Rubin Singer!
B&B: Something you still want to achieve…
RS: To become a holistic lifestyle brand.
B&B: And last but not least our signature questions:
B&B: Who's your favorite Blonde?
RS: Marlene Dietrich
B&B: Who's your favorite Brunette?
RS: Louise Brooks
B&B: Thank you, Rubin. Not just for your time but inspiring and reminding us, like Beyoncé, that fashion, power and our own sexuality are a potent combination.
If you want to be your own Valkyrie, check out the complete Rubin Singer Collection or head to your nearest Neiman Marcus. You may just end up being the mistress of your dominion!
xo
NJ Falk, The Brunette