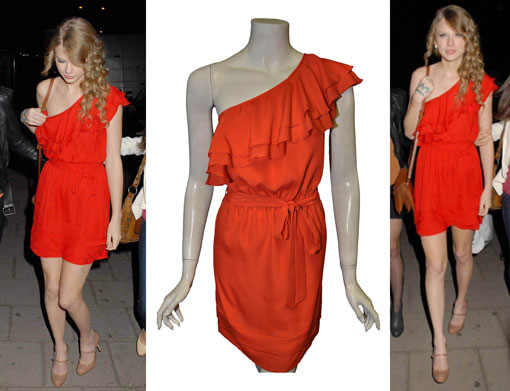 To all of our The Blonde & The Brunette readers, we have a special Friday treat for you just in time for Valentine's Day…we are giving away Single's One Shoulder Ruffle dress recently worn by Taylor Swift in Red! This dress is so adorable and romantic for you or your sweetheart.
We love that "Single" dresses empower women "one dress at a time!" And in case you haven't tried one on at a local boutique, you will be so pleasantly surprised to feel the "Single" secret weapon lining in the dresses. They really suck you in and mask any unwanted lump or bump! We also love the fact that Single is made locally in LA to support our US economy.
Here's how to enter the giveaway:
Tweet the following: "I've got a crush on @BnBstyle and @galinasobolev".
Leave us a comment with your Twitter handle.
It's that easy! We'll be accepting entries until 5pm PST today and will announce the winner on Monday, February 6th 2012.
Happy February from our hearts to yours.
– Kathryn, The Blonde