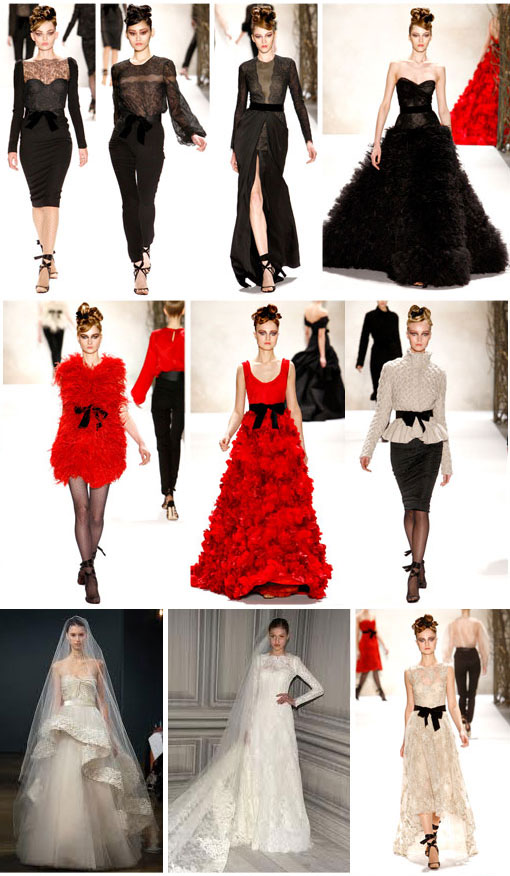 Think dark, sultry and seductive. This woman knows how to design what we want. For the first time ever, Monique Lhuillier brought her Fall/Winter 2011 Collection and selected Bridal Gowns to Beverly Hills on Saturday night for the Aviva "A" Gala. Held at The Regent Beverly Wilshire, the event was packed to support Monique and her good friend Kelly Fisher Katz as this year's Impact Award honorees . It was a dazzling success especially with every runway item accented with Martin Katz fine jewelry pieces.
Off the runway, the Red Carpet was equally glamorous with Mandy Moore, Abigail Spencer and Perry Reeves (of Entourage fame) in custom Monique Lhuillier designs and Monique in a one-of-a-kind, one-shoulder copper sequin dress that shimmered beautifully. Kelly Fisher Katz wore a blue, strapless Lhuillier column perfect for showcasing Martin Katz jewels (and his rare tsvorite "ivy" necklace with matching earrings). Ask Elizabeth author, Elizabeth Berkley with her husband, designer Greg Lauren, Jesse Williams from Grey's Anatomy, our very own B & B style gurus, Astrid Bryan and Cameron Silver, designers Merritt Elliott and Emily Current (Current Elliott), the ever stylish Brooke Davenport and Jane Ross, were also there to support Aviva and its mission to provide a comprehensive range of diverse and culturally sensitive services to help at-risk, emotionally distressed, abused and neglected youth-as well as their families-function more effectively as individuals and within the family and community.

The Blonde and The Brunette were well represented with, NJ Goldston, The Brunette, and Susan Casden, our Contributor-At-Large, hosting the evening as Dinner Co-Chairs along with dinner committee co-chair Randy Fifield, Blonde Contributor. The live auction was an overwhelming success with Laker Floor Seats, an Hermes Birkin bag, a special trip to New York for Monique's Fall 2012 Show and an exclusive Martin Katz gift certificate. If you hurry, Monique is also offering 10% of all Ready-to-Wear Collection sales from today through Saturday May 28th, 2011 at her Melrose Place Store (Bridal Sales excluded) to Aviva Family and Children's Services. www.moniquelhuillier.com 8485 Melrose Place, Los Angeles. 323-655-1088. For more information or to make a contribution: www.avivacenter.org.
– The Blonde and the Brunette