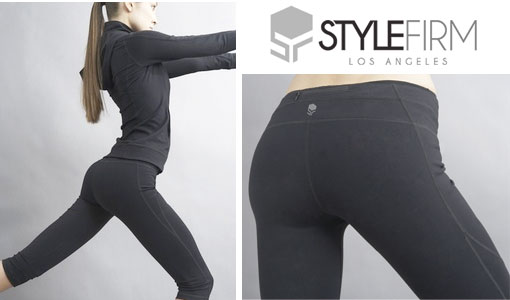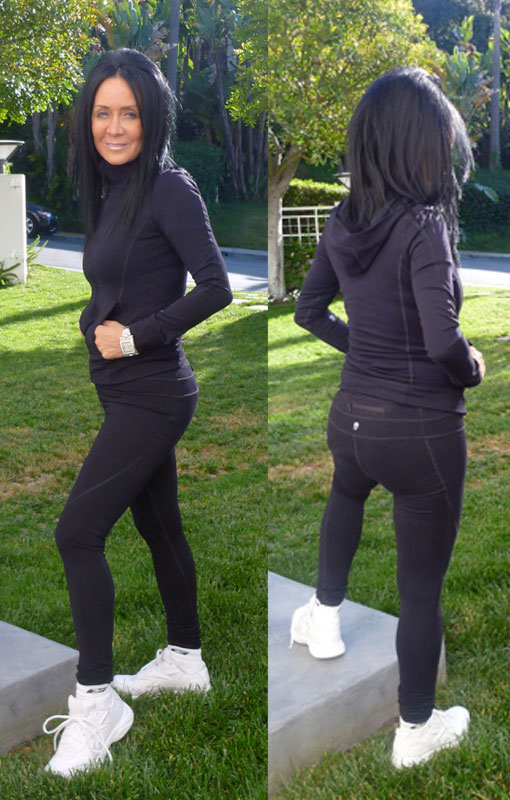 The Blonde On: StyleFirm Activewear:Lift that rear, streamline the thighs and tighten and cinch the waist! Meet Style Firm activewear. The collection of jackets and pants ($92-$119) that uses Supplex Spandex Jersey and Moisture Wicking Compression Mesh to give that tightening feeling. Lifts, smooths, and streamlines your figure. And I'll be honest I'm ready to rotate StyleFirm into my daily Lululemon repertoire.
The Brunette On: StyleFirm Activewear: The Blonde was raving about StyleFirm and I decided to take her up on the offer to put it to the test. Walking is a big part of my workout regime and I walk several miles in the Hollywood Hills almost every day very early in the morning as well as do a weight circuit. If you don't live here you might not know it 's chilly in the Hollywood Hills and then as you finish up it can get quite warm.
So for two weeks, I tried it out. The moisture wicking worked perfectly and adjusted to the temperature range of low 50's at the start of my walk to 70's by the end. I confess, I've never had a more versatile, comfortable or better structured activewear. Most of all I was truly surprised about how much I loved the built-in "lift and support" especially for the legs. I didn't think I would. I walk so much I need that extra support for my thighs and knees; and I have to agree with The Blonde, I've never worn activewear that is so slimming and flattering.
I'm stating the obvious, but in LA, you actually have to try and look good while you are working out. I really do look slimmer while I'm trying to get in better shape and making that quick run to the store in a track suit! Sheer genius. The added bonus is their styles are easy to pack. It's bathing suit season so this is the perfect investment to get bikini ready. There's nothing like a new activewear outfit to inspire you. Get moving!
Buy online at stylefirmclothing.com.
– Kathryn, The Blonde & NJ,The Brunette