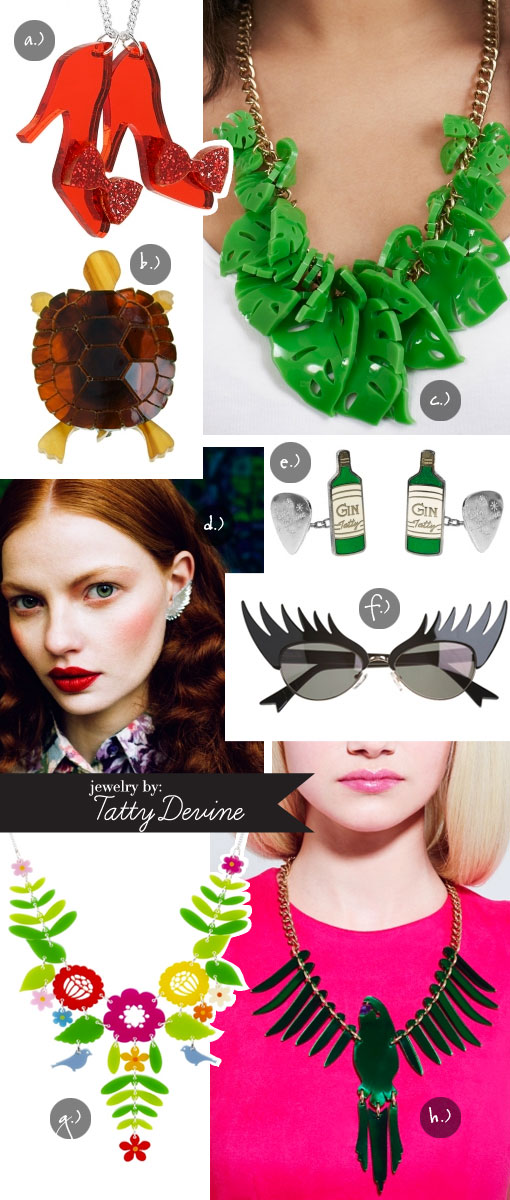 I don't know how, but I came across Tatty Devine jewelry last week and I'm so glad I did because I'm obsessing over these vibrant, playful designs!
A little background: founders Harriet Vine and Rosie Wolfenden met in art school and started Tatty Devine in 1999. Based in London's East End, the duo like to "make jewellery that blurs the boundaries between art, fashion and culture".
That must be why I love it so much; the pop-art feel really appeals to me. If I had to pick, I think my favorite piece is the Parakeet Necklace; it's such a cool statement piece for summer. Here are some others I really like:
a.) Ruby Slippers Necklace £30 ($45)
b.) Tortoise Brooch £35 ($53)
c.) Hot House Leaves Necklace Green £180 ($275)
d.) Pegasus Earrings £30 ($45)
e.) Gilbert and George Gin Cufflinks £30 ($45)
f.) Eyelash Sunglasses £125 ($190)
g.) Mexican Embroidery Necklace £85 ($130)
h.) Parakeet Large Necklace £135 ($205)
Shop the full collection here.
– Ashlee, Brunette Contributor