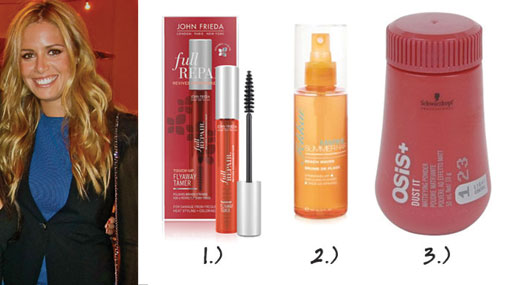 My can't-live-without summer hair products:
1.) John Frieda Full Repair Touch-Up Flyaway Tamer
John Frieda's Full Repair is genius; it comes in a cylinder tube slightly bigger than a tube of mascara. The applicator is just a little bigger than a mascara brush. Just brush your flyaways and frizzes down and they disappear. It perfect when I wear my hair in a ponytail or braid, to put on part of my hair and after a good blow dry. It really doesn't feel or look greasy, which we Blonde and Brunettes do not need! It also has a nice, clean scent that's not too strong.
2.) Frederic Fekkai Marine Summer Hair Beach Waves.
I love the just-got-out-of-the-ocean-hair look and I have used all the salt water products. Most of them are too sticky and drying for my color enhanced hair. This product does not have any drying agents in it, because my hair feels so soft when I put it on. I spray it on wet or dry hair. I will blow dry or air dry about half way and then spray it on, throw my hair in a bun for as long as possible. What also sealed the deal is the beachy coconut smell…I'm not kidding, I get a compliment that I smell great every time I use it. Men especially love the smell!
3.) Osis + Dust It Matifying Hair Powder
This product really works if you use it correctly. It gives my hair roots body and volume that I have never been able to achieve before. I have fine hair so I really need volume assistance; and I just prefer hair with a lot of volume. So I recommend this product for fine hair and for hair volume junkies. It is great for to use for hair styled up or down.
Sprinkle a very, very little bit of this magicial powder on the roots of your hair at the crown and gently massage into your scalp. I use it after I am done styling or on not-so-clean hair. Then gently massage into your scalp. Okay, so I will warn you it…does feel sticky, so use a little and see how much you can tolerate. I don't mind that it feels sticky because it makes my hair look so good.
– Kathryn, The Blonde