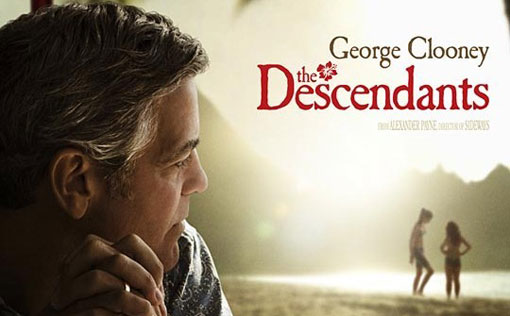 Photos by: Patrick McMullan
"My friends think that just because we live in Hawaii, we live in paradise. We're all just out sipping Mai Tai's, shaking our hips and catching waves. Are they insane? Do they think we are immune to life? How can they possibly think our families are less screwed up? Our heartaches, less painful?" – Matt King
I finally went to a screening of "The Descendants" starring George Clooney and Shailene Woodley at the Arclight Theatres in Hollywood last week. As you probably know, it won two Golden Globes including the much-coveted "Best Picture" award last Sunday night. Why is The Blonde and The Brunette telling you this now? Because the Oscars are around the corner, and if you haven't seen this film yet, it is a "must see" for the moving storyline of a family in crisis and the compelling dramatic performances that make it one of the top 5 movie-going experiences (or rentals) for 2012; and, if you weren't a fan of George Clooney before, this film will change your mind.
Clooney's performance is one of the most compelling in years and it suddenly seemed quite appropriate that he won the 2012 Golden Globe for "Best Performance By An Actor In Motion Picture – Drama". With his wife in a coma, the result of a fluke boating accident, the film and Clooney's character, Matt King, are literally launched into an inner dialogue. King is a protagonist forced to examine the indifferent man, husband and father he has become when his past collides with the present. From a remarkable sequence of Clooney running in shorts and flip-flops, to and from his troubles, to a gut-wrenching scene, when three tears fall down Clooney's face, we watch his struggle to articulate his emotions in the midst of an uncontrollable situation.
Be prepared. With it's dark theme, often almost too heavy, there are also definitive moments of lightness and comedy as the audience relates to this authentic portrayal of a father dealing with a prickly 10-year-old daughter (actress Amara Miller) and a slightly rebellious 17-year-old teenager (actress Shailene Woodley) in an unfathomable situation. Both young woman have turned in brilliant performances but, Shailene Woodley should have, in my opinion, been nominated for her portrayal of the young, misguided 'Alexandra King'. Her tears, heartache and anger are so real, it's chilling.
If you have ever known anyone or been personally faced with difficult decisions for a terminally ill family member, in this case a mother in a coma, this film will certainly resonate with you. Special kudos to Shailene and Amber. This is just the start of two great careers.
– Kate Gaffney, Arts & Entertainment Contributor