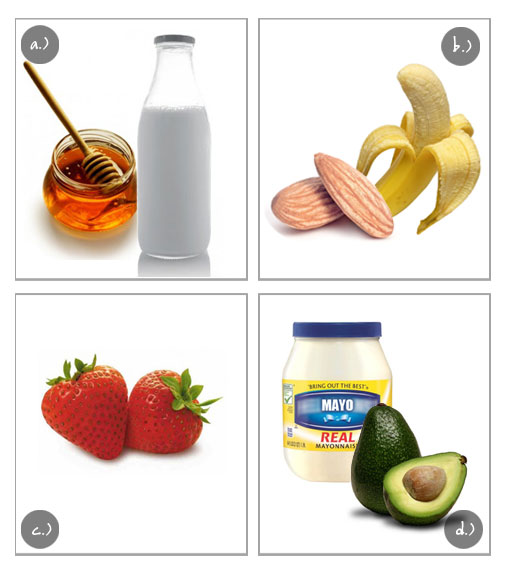 Ditch the chemicals & expensive treatments. Your kitchen holds the key to keeping your tresses naturally gorgeous!
a.) MILK AND HONEY MASK
This is by far the sweetest smelling mix, just be weary of the bee's! What you do: Mix up a single teaspoon of honey into one glass of whole milk then massage it into your hair from root to tip. Leave it on for 15 minutes and rinse with lukewarm water and shampoo.
b.) BANANA AND ALMOND MASK
That's right! Not only are banana and almonds a delicious snack, but they are also good for your hair. What you do: Mash up one banana and add about 3 drops of almond oil to the gooey concoction. Mix well and massage into your hair. Let it sit for about 25 minutes, rinse and wash your hair and you'll feel shiny and new.
c.) STRAWBERRY MASK
Strawberries are not just for eating anymore! Take one cup of strawberries (the riper the better), one egg yolk, and 2 tablespoons of olive oil. Mix all of these up until the strawberries look more like juice than chunks. Work into your hair and leave it on for 20 minutes. Rinse and smell pretty!
d.) AVOCADO AND MAYO MASK
That's right ladies, it's not a myth. Mayo and Avocado really are good for your hair. What you do: Take a full jar of full fat mayonnaise and one half of one very mashed up avocado. Mix well and apply to your hair. Pay very special attention to your roots, and after 20 minutes rinse your hair in COLD water. You'll instantly see the shine!
Any other natural hair masks you have tried that work?
Let us in on your secrets, we would love to know!
Xx. Jadan Huter