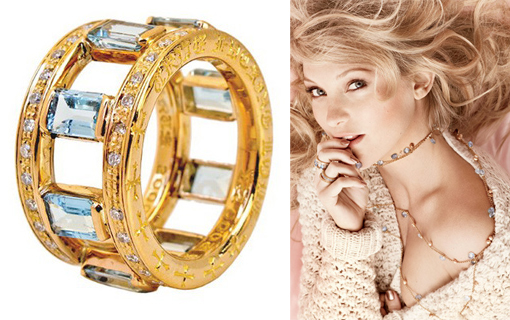 This just in…Kate Hudson has unveiled her Chrome Hearts collaborative jewelry line!
The actress teamed up with co-owner and best friend Laurie Stark to model the new CH+KH pieces in the September 2011 issue of Elle Magazine.
The pair first met at a Rolling Stones concert when Hudson was just 16; years later, they bonded when they were both expectant mothers. Since then, they've shared countless family vacations, and it was on one of these getaways, in the Bahamas, that the idea for their new venture was born.
"It occurred to us," Hudson says, "we spend all of this time together—why don't we make something?"

CH+KH's line, which is a departure from Chrome Hearts' signature heavy-hardware biker aesthetic, looks to date back to 1970s vintage pieces that Hudson collects. Stark says the line also reflects the actress's bohemian spirit. "We used a lot of aquamarines because Kate loves them, but to me they also evoke her personality. She's so open and light."
Xx. Jadan