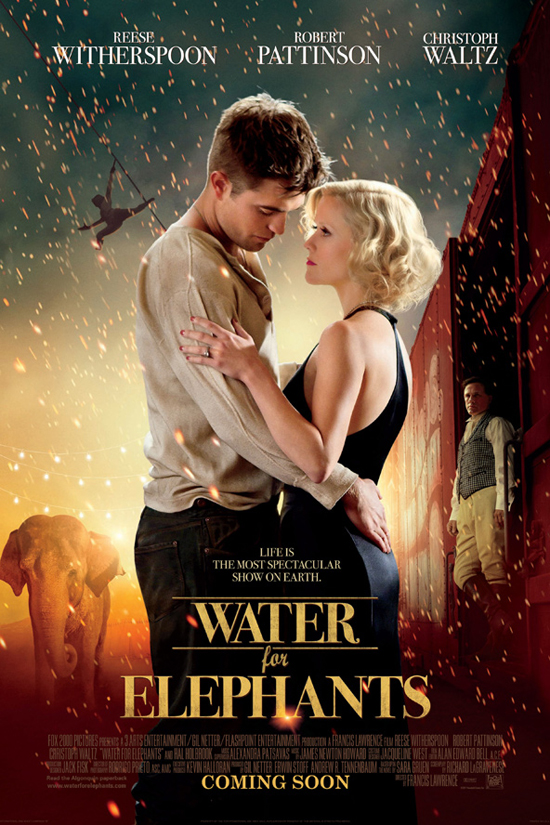 I am SO excited about this, I couldn't help but share my excitement with you! A while back we were treated with the teaser trailer for the new movie "Water For Elephants," starring Reese Witherspoon and Robert Pattinson. Today, while browsing online, I came across this magnificent movie poster they just released. I didn't think this was possible, but Reese Witherspoon looks even more gorgeous than usual.
If you haven't a clue as to what "Water For Elephants" is about, here is a little synopsis of the book written by Sara Gruen.
When Jacob Jankowski, a young boy, is suddenly orphaned and left on his own, he jumps onto a passing train. Never in his wildest imagination did he think he was about to enter a world of such freaks. He had walked in to a second-rate circus trying to survive during the Great Depression, traveling day after day, town to endless town. As a veterinary student, Jacob is put in charge of caring for the circus menagerie. It is here that he meets Marlena, a beautiful young star, married to August, the talented but twisted animal trainer. It is here, that Jacob also meets Rosie, an elephant who seems untrainable. That is…until he discovers a way to reach her. I don't want to give away to much more, but please take my word for it when I say how beautifully written, Water for Elephants is. It is a love story between two people that overcome incredible odds during an extremely compromising era in our history.
I'm going to go ahead and predict this becoming an early contender for Best Cinematography at the 2013 Oscars.
I highly recommend running out and grabbing your own copy of the book before it hits theaters so you can indulge yourself into such beautiful writing, but if your not much of a reader, enjoy the trailer, and get ready for April 15, 2011 when "Water For Elephants" is scheduled to hit theaters. I cannot wait!!!
Water For Elephants – Official Trailer in HD
Buy the book Water for Elephants HERE $8.09
Xx. Jadan