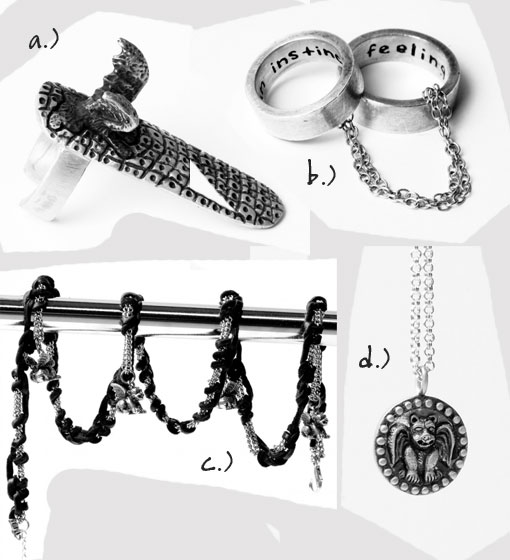 Since many of you are aware of my unconditional love for beautiful, inspirational & unusual jewelry, I am sure it is no surprise that Kathryn Bobby, a jewelry line with a new age "bohemian grunge" feel has recently stole my heart.
With a hands-on "do-it-yourself" attitude, LA native, Katie Davis was able to learn the jewelry business through a question-and-answer process. Kathryn Bobby (her first name and brothers first name) was developed with the idea "There's a deeper meaning, something more than just pretty jewelry".
Each piece is solid silver, handcrafted in Los Angeles, and coveted by the likes of such beauties as Allesandra Ambrosio.
Just a few of my very favorite pieces.
a.) Gargoyle Wings Ring $260
b.) Two Rings With Thin Chain $220
c.) Love Chain Bracelet Wrap With 4 Baby Gargoyles $440
d.) Classic Long Necklace $300
All pieces available at kathrynbobby.com
Xx. Jadan