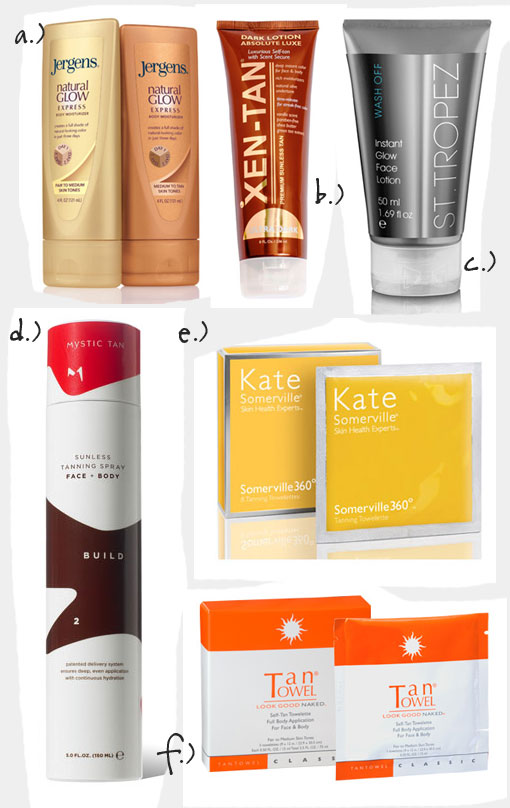 Do you have the winter blahs? What's better than a real tan? Flaunting a fake tan that looks so good you might as well have spent a week in the Bahamas! The Blonde and The Brunette believe a year-round radiance is always in style. We haven't really had a "winter" out here in Los Angeles, but no matter where you are, sunless tan is the safest way to add color to your life. If you've done your research, I'm sure you are already aware of the suns harsh dangers, so why not forget the baby oil-at-the-beach trick, forget the smelly tanning bed, and "faux tan" it all year long!
When most people think of a "sunless tanner", Snooki and the rest of the Jersey Shore cast often comes to mind. Put those thoughts aside, and take a look at The Blonde and The Brunette's favorite sunless tanners that will give you the perfect glow, that keeps you feeling sexy even without the sunshine.
a.) Jergens Natural Glow Express Body Moisturizer in Fair/Medium or Medium/Tan skintones $6.79
This moisturizer gives you an instant hint of color, then slowly deepens a full shade darker within three days.
b.) Xen-Tan 'Absolute Luxe' Dark Lotion $56
Xen-Tan's creamy lotion uses Scent Secure to lock out the typical self-tanner smell while imparting a light, vanilla fragrance.
c.) St. Tropez Wash Off Mousse for Face $15, $22.50, available at St. Tropez Tan.
St. Tropez creates an instant glow that you can't mess up. It won't transfer onto clothes, and looks perfectly natural, but washes off with soap and water at the end of the night.
d.) Mystic Tan. Sunless Tanning Spray for Face & Body $38
This tanner's fine mist, continuous 360 degree spray, and quick-drying formula makes even coverage of hard to reach areas a snap. Apply in the shower for an easy clean up.
e.) Kate Somerville Somerville 360 Tanning Towelettes $48 for 8 Towelettes
The creme de la creme of self-tanning wipes, just one paraban-free towelette does the job, dries quickly without streaking, and has a fresh, clean scent.
f.) TanTowel Full Body Classic Towelettes (5 pk) $24
Contains an odorless, colorless tanning solution that won't streak, stain or wash off. It dries in seconds, lasts for up to seven days, and is safe for even the most sensitive skin.
Xx. Jadan Huter