It's round two of the CDFA directed and eBay sponsored "You Can't Fake Fashion" drive to raise awareness against counterfeit goods. If you haven't heard about this important fashion cause before, it's time you did and you can buy one of a kind great bags starting tomorrow. Here's what you need to know about this cause.
1. Counterfeiting Hurts Everyone. First, it can be hazardous to your health and those around you. There is no guarantee your new bags, shoes, cosmetics, etc. aren't harmful in some way which means they might be produced with toxic materials or sweatshop labor; and designers and brands deserve to have their creative efforts protected by anti-piracy laws. That's why over 75 designers, as varied as Narciso Rodriguez, Derek Lam, Alexander Wang, Rebecca Minkoff, The Row, Tory Burch, Peter Som, and rag & bone, have come together to support this effort. Each of the participants provides their support by each designing a one-of-a-kind custom tote bearing the phrase "You Can't Fake Fashion" to be sold on eBay. Currently on a CFDA and Ebay sponsored nationwide tour, for the 2012 Auction of You Can't Fake Fashion, they are downright spectacular. Randy and I actually saw the entire grouping in New York at Mercedes Benz Fashion Week.
2. Fighting The Battle. Combating the supply and demand for counterfeits and those who manufacture and distribute such items requires the coordinated efforts of the government, the fashion industry, law enforcement, businesses, and Internet users like you. As a major destination for fashion shoppers,we should all applaud eBay for being committed to partnering to fight the global trade of counterfeits. Here is how eBay is helping to create a counterfeit-free marketplace:
Partnering with brand owners and industry organizations to bring attention to and combat the issue worldwide
Removing items reported as counterfeit by brand owners
Proactively removing suspicious items
Providing free tools for rights owners to efficiently identify and report items to us for immediate removal
Working closely with law enforcement to prosecute offenders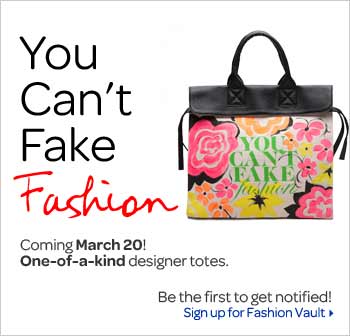 3. Join The Crusade Today By Buying A Tote . eBay and the CFDA are working together once again to fight counterfeit goods and celebrate original design within the fashion industry. Beginning March 20th, an exclusive collection of more than 75 totes customized by America's foremost designers will be sold exclusively on eBay, with all proceeds benefiting the CFDA Foundation. The designer totes, as well as four styles of standard totes, will be available starting at 11am (EST) on eBay.com. Sign up for the fashionvault to be notified. The "buy it now" price for the designer handbag is $200 and the standard tote in four original designs, are $45.
-NJ Goldston, The Brunette and Kathryn Lebowitz, The Blonde