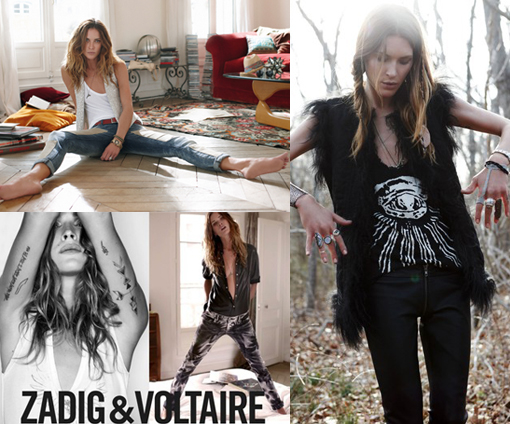 French luxury fashion brand Zadig & Voltaire announced their latest collaboration: a new rock 'n' roll line created by model Erin Wasson. The collection is aptly named "Erin meets Zadig" and her inspiration comes from life, classic cars, and Rod Stewart! Wasson's line is featured in the Zadig & Voltaire Spring and Fall 2011 ad campaigns, as well as the 'Erin Meets Zadig lookbook' shot in the Hamptons by Fred Meylan. Z&V Founder Thierry Gillier admitted,
"We are rock 'n' roll, but Erin is even more rock 'n' roll."
The 15-piece collection includes a studded suede jacket, leather pants, a cashmere jumpsuit, and a python bag and boots; prices range from €90 ($120) for a cotton tank to €1,050 ($1,400) for a foal skin coat. In a new twist, the collection will first be launched exclusively on Net-a-Porter in September, then it will roll out in 80 Zadig & Voltaire stores worldwide.
– Astrid, Style & Beauty Expert