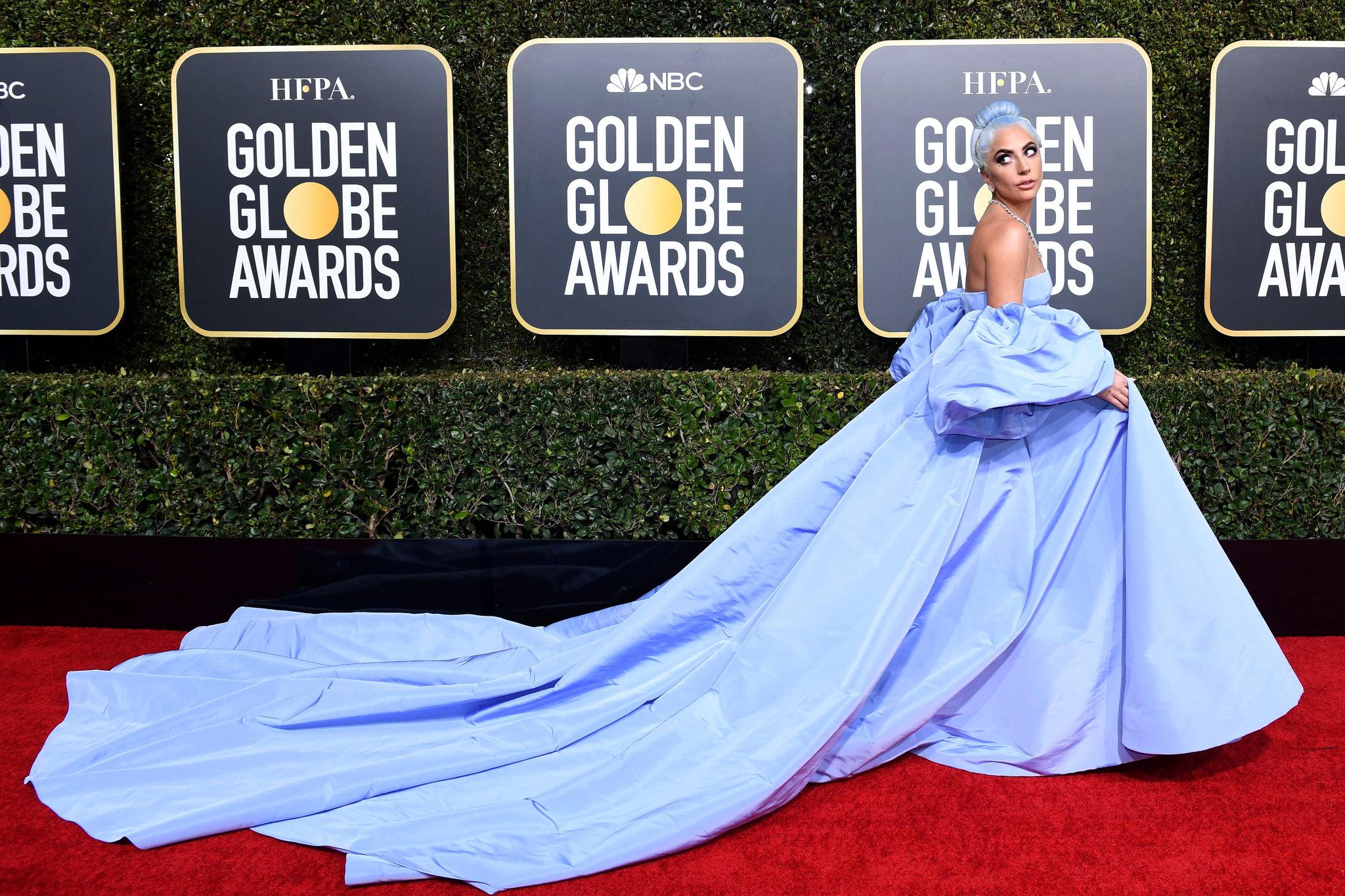 I am going to dispense with the Best Dressed list until later and go straight for the trends that just might make it to your closet. See if you agree or disagree but Lady Gaga wrapped about three trends into one look and yes her dress is designed to make the media run it as a stand alone. Here are the fashion, accessory, jewelry and beauty trends that just might inspire you. As usual, I've opined on what just might be coming to my closet for my next major event and end the list with my choices for Best Dressed.
Party In The Back Bows
Blue Hues
Plunging Necklines
Exposed Bras and Tulle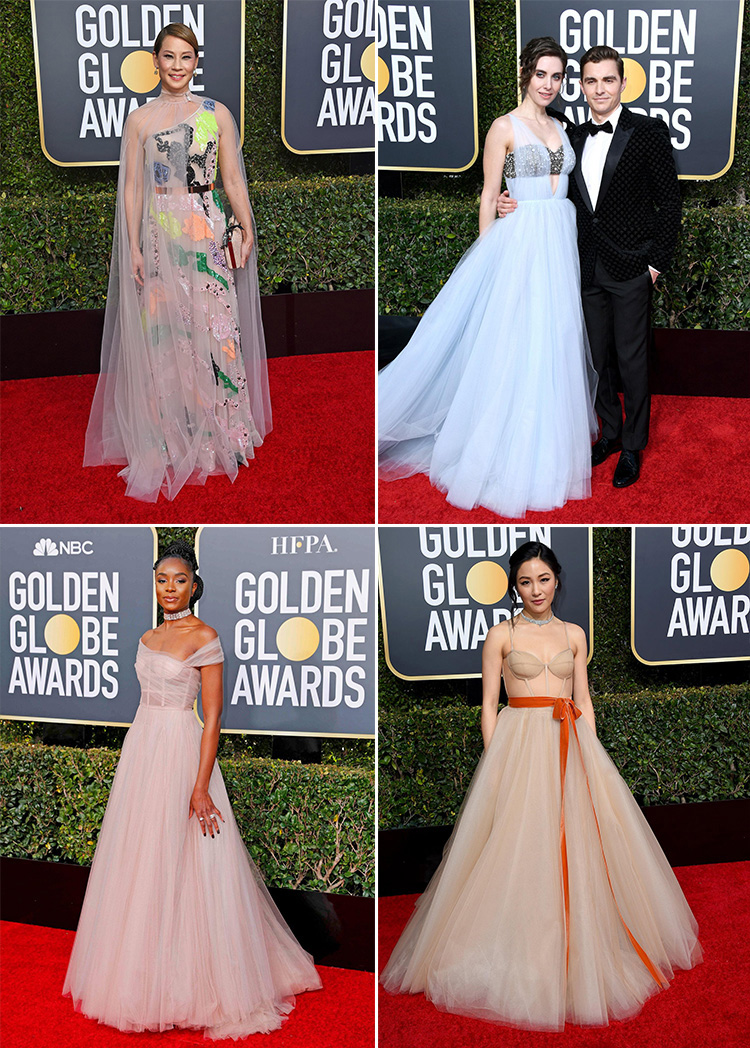 I'm just going to say it. I love this look and it's no mean feat to wear a neutral and an exposed bra. Constance Wu looks stunning in custom Vera Wang and she's got velvet and the bow and the corset. I want THAT dress. KiKi Layne looks ravishing in Dior and a choker diamond necklace. Yes, please. Alison Brie killed in custom Vera Wang in the periwinkle, tulle and a bejeweled bra. I don't hear anyone raving about Lucy Liu wearing Galia Lahav but I loved this look. By the way, it looks like it is time to take out my vintage Prada gown that rocked this look a few years ago.
This probably needs a professorial but it can be gorgeous. You've got to have just the right color dress or gown to match your skin tone and shadow. Lupita Nyong'o, Emma Stone, Emmy Rossum and Camilla Belle and their make-up artists all opted for blue and pink shades. Thoughts?
Hair Accessories
This was trending but it didn't move me. Maybe I've got it all wrong and you'll want to follow suit.
Statement Earrings
Velvet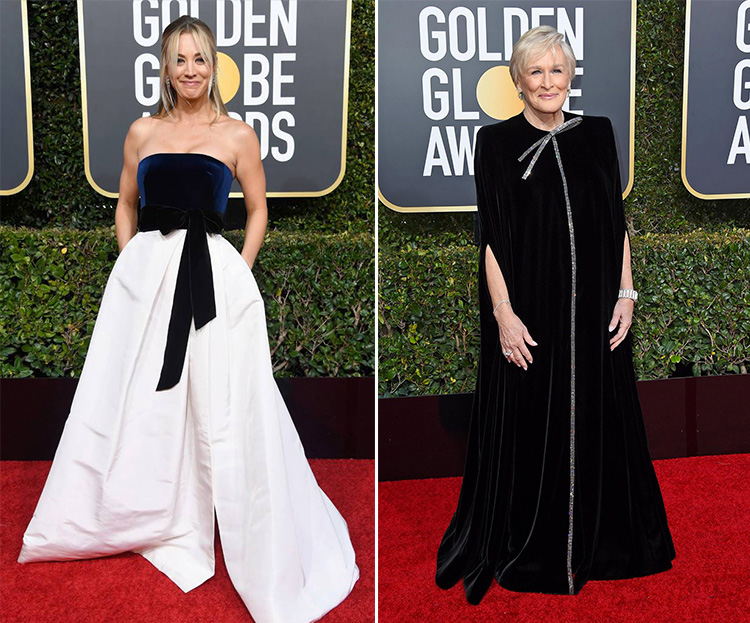 There were velvet touches all over the Red Carpet. Two standouts included Kaley Cuoca in a Monique Lhuieller with a pocket (always love a pocket) and Glenn Close in an absolutely stunning Armani Privé. Perfect for the moment she deserved. I actually saw The Wife. You should too and that speech. Thank you, Glenn.
The Gentlemen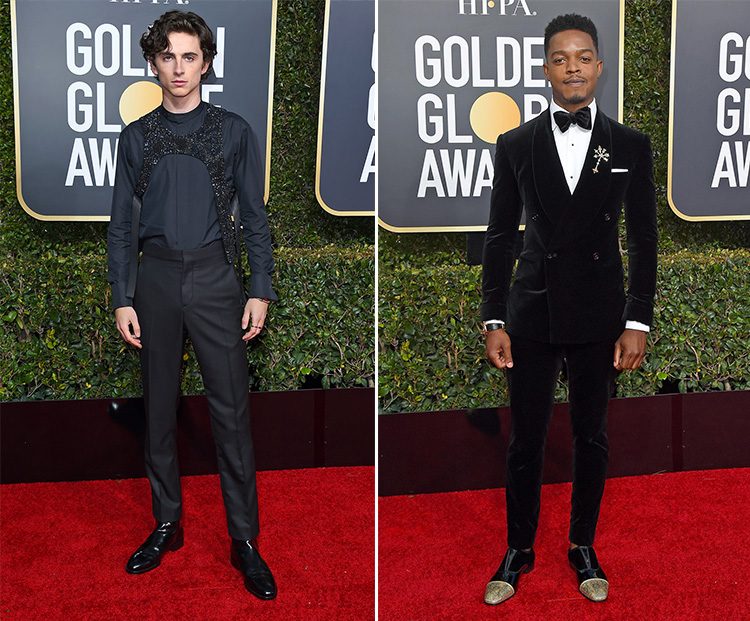 I am just going to say it. I love these two looks for the Red Carpet. Timothée Chalamet in Louis Vuitton and Stephan James in Ralph Lauren Purple Label. Youthful and fun and I am a sucker for a over the top lapel pin.
Standouts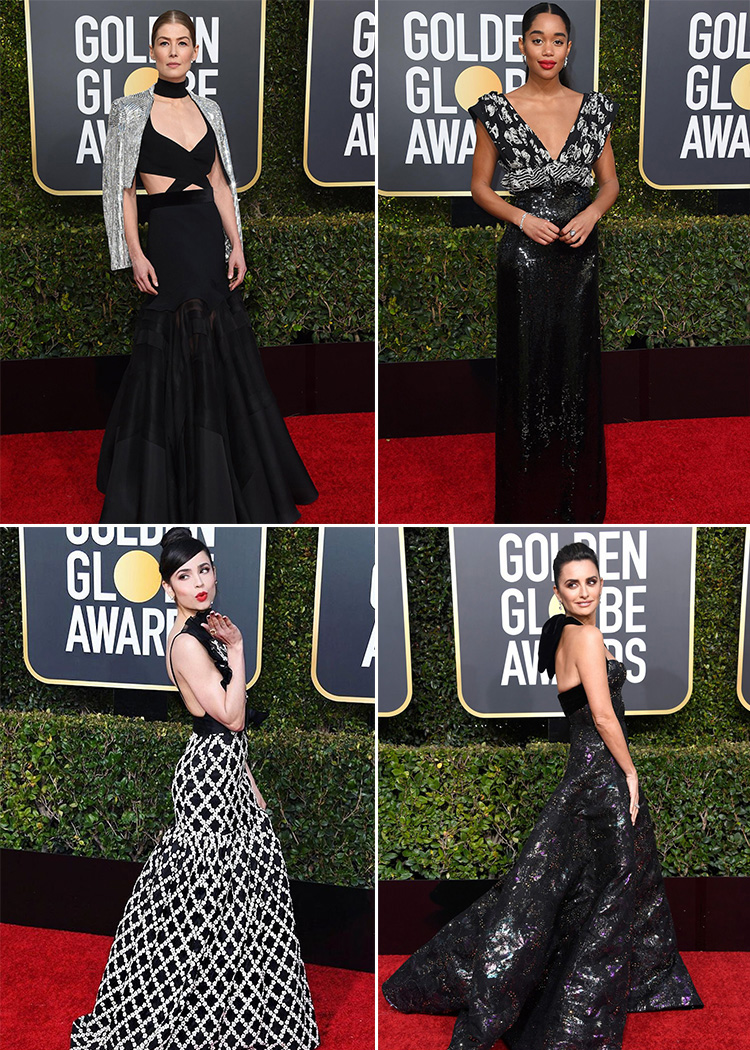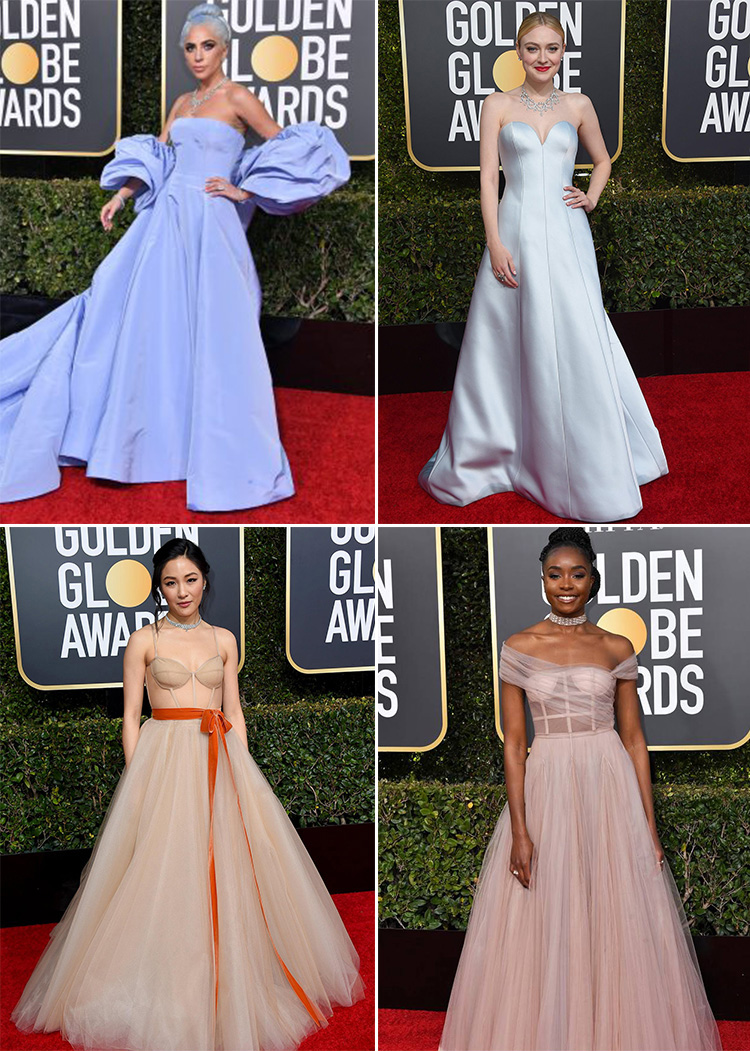 All these looks are on my best dressed list. Elegant and yet a bit unexpected. Rosamund Pike in Givenchy, Laura Harrier in Louis Vuitton, Sofia Carson in Giambattista Haute Couture, Penelope Cruz in Ralph & Russo, Lady Gaga in Valentino Couture, Dakota Fanning in Armani Privé, Constance Wu in Vera Wang and Kiki Layne in custom Dior.
Almost live from the Golden Globes,
NJ Falk