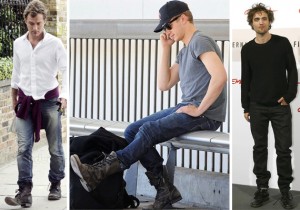 Whoever said that a man is not conscious about the kind of boots he wears has not really seen a man who knows how to dress.
Like it or not, gentlemen, your shoes say a lot about you. In fact, Suzie, a best friend of mine will judge whether she wants to pursue a man by the shoes he is wearing. If the shoes are a no-no, then away she goes. At one point or another, every woman has made a quick judgment based solely on a man's shoe. That's why it's important for you men to choose your shoes with care. They can make or break your outfit – and possibly your social life, too!
Knee-high boots have been a popularity in a woman's closet, but just recently have we seen them introduced into the world of men as well.
A favorite of mine is the comeback of Doc Martens boots. Designer Michael Bastian showed is Fall/Winter 2010 collection with Doc Martens in various colors.
Not only are boots becoming a staple in mens closets, but he style of thick rubber soles is now very fashionable at the moment as well. Giorgio Armani made a pull-on pair with no laces in basic black, and Bottega Veneta created green leather shoes with a thick sole. Considering that womens shoes are getting higher every season, this trend helps men compete with a bit more height while maintaining masculinity.
A favorite look I have been seeing a lot of lately is pairing these boots with not only jeans, but with dress slacks as well. Men, don't be scared to try this. B&B is giving it our stamp of APPROVAL!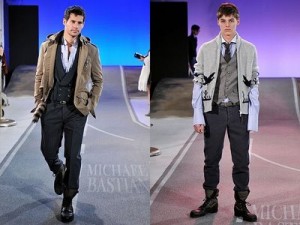 Xx. Jadan