There was breathless reporting and a mad rush for Oscar fashion images. The Blonde and The Brunette thought we would do something different. Catch our breath and give ourselves 24 hours to let everything sink in and determine what will stand the test of time. This is completely subjective and we'd love to know what you think.
Trends. Just as we predicted: White, black and red gowns. Sequins, metallics, embellished necklines, brights from coral,tangerine and rust, emerald green and dramatic trains. Diamond jewelry with either great statement necklaces, drop earrings or a bracelet. wiht one piece being the most important. The Harry Winston yellow diamonds on Jessica Chastain probably stole the jewelry category.


Our favorites included Rose Bryne in Vivienne Westwood (and we are stalking this dress we love it so much), Gwyneth Paltrow in Tom Ford including the daring cape and the clean lines, Jessica Chastain in a magnificent Alexander McQueen that was exquisite with her coloring and skin tone; Michelle Williams in Louis Vuitton; Stacey Keibler in Marchesa, Mara Rooney in Givenchy because she dared to be different; Mila Jovovich in Elie Saab looking every bit the movie star; Angelina Jolie in AtelierVersace; Cameron Diaz in Gucci Premier.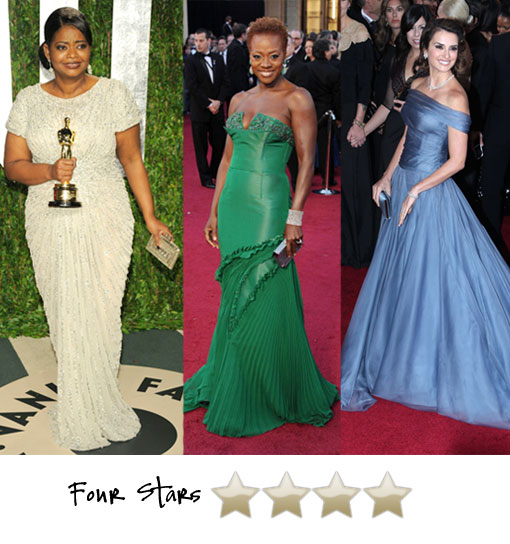 These A-Listers looked great but just missed it by a star. Viola Davis in Vera Wang and we love, love love her with her natural hair, Penelope Cruz in Armani Privé channeling a 50's vibe and Academy Award winner Octavia Spencer rocking Tadashi.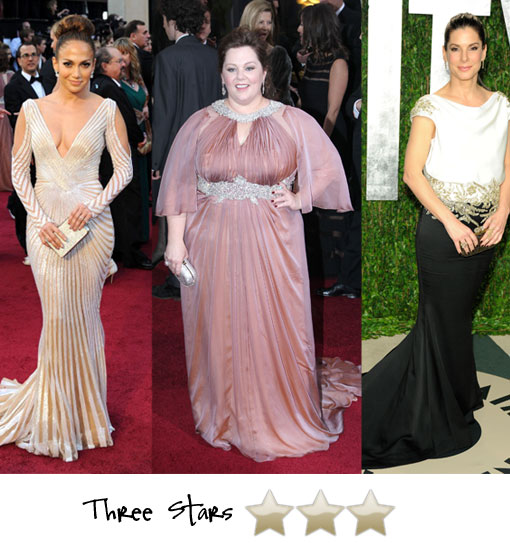 It was hard to give 3 stars but these ladies didn't quite pull it off the way we had hoped. Jennifer Lopez looked glamorous but there was a slight wardrobe malfunction and we wondered if she could breath, Melissa McCarthy in Marino Rimaldi just missed it and we suspect this was not the right color with her skin tone as we ADORE her, and Sandra Bullock looked lovely in Marchesa but it seemed to require a drop more in the fit department.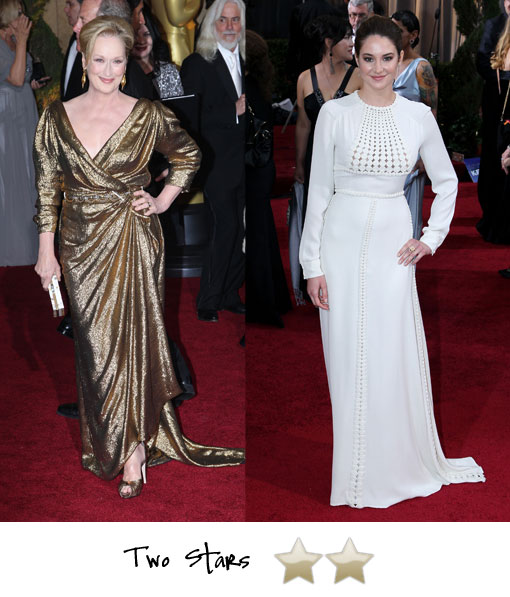 We love Meryl Streep and we always hope against hope she'll pulling it together.She wore Lanvin and this is a beautiful gown but it didn't work in the goddess way it was intended. Shailene Woodley's long-sleeve Valentino gown was way too serious for such a young actress. She's a stunning young woman and she missed her moment. Rats!!
As far as the 1 star category. Hands down. Sacha Baron Cohen for his tasteless and utterly promotional dictator stunt and ruining Ryan Seacrest's beautiful Burberry tux. Shame on him.
xoxo
NJ, Goldston The Brunette & Kathryn, Lebowtiz, The Blonde