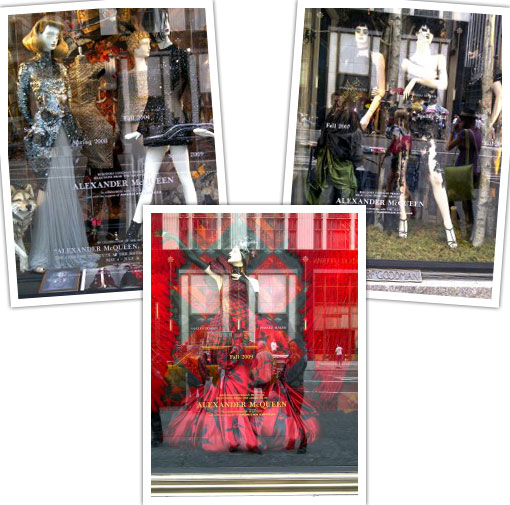 It's been in the works for almost a year, and following The Royal Wedding, I can't think of a more highly anticipated event right now. It's the Savage Beauty tribute to Alexander McQueen at The Costume Institute at The Metropolitan Museum in New York. Anna Wintour, the Editor of Vogue, has single-handily orchestrated this into the premier fashion event of the year with a Red Carpet that rivals the Oscars. The anticipation is literally at a fevered-pitch. It will be a glamorous evening, but also an emotional one as McQueen friends mourn the loss of his creative genius.
Along Fifth and Madison Avenues, the windows at Bergdorf Goodman and Saks Fifth Avenue are each filled with at least 10 significant McQueen dresses; and at Barney's today, the iconic Daphne Guinness will have some of her McQueen collection (she bought Isabella Blow's McQueen collection in its entirety) on display. The tour-de-force is her scheduled appearance to change into her outfit in the Barney's window at 5 PM today (behind a screen). The windows are shrouded and ready for her appearance.
As a Member of The Costume Institute, I am attending. Because I have known about the tribute for many months now, I have been working with the House of McQueen (actually since last October) on my dress. I also knew that they were not taking on any additional work, so I surmised that Sarah Burton was, in fact, designing Catherine Middleton's wedding dress. I could kick myself now. Sarah Burton had sketched me a one-of-a-kind dress and I just didn't get my act together fast enough to make it happen. What was I thinking? I wasn't!
But The House of McQueen couldn't have been more wonderful. They sent me an incredible assortment of dresses from around the world, including a strapless dress with the iconic "tree" pattern, which I am sure will be walking the red carpet on someone else; and, as much as I would have loved a very high drama dress, I wasn't sure I could pull it off.
After many months, I decided on the very elegant and iconic "angel" print dress from Alexander McQueen's final collection of sixteen looks (which was shown shortly after his death). Each of the last dresses had a "poetic medieval beauty that dealt with religious iconography". My dress is actually a silvery gray with a celedon tone. The angel wings are throughout the fabric and on the back. McQueen had ordered the fabric that had translated digital photographs of paintings of high-church angels. The front of the dress incorporates exquisite embroidery, which is also used for my matching, one-of-a-kind haute couture bag the House of McQueen made for me to wear with the gown. Together they are spectacular. Ironically, after the Royal wedding, I am feeling more comfortable about this simple and modern approach.
I carefully shipped the dress and McQueen clutch from LA to New York . But now I must confess what I just found out after I made my big decision: I know for a fact another woman is wearing the exact same dress…and she's a blonde. I could have changed my mind or anguished over this, but I think there may be several of the same dresses and I love this gown. So, I have decided to brave what every woman dreads: another woman showing up in the same dress. But, I will interpret it with my own signature look.
Follow along. It should be an interesting day as I get ready for a night of wonder.
– NJ, The Brunette