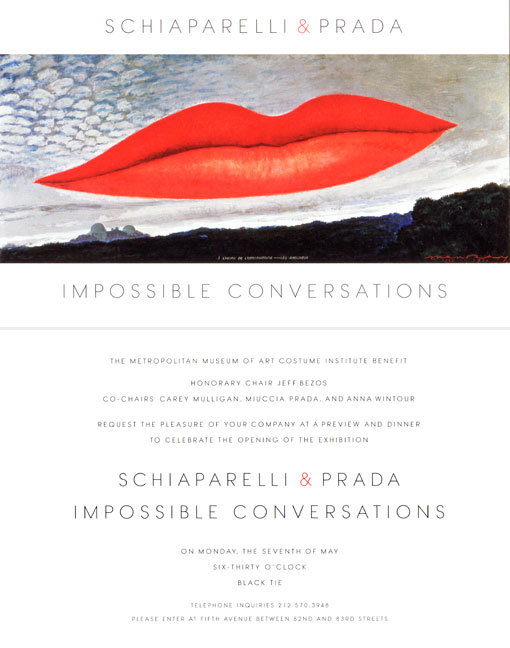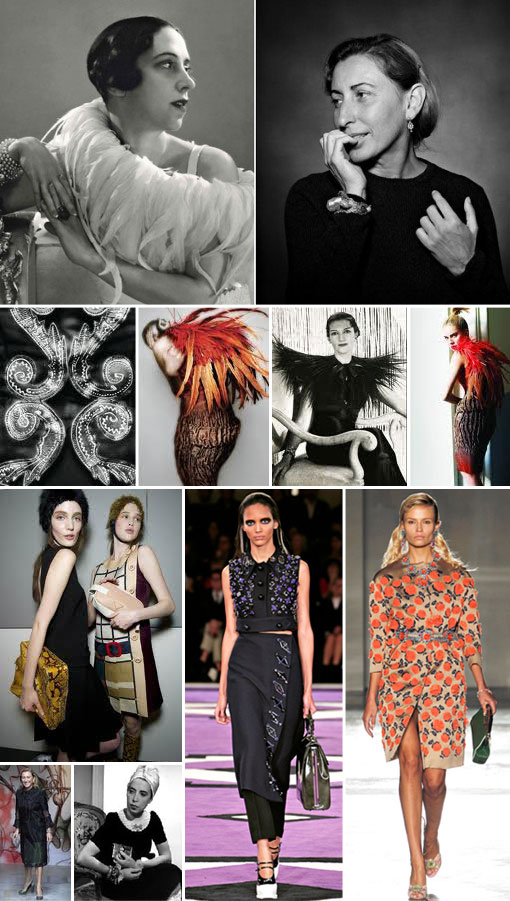 The reports concerning the Met's Annual Costume Institute Gala have been gaining steam for month's and I haven't entered the fray until now. The Alexander McQueen exhibit ignited a frenzy last year (which will be hard to duplicate) and this year has sparked something else. I don't know how I was not tuned in to it, but apparently there has been a mini-controversy surrounding the the upcoming exhibit. It's always an honor to be honored and this year Prada shares the billing for the upcoming exhibit with Elsa Schiaparelli. Unbeknownst to me and probably you, Mrs. Prada thinks this might be a mistake. As she told WWD:
"It's too formal; they are focused on similarities, comparing feather with feather, ethnic with ethnic, but they are not taking into consideration that we are talking about two different eras, and that [Schiaparelli and I] are total opposite," said the designer before her Fall 2012 show. "I told them, but they don't care," she said with a shrug, resigned rather than upset.
And she has a point because Prada has a long and storied design history worthy of it's own retrospective. However, The Costume Institute has just acquired the Schiaparelli Collection. The combination of two brilliant design minds are the basis for this exciting and interesting exhibit contrast; thus the Impossible Conversation. Andrew Bolton, the Costume Institute's world-class curator, with an unparalleled eye and vision, will, I am sure, surprise us all once again. The title of the exhibit sums it up. Upon further reflection, it appears Mrs. Prada may have changed her mind as well. She recently released an official statement in response to a recent WWD article about the upcoming exhibit.
"Miuccia Prada is honored and proud to take part in this exhibition which is An Impossible Conversation between Miuccia Prada and Elsa Schiapparelli. The comments printed are taken out of context and therefore misconstrued."
All of this dialogue now puts into perspective my search, once again, for the perfect gown which started this past October. As a long-time devotee of Prada, I've double checked my closet (which is always my first shopping trip), but in this instance I don't think I had just the right Prada. So I've been driving everyone crazy, because, in my heart of hearts, I am a Prada devotee and want to honor the brand I dearly love. I've exchanged emails and talked with many of my fashion friends, who will be attending, and the bottom line is everyone has their dress ready. That is everyone but me and I am determined not wear black again. I don't have a stylist and I'm not a celebrity, so as a mere mortal I must find a dress on my own. There is nothing waiting for me on a secret rack or a gown I can borrow for the night. With two weeks to go, I am hopeful I can find just the right dress in just the nick of time. Last year I found my McQueen "angel" dress, fell in love with it one and three other women wore the same dress. Right now, it's not looking good. Wish me luck or send me a suggestion as the hour glass is running out of sand, and I am fairly confident that whatever I wear someone else will also be in it!
NJ, The Brunette