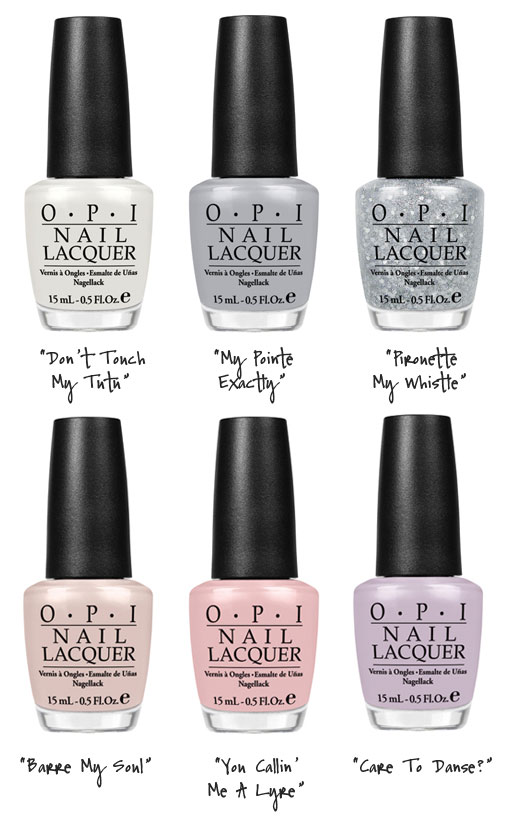 Barre My Soul
This sheer beige is gorgeous, and that's the "naked" truth.
You Callin' Me a Lyre?
This ascending pink hits all the right notes.
Don't Touch My Tutu!
Hands off this wispy white — it's all mine! I'm not Kidding. This is my favorite
Care to Danse?
This lilac is up-to-the-minuet in fashion.
My Pointe Exactly
See? This gorgeous sheer gray has been right all along!
Pirouette My Whistle
Drink up! This silver sparkle is just what you need.
Hands down, these are my personal favorite nail shades of all time. I love pales and OPI partnered with the New York City Ballet to create six new SoftShades of Nail Lacquers. They aren't even available until April. I am standing in line for these. Actually they are all perfectly lined up and all sitting on my desk at The Blonde and the Brunette offices and I refuse to let anyone near them.
Inspired by the New York City Ballet (NYCB), one of the world's premiere dance companies, OPI developed five very subtle and sheer shades lightly tinged in hues of beige, pink, white, lilac and gray, as well as a silver sparkly lacquer. With various sized glitter particles, this hue can be worn alone or layered (you know Kathryn is going to do that, right?) over any of the other colors for added shine and dimension. The big question is whether Astrid will make the move to try one of these shades.
Suzi Weiss-Fischmann, OPI Executive VP & Artistic Director, said it best when talking about he inspiration behind the collection, "NYCB is rich with artistic history and has a renowned reputation that brings people from around the world to see NYCB performances. The dancers, choreography and costumes provided a wealth of inspiration for a range of soft, feminine hues. The beige, pink, and white lacquers bring to mind classic ballet slippers, tutus and leotards, while the sheer lilac and gray add muted color to ballet's traditional pink."
All SoftShades nail lacquers contain no DBP, Toluene, or Formaldehyde, and each includes OPI's exclusive ProWide™ Brush for the ultimate in application. New York City Ballet by OPI will be available April 2012, at Professional Salons, including Beauty Brands, Beauty First, Chatters, Dillard's, JCPenney, Pure Beauty, Regis, Trade Secret, and ULTA, for $8.50 ($9.95 CAN) for each Nail Lacquer. These are worth the wait.
NJ Goldston, The Brunette