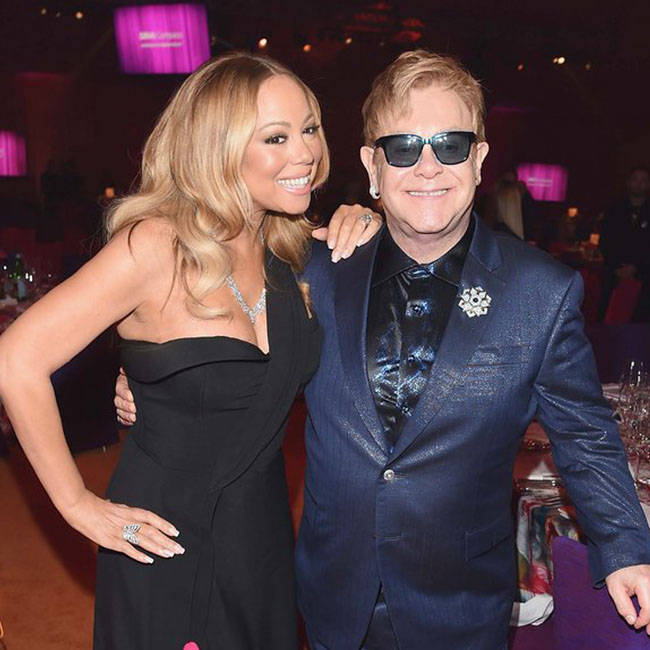 Not everyone gets to go to the Oscars, instead, and it's almost more fun, are a handful of Oscar Viewing and after parties around Tinseltown, or should I say Beverly Hills and Hollywood. This year, after running into the Bulgari folks at the Golden Globes, I knew they were going to add a lot of sparkle to the Elton John AIDS Foundations Viewing Party. Indeed they did, and so did A-Listers, including a big music crowd from Mariah Carey, Boy George, Steven Tyler to Dita Von Teese. I walked the Red (or rather White) Carpet along with them, actually right after Lea Michele, and right into the cocktail hour — complete with Oscar ballot prizes of his and her Bulgari Watches, spectacular jewels on display in huge vitrines with armed guards, and a raucous cocktail party. It was all in support of the battle against HIV/AIDS and when the evening was over along with a live auction and a knockout, almost hour long Elton John performance, that had the crowd on their feet and dancing, a staggering $6.2 million was raised.
Red Carpet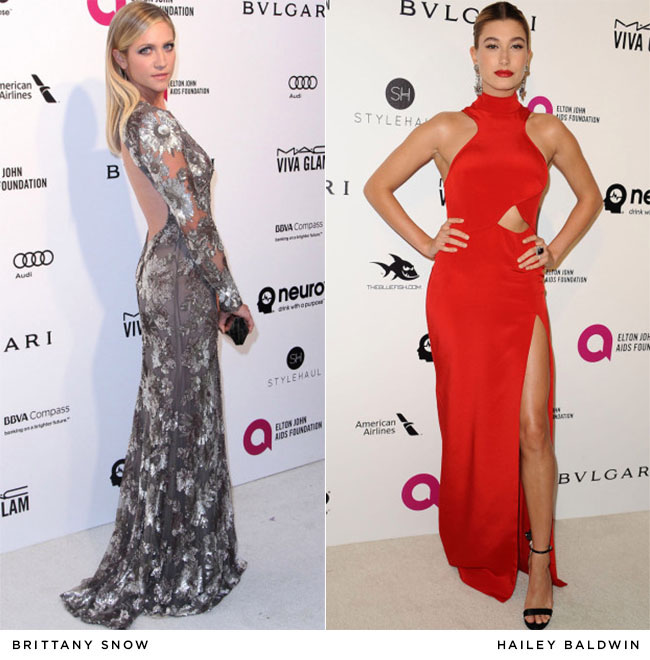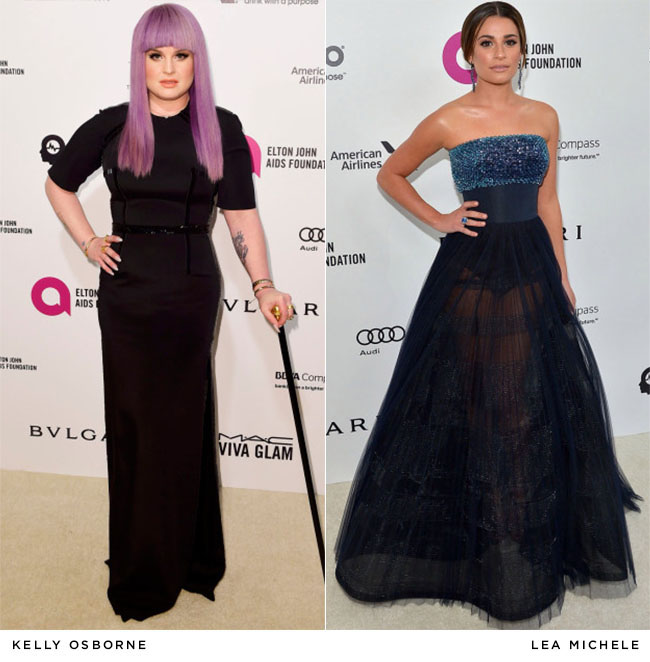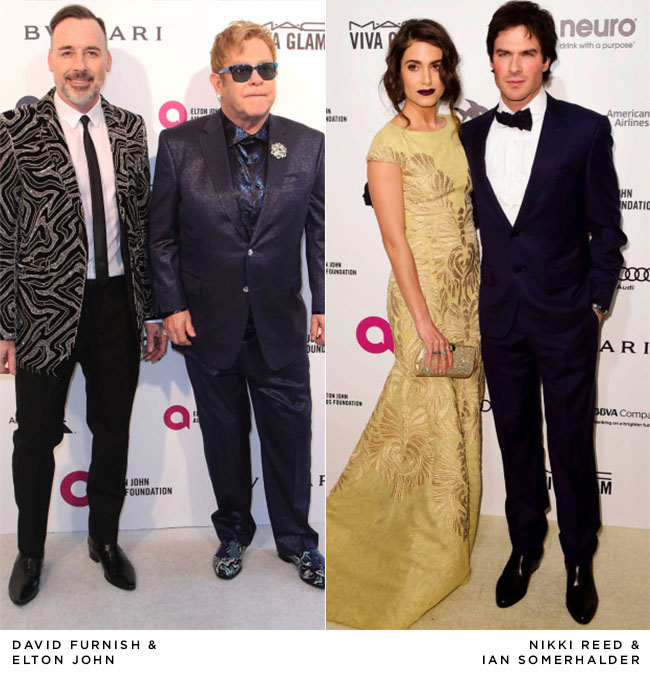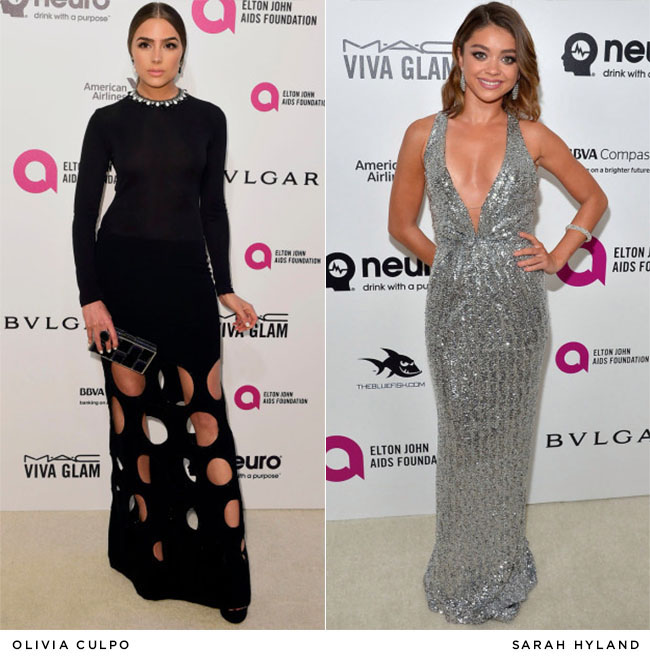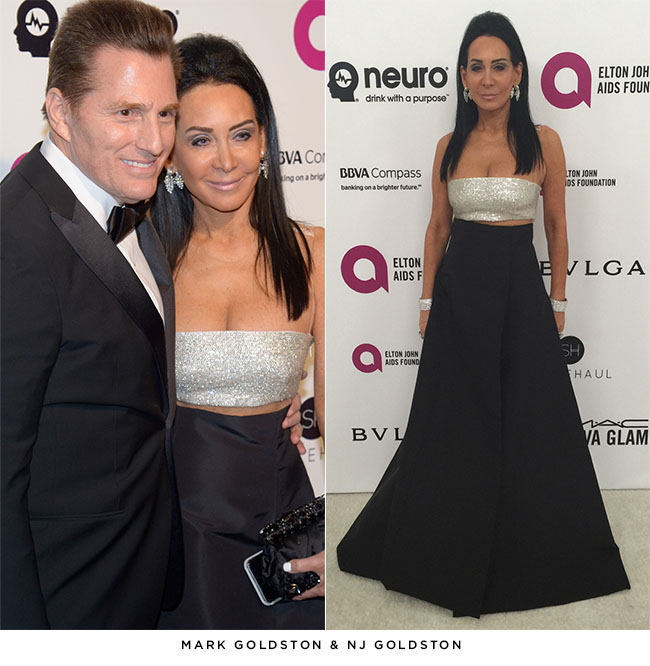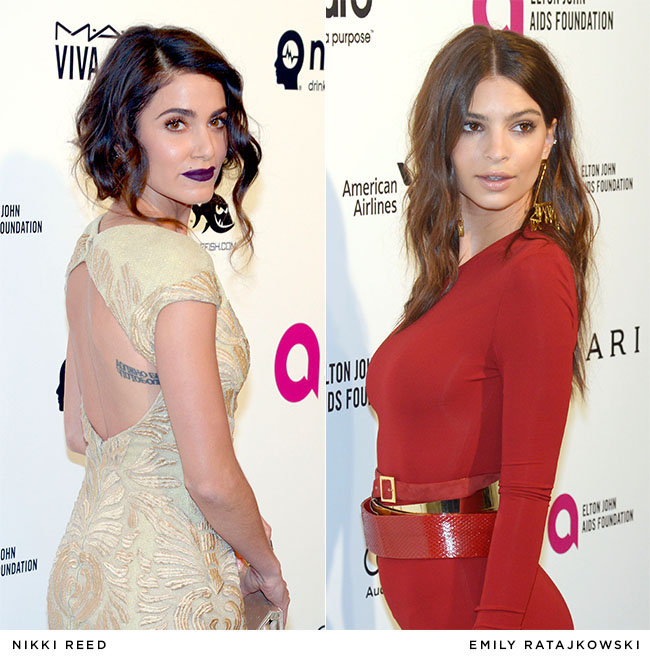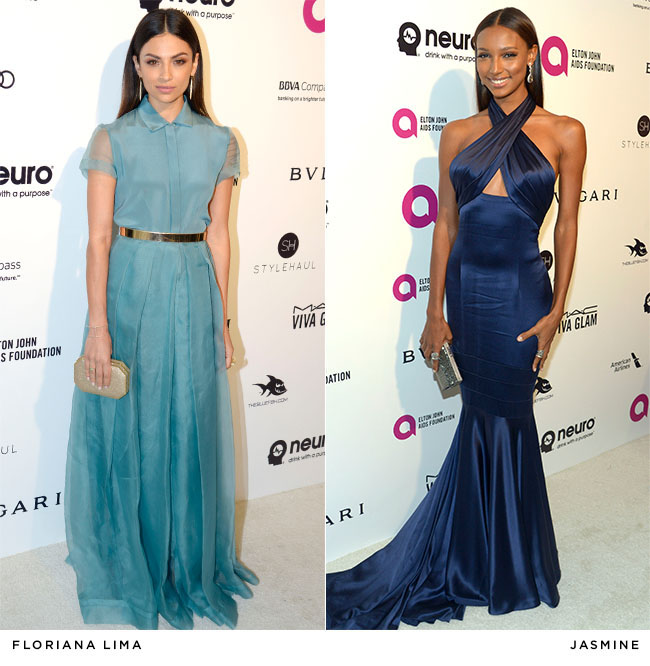 In terms of the fashion parade, just like the Oscar Red Carpet, the looks were more stylish than ever with pops of color especially in shades of blue, red, dramatic black gowns, silver and black, sheers, and cutouts. I wore a Kaufman Franco gown with a silver beaded bandeau and sheer paneling at the waist and at the neckline. It even had hidden pockets which I adore. I also followed the trend and was adorned with Peter Marco diamond cuffs and vintage diamond drop clips from Lily et Cie. The room was just as dramatic with paint splattered table cloths inside an electric orange and hot pink tent for a a sumptuous dinner created by chef Gordon Ramsay. I personally loved the Celeric Soup! Here's the secret you might or might not know. In between the auction and the live performance, we party hopped just like everyone does. We rushed over to The Weinstein Company Viewing Party at the Montage with it's own A-List happening and made it back in time for Elton's performance. You have to manage your evening!
Inside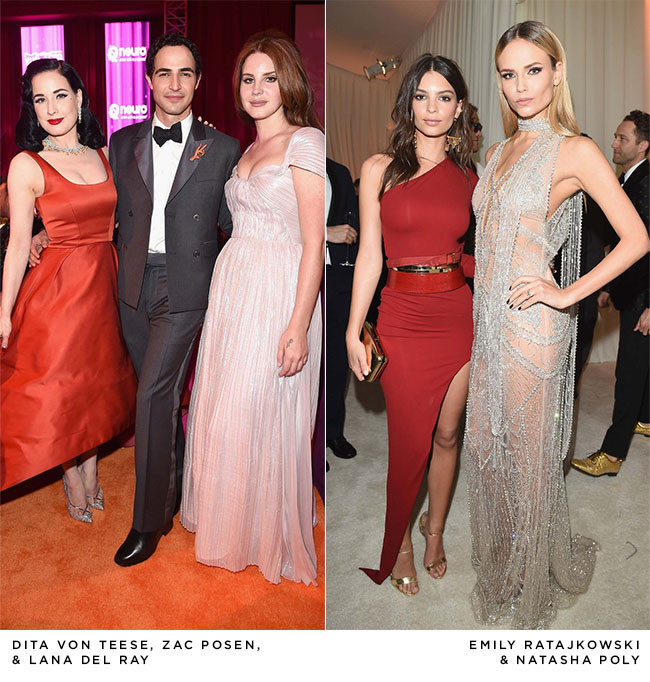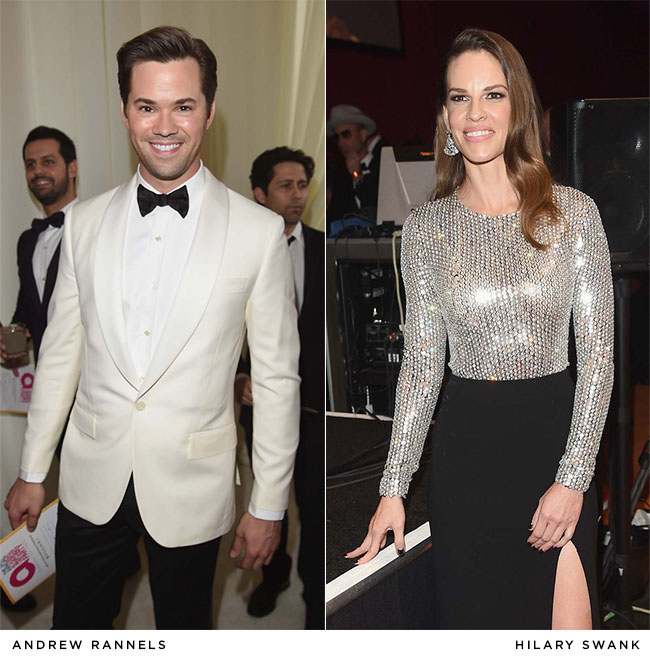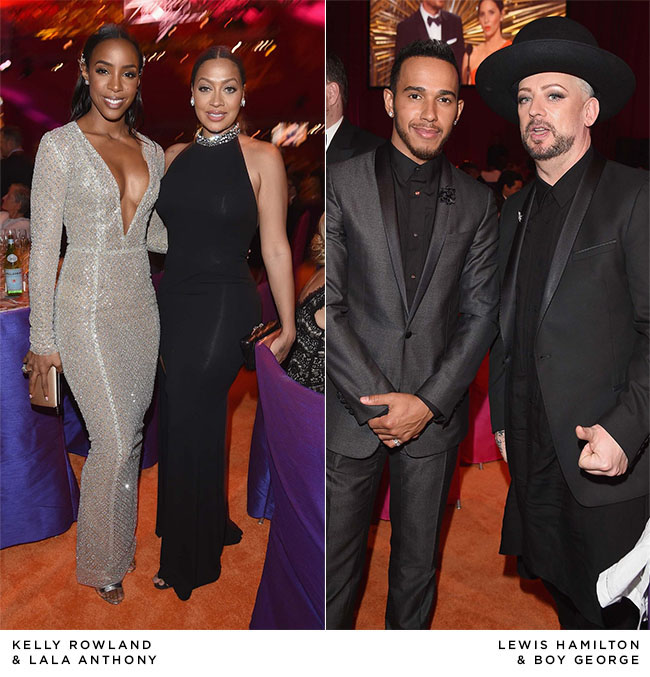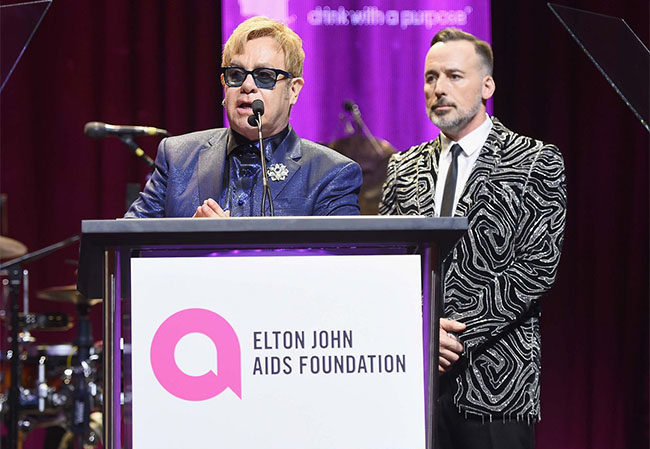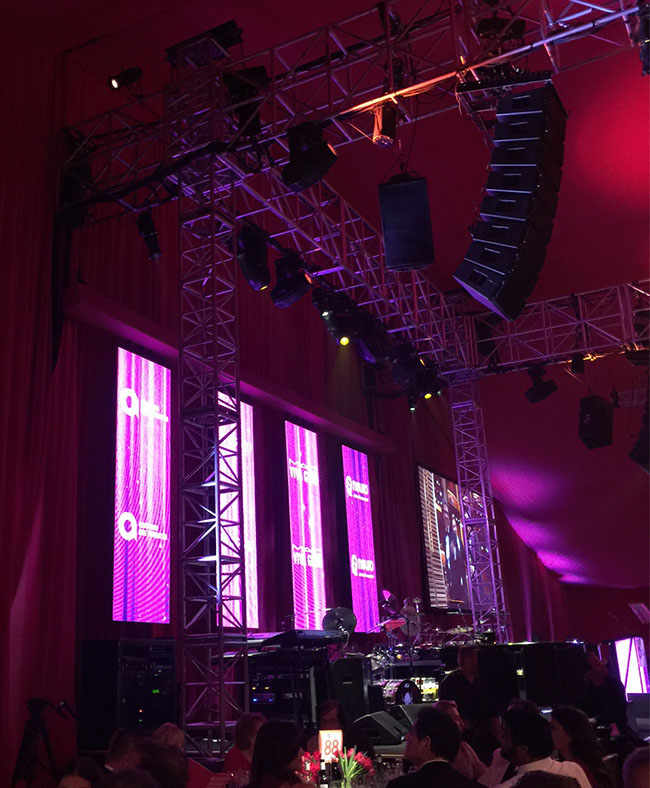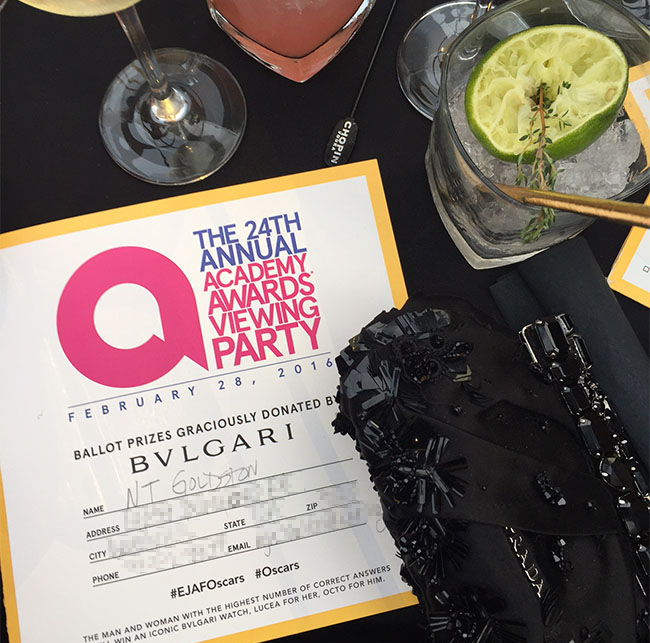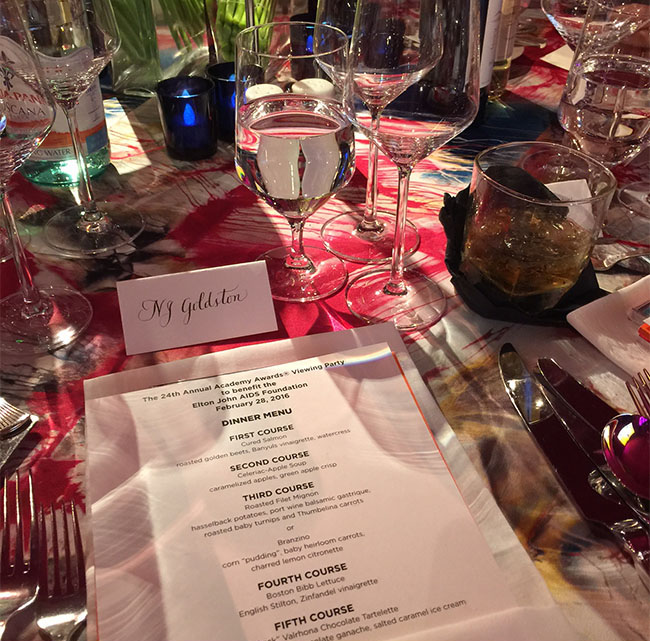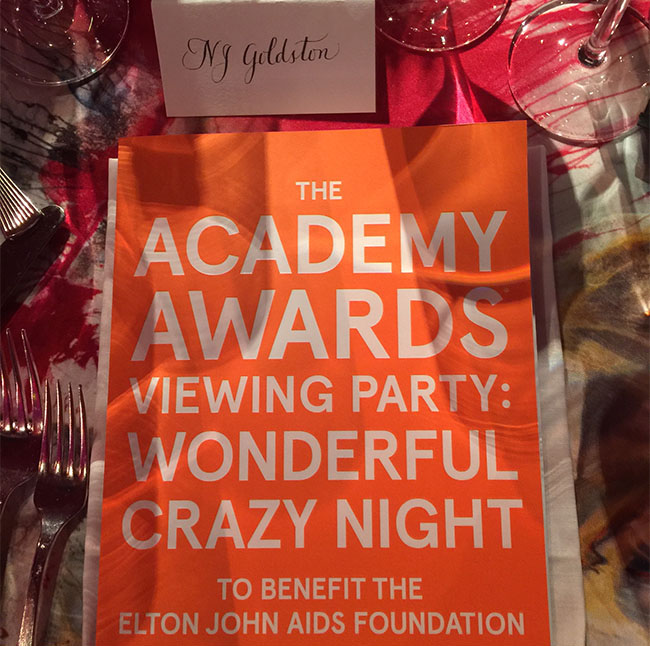 After Elton and his Band brought down the house, everyone headed for more drinks and dancing with DJ Johnny Dynell before we were on to the next set of parties. In fact, if you look closely at all the Oscar party photos blasted across the media, you'll see many of these lovely ladies in multiple gowns including at the Vanity Fair Party. I'm still recovering and I imagine Elton John is too. It's all for a good cause.
With Love From Hollywood,
NJ Goldston, The Brunette
photos courtesy: PatrickMcMullan.com and NJ Goldston