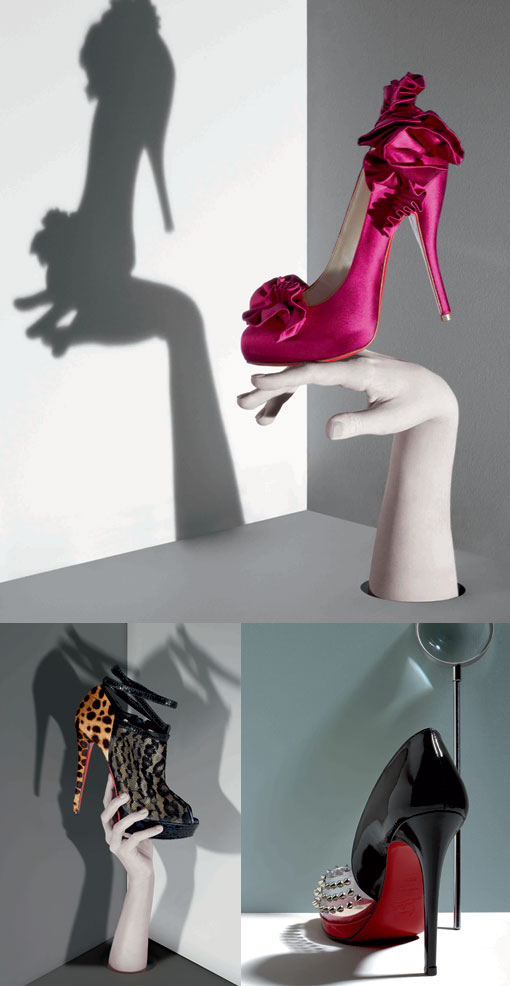 Photos Courtesy Design Museum: Photographer Philleppe Garcia, from the Christian Louboutin book published by Rizzoli.
I arrived in London a few weeks ago and what did I do first? Like any great fashionista, I went straight to the Design Museum of London, to see the first UK retrospective of iconic French shoe designer Christian Louboutin. This magnificent show chronicles a career, which has pushed the boundaries of high fashion shoe design, and showcases twenty years of designs and inspiration. At every turn, it reveals the true artistry and theatricality of his shoe designs from stilettos to lace-up boots, studded sneakers and bejeweled pumps.
Drawing from Christian Louboutin's personal archive, the exhibition presents his celebrated shoe designs from the origins of the iconic red sole, through to the latest Louboutin collections, including a range of men's shoes and desirable handbags. It's packaged in a dramatic exhibition environment to highlight Louboutin's artistic personality and creative approach− just the way he sees it. In fact, our beloved Monsieur Louboutin spent a week at the museum installing and obsessing about the show, just like every one of his shoe designs.

The show examines the many sources of his creativity, shoes inspired by performance, cabaret and the showgirl; fantasy and fairy tale; art and architecture; film; landscape and travel. The exhibition also focuses on the handcrafted shoe as well as one-off designs which incorporate his highly innovative ideas, forms and materials. There is even a special section dedicated to the shoes designed for 'Fetish' an exhibition at the La Gallerie Du Passage, Paris in 2007, a unique collaboration of photography between Louboutin and acclaimed artist David Lynch. Very ooh la la.

At the core of the exhibition is a unique exploration of Louboutin's design process in his recreated workshop, taking the visitor through every stage of the design journey, revealing how a shoe is constructed, from the initial drawing and first prototype through to production in the factory. Looking beyond design and production, the exhibition also explores the company's innovative store design.
We all agree, Louboutin's shoes are the epitome of style, glamour, power, femininity and elegance. Experience it for yourself. This is the perfect girl's foray and time is running out. The exhibit closes on July 9th. So, if you live in the U.K., get there; and if you don't, maybe, just maybe, especially if you live on the continent, it's worth a train ride to London. One last note: The Design Museum is the world's leading museum devoted to architecture and industrial design, so their show's and curators know the meaning of excellence and how to deliver it. DESIGN MUSEUM, SHAD THAMES, LONDON SE1 2YD OPENING: 10.00 -17.45 daily. Last admission: 17.15 Admissions: £10.00 Adults, £9.00 Concessions, £6.00 Students under 12s Free. PUBLIC INFORMATION T: 020 7940 8790 W: designmuseum.org
xo
NJ, The Brunette