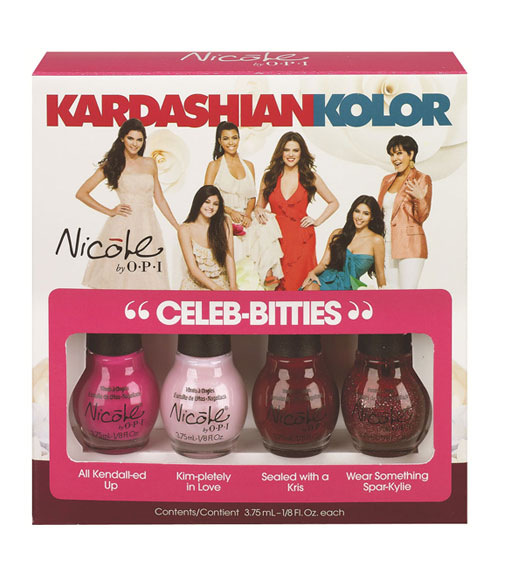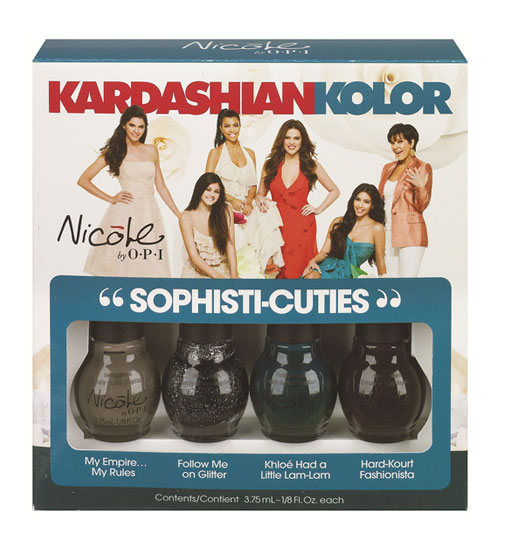 Since our nail lacquer addiction continues and it's not going anywhere, The Blonde and The Brunette just had to add one more thing to the whole Kardashian Kolor suite. We've got the scoop. There are two mini packs coming out in July – Celeb-Bitties and Sophisti-Cuties featuring the Kardashian Kolor shades.We love the idea of mini-packs because the ever so clever smaller bottles are also perfect for gifting, travel or using on-the-go. They are also calling them Pretty Petites and each mini packs offers four of the bestselling Kardashian Kolor nail lacquers. The first set Celeb-bities features shiny, sparkly shades in feminine pink and red hues. The second set Sophisti-cuties provides an earth-toned palette of green, brown and gray glitters and crèmes. Her's the the break down on the colors.
The Celeb-bities four shades in the Celeb-bities pack lend bright pops of color and glitter to any look . Check out"All Kendall-ed Up", a Fuchsia with some kick especially for your toes. Kim-pletely in Love". Hmm. No comment but a great, soft pink. "Wear Something Spar-Kylie". Glitter-ly a deep shade of pink with a punch and"Sealed with a Kris". This klassy red is very top-of-the-line and very Kris.

At the opposite end of the color spectrum, the Sophisti-cuties mini pack has a classic but edgy feel, thanks to hot neutral hues like taupe, gray and chocolate brown starting with "My Empire…My Rules". This is a take-charge taupe that is always on-trend."Follow Me on Glitter". A glittery deep gray that always has something to say."Khloé Had a Little Lam-Lam". A deep dark emerald worth a try especially with olive skin tones."Hard-Kourt Fashionista". This delicious deep brown is possibly the chicest hue in the grouping.
All the Pretty Petites will be available July 2012 for $10 each at Duane Reade, H-E-Butt, Fred Meyer, Meijer, Rite Aid, Sears and ULTA. In Canada, each set will be available for $15 at Katz Group, Loblaw, Shoppers Drug Mart, select Sears locations, and Walmart Canada.
– NJ, The Brunette, Kathryn, The Blonde & Astrid