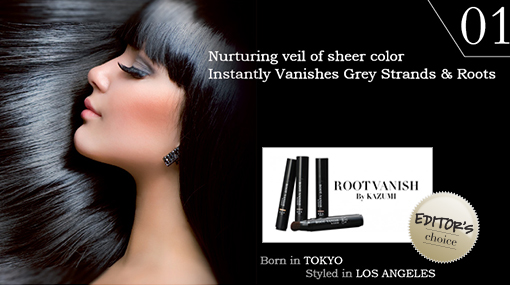 I'm going to sound like an infomercial but I just discovered Root Vanish. Actually, it debuted in L.A just a few months ago!
Touted as a gray hair manicure, this amazing new product hides the gray or touches up your color. Instantly. It comes in dark brown, light brown, blonde, and black and is easily applied with a beautiful brush from a glossy click-brush bottle. You can throw it in your purse, travel with it, and skip coloring or highlighting as frequently. That saves on the cha-ching too.
The back story is interesting. Designed, formulated and color-perfected by Kazumi Morton, a Master Colorist at the famed Jonathan and George Salon in Beverly Hills, Alex Chases Salon in San Francisco, and the John Frieda Salon in New York City, she's actually nicknamed the "brunette master" by Allure magazine. I NEED an appointment with her! She's literally just down the street and I never knew it.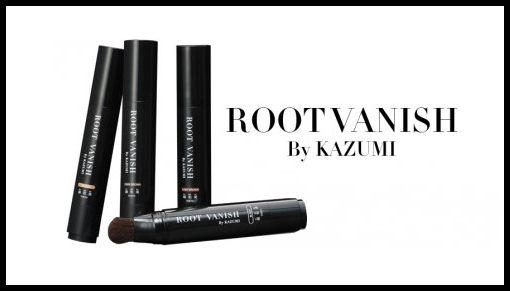 What Inspired Kazumi: As a solution to her clients' request to find a roots & grays touch up colorant that will carry them over from one Kazumi-appointment to the next, Kazumi paired up with KIWABI, Inc. (the well-known Japanese Hair Care Company) to design a product that provided the radiance, nutrients and color that her clients demanded — and banished the typical hassles associated with wash-off touch up tools and colorants. I'm raising my hand. That's me. Demanding.
What It Does: Elongates the weeks between one coloring appointment to another without showing your grays and roots. It's an instant touch up that colors depending on the shade you need with an anti-aging treatment.
What Makes It So Great: Over 22+ Asian botanical extracts that fortify, strengthen and energize the hair and scalp while instantly vanishing grays and roots out of sight.
It's available on Amazon and of course at local LA salons including James Kendall and the Jonathan George Salon in Beverly Hills. $48.
With Love From Beverly Hills,
NJ Goldston, The Brunette