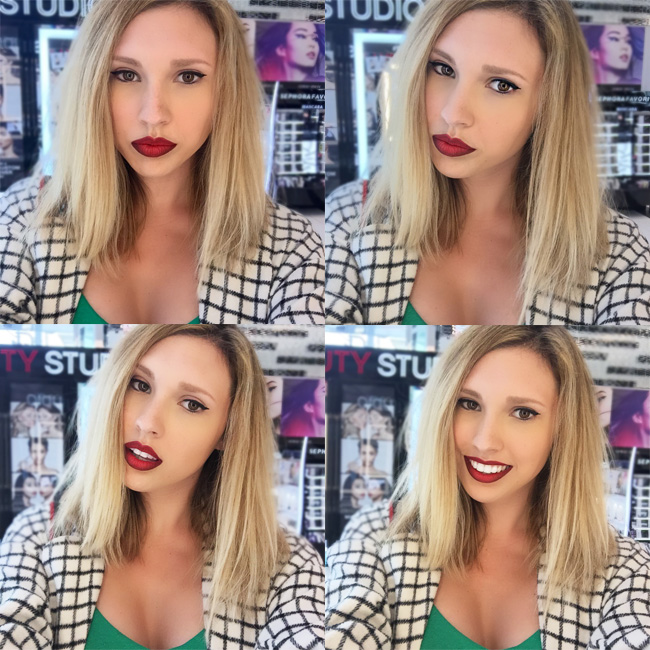 Yesterday we got invited over to Sephora in Beverly Hills for an exclusive preview of the new Kat Von D Fall 2015 makeup collection. Lucky us, the genius behind the tattooed goddess' flawless makeup, global makeup artist Erik Soto, who personally gave us a full demonstration of her new line and the inside scoop on what's trending for Fall. It's official, the ombré lip is going to be big this season! And we put it to the test! Read on for tips to get this look (above) and check out Kat's full collection. We had a lot of fun with this and so should you.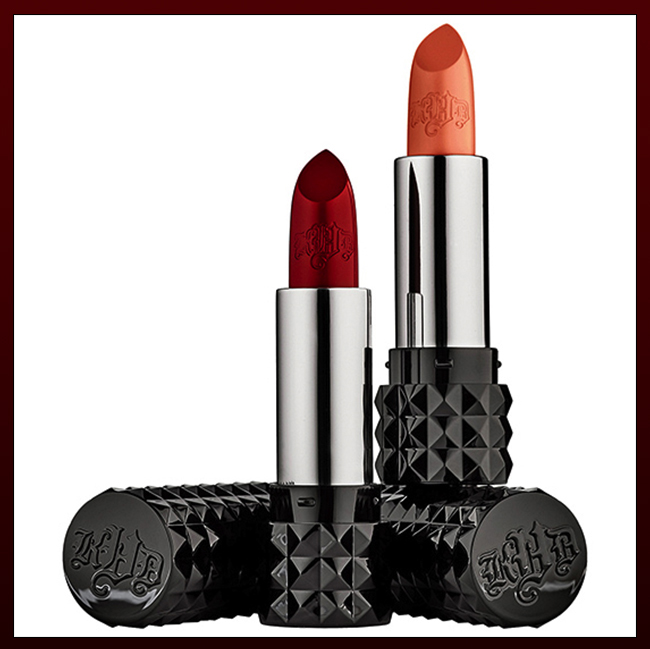 First, the drop dead gorgeous packaging. Totally famous for her mastery of all things ink, Kat Von D is breaking the mold of traditional beauty with her limited edition edgy, studded lipstick cases and sets. But the colors are the real drama. Vivid just might be an understatement.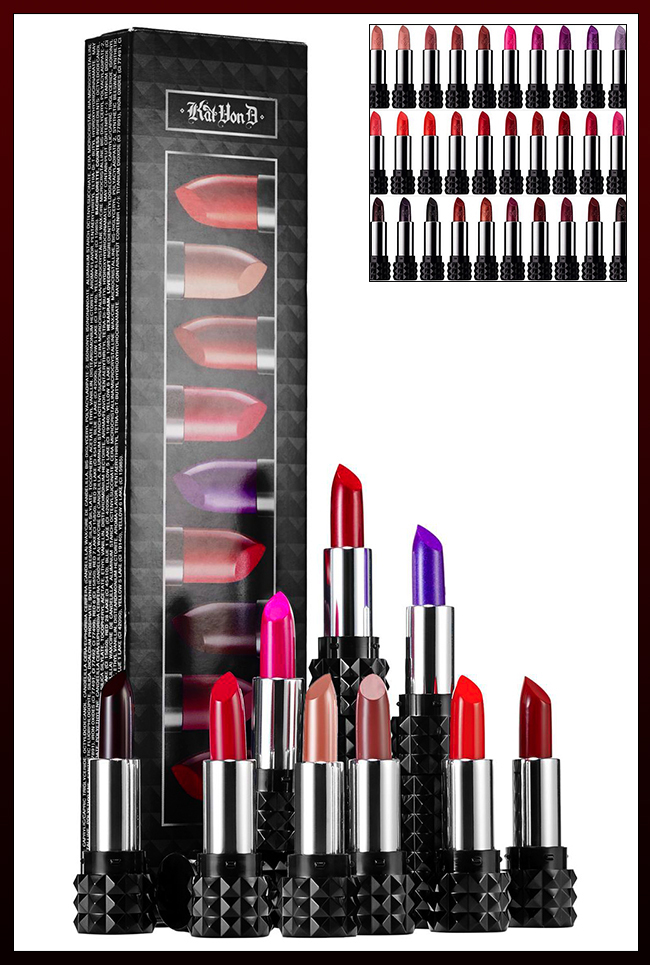 Let me break it down. There's two ways to go. If you're a traditional lipstick lover, the new Kat Von D's Studded Kiss Lipsticks set features seven out-now Studded Kiss shades with names you know Kat probably dreamed up herself from Wolvesmouth, Halo, Coven, Sexer, Bachelorette, NaYeon, and Noble. We got a little excited! These great lipsticks last all day and are totally food-proof and kiss-proof! We love the subtle pinks, bold reds, and even the iridescent neon lilac. Each one makes a great ombré! If you're more of a girl who loves a great liquid lipstick, then go with her Everlasting Liquid Lipstick line. With almost 30 shades, it's a long-wear, full-coverage liquid lipstick with a smooth, matte finish.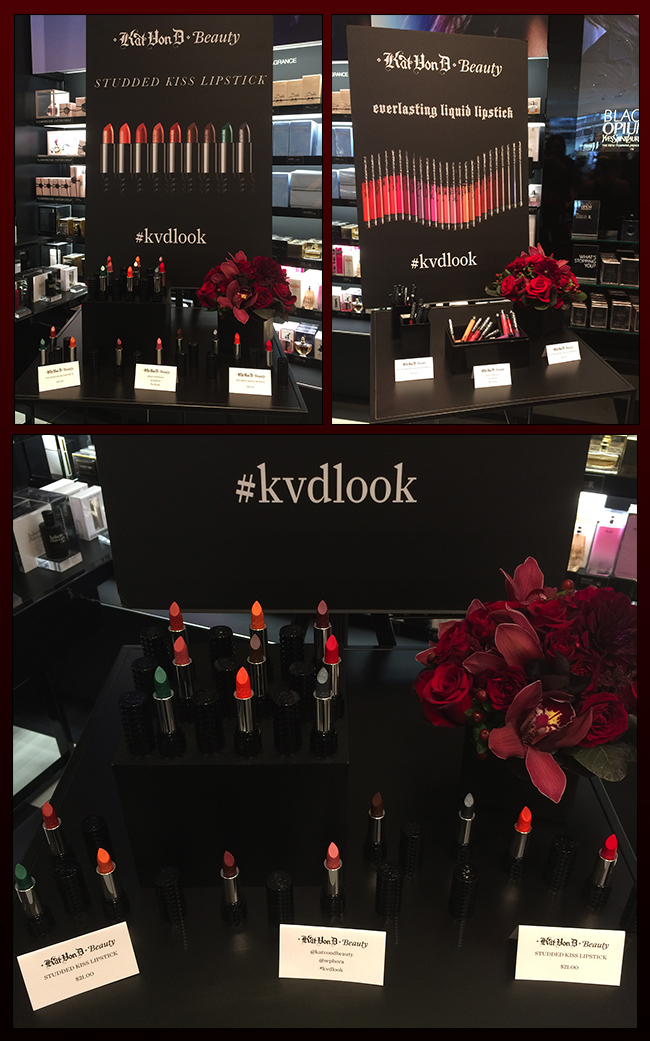 But, you know me, after reviewing all the options, I just had to talk it over with Erik. Did I dare go ombré? With a little encouragement from the master himself, he explained to me that he's predicting a very warm Fall. In the makeup world that means lots of browns and deep reds lipsticks and LOTS of great ombrés!
We chatted a bit more (as I still needed a bit more confidence boosting) and Erik was kind enough to give me the trendy ombré lip lowdown and made me a believer. For me, he used the three shades of Everlasting Lipsticks (above) in Poison Apple, Brick Red, and Black Cherry. He also explained to me his go-to tips and tricks to applying this look.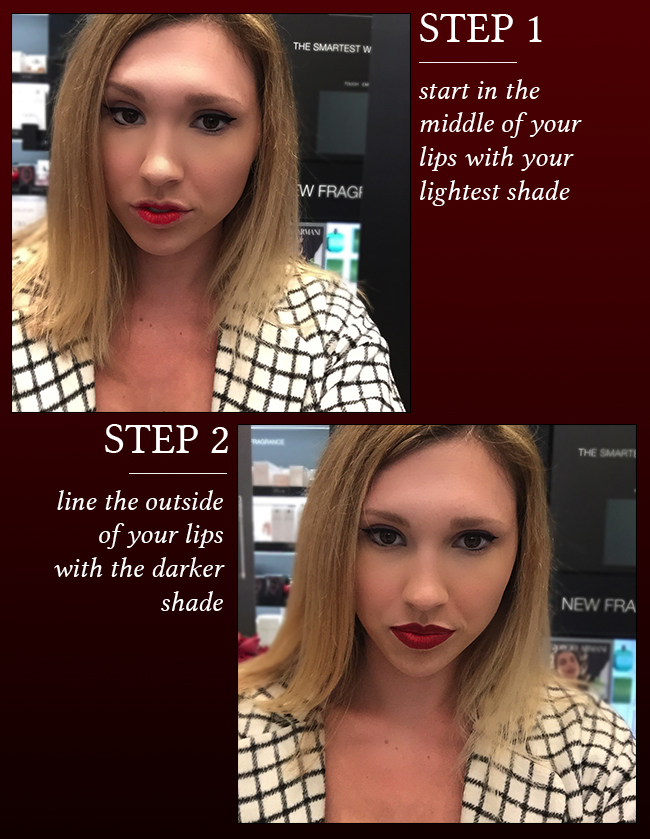 Use your second darker shade to act as a liner and outline your lips. And blending is key for this, so make sure you have a good brush to apply with your lipstick. It's a basic beauty must.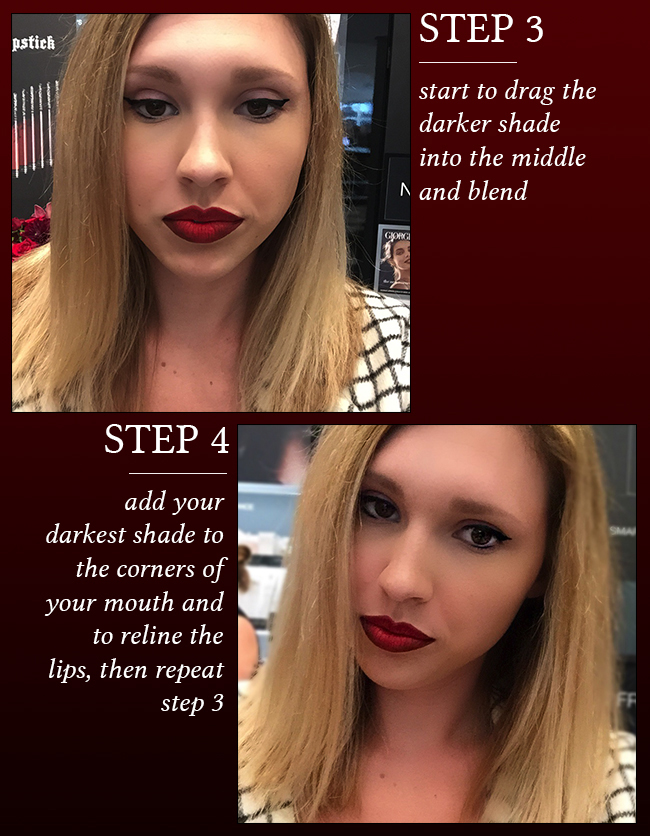 Finally, if lipsticks dry out your lips, like they do mine – a great tip Erik gave me was the night before to try a lip mask (great one here!) to give your lips just enough moisture to keep your lipstick in tack! To select your favorite color, head on over to Sephora or shop the entire collection online at Sephora.com. I'd grab your favorite color quick, before they're gone. Oh, the best part? Nothing's permanent. A special thanks to Sephora, Erik, and Kat for my new look. I'm loving it.
xo,
-Lauren Cheek , The Blondette & Jadan Huter.