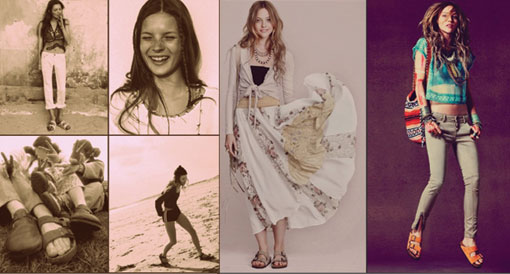 Birkenstocks definitely carry a strong sense of nostalgia with them…it is hard to look at them and not be reminded of my childhood. Back when comfortability > fashionability.
Besides comfortability, Birkenstocks have never been on the top of my fashion footwear list, BUT, with the mix of colors offered by Free People this season, that opinion might soon change.
As a bit of inspiration, I dug up the famous photos of Kate Moss by Corinne Day. Not only can Kate make anything look good, but these photos do such a great job at capturing the carefree feeling of summertime just perfectly.
When worn right, Birks are the perfect shoe to pair with girly, feminine skirts and dresses, and Kate even shows how great they look with a pair of Levi's. After seeing these photos, I think I may actually have to go out and buy myself a pair for all the upcoming festivals this summer. I mean, they are known as world's most comfortable sandal!
Check out the "Free People" Birkenstocks – I am so curious to know, what do YOU think about this comeback?
Xx. Jadan