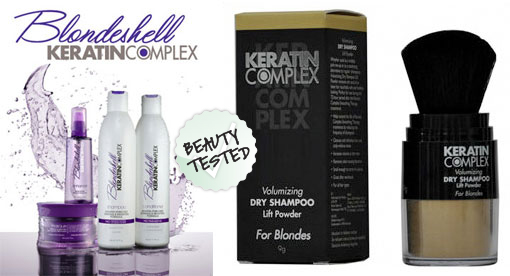 Calling all Blondes, natural or enhanced, I have found a secret weapon for us!The NEW Blondeshell Keratin Complex Collection is the holy grail for the perfect blonde. Whether your blonde is highlighted or not, the Keratin Complex Blondeshell collection debrasses and brightens all hair types. The key fade-fighting chamomile complex and strengthening blend of keratin, vitamins and botanical oils all work together to help out any blondie! And to keep my hair healthy, I always make sure that all my hair products are free of parabens, sulfates or sodium chloride which is true for the entire Blondeshell collection.
You know me. I put the entire system to the test. I'm using the The Blondeshell Keratin Complex Shampoo, Conditioner and KeraWhip hydrating cream conditioner every other day and it has really helped my hair color last while toning down the brassiness. My hair is softer, has more shine and healthy looking and the fragrance is heavenly!
They also have three other products in their line and I use them on a rotating basis. I put on the Blondeshell Masque whenever I can because it gives my hair a huge burst of hydration with the hydrolyzed keratin and shea butter ingredients. Their Blondeshell Enhance High Shine Brightening Oil is the perfect shine for dry hair. You can use this everyday on dry hair because it contains a blend of botanically derived oils and amino acids for smooth, shiny hair and mends dryness and breakage (which can happen due to coloring). They also have a Volumizing Dry Shampoo Lift Powder which has saved me on those "I don't have time to wash my hair days!" This product actually leaves my hair feeling clean and I love the easy brush applicator. It helps conceal roots too!
Blonde just got a lot easier.
-Kathryn, The Blonde