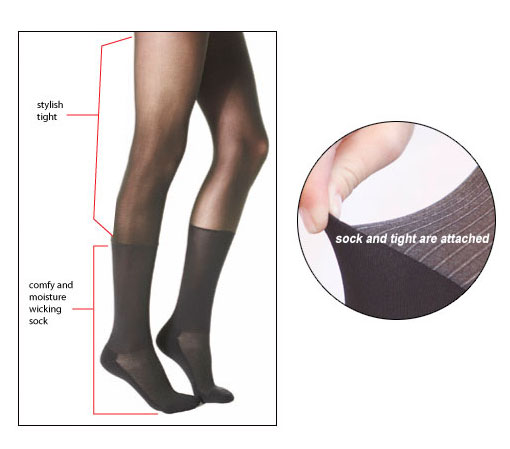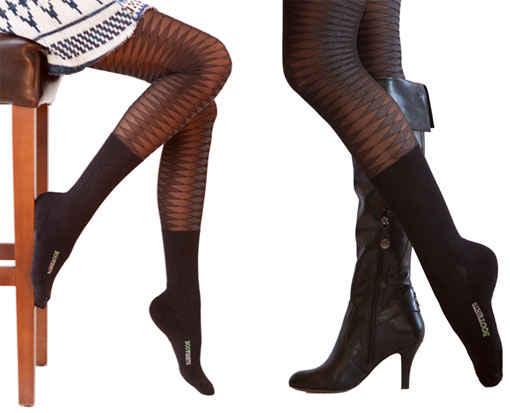 It 's still winter and getting colder in LA. That's hard to believe or even that we would say baby, it's cold outside.. Last week during the Oscar® Rush we went to many an Oscar Gifting Suite. One of our favorites was the Kathy Duliakas' 4th Annual Celebrity Oscar® Suite & Party. This suite is very special because it also benefits The Hats Off For Cancer Charity For Children and we are going to do a separate post on that soon. We also like to pride ourselves on being in the know. Well, we discovered lots of new fashion items and hadso much fun finding out about them.
First up, Bootights! The Blonde & The Brunette have found an amazing invention: Bootights. These are the best solution for wearing boots and tights. Bootights® are premium tights with performance socks attached so your legs look amazing and your feet feel great all day long. No more bunching socks or slipping in your boots! Our feet thank us and so will yours! What a relief to have style and comfort in one!
PROUDLY MADE IN THE USA.

The Tight

Premium quality with all over support for a smooth, controlled silhouette.
Dig-free waistband doesn't roll or bind.
Cotton gusset so you can go commando if you like.
Silky soft, semi-opaque Classic tight with core colors every wardrobe needs and sophisticated and fun patterns to compliment every outfit.

The Sock

Moisture-wicking so feet are drier and warmer
Compression Arch support so feet feel supported and energized all day long.
Top mesh so feet breath inside boots
Sculpted cushioning so heel and toe are protected and comfy in boots
Contoured fit of sock so boots fit amazing. No more slipping feet or bunching socks!
Bootights have a suggested retail price of $30.00 for the Core Collection. They come in all different colors; Jet, Chocolate and Heather Grey Semi Opaque. The various patterns include Micro Fishnet, Flannel, Cable, Argyle, Calliope and Burgundy Back Seam. There are also ankle and mid- calf built in socks available. Buy Bootights online here.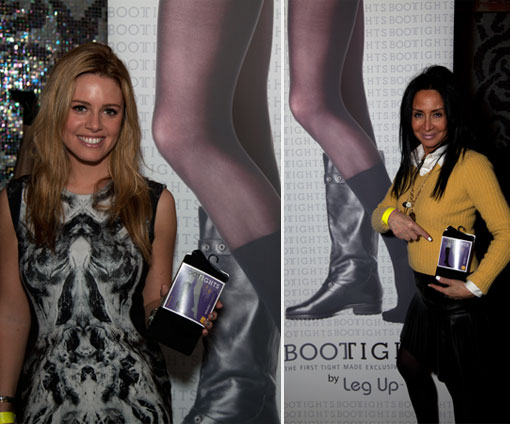 That's us, hamming it at the Kathy Duliakas Oscar® Suite because one lucky reader of The Blonde & The Brunette will receive two free pairs of Bootights absolutely free as well as free shipping! To enter:
Like this post.
Leave a comment with your first name only . We'd like to know if you would like to see categories on the right sidebar or as a top navigation such as Style, Beauty, Red Carpet, Accessories, Entertainment, etc.) or have any suggestions for us.
The fine print: One entry per person. Entries will be accepted until Monday, March 5th at 5pm PST. We'll announce a winner on Tuesday, March 6th. The winner will be give a special code to get their free pairs of bootights.
Kathryn, The Blonde & NJ, The Brunette