A veteran trend forecaster for the world's most recognizable names: Prada, Gucci, Miu Miu…An avid adventurer who has trekked through the Amazon and traveled the Silk Road of Asia…the two founders, of my new favorite LA boutique, D E S K O H A N, uniquely inhabit two worlds, with one foot planted in the realm of high fashion and the other on a trail blazed through the heart of the natural world.
Launched in the Spring of 2005, by Desiree Kohan, formally a trend forecaster for Prada and Gucci, and Annie Costello Brown, known for her laced-with leather necklaces, the duo have created the perfect destination for fashion-lovers searching for that unique piece (that isn't at every department store) and anyone on the hunt for their trademark "Deer" and tough-girl, rocker chic jewelry vibe.
Curated in the spirit of an art gallery, DES KOHAN, nestled in a 1920's Miracle Mile warehouse, features continually changing collections by renowned and emerging European and American designers with many pieces designed exclusively for them. The list includes celebrated designers from Azzedine Alaia, Hussein Chalayan, Viktor & Rolf, Sharon Wauchob, Sophia Kokosalaki, and Damir Doma as well as under-the-radar designers Mark Fast, and exclusive custom gowns by Juan Carlos Obando (a B & B favorite!).
How is this possible in the ever competitive fashion world? Given Desiree's long-standing and close relationships with many of the designers, who can be frequently found hanging out on site, they happily collaborate producing custom pieces that can only be found at the boutique. Approximately 80% of the store is exclusive items! No wonder they are an LA-based gem. In addition, the boutique features an array of handpicked vintage Chanel, Hermes, Gucci, and Givenchy jewelry and chic home accessories along with unique evening wear, knit tops, dresses, skirts, pants, jewelry, accessories and vintage collectables from the DES KOHAN collection.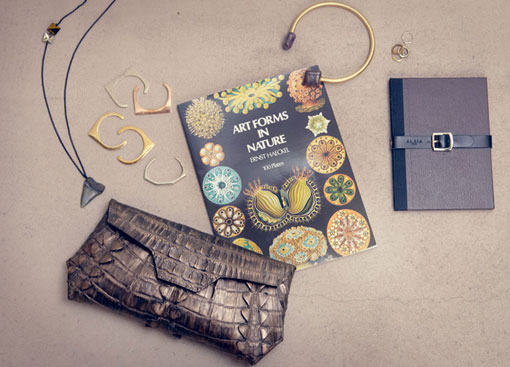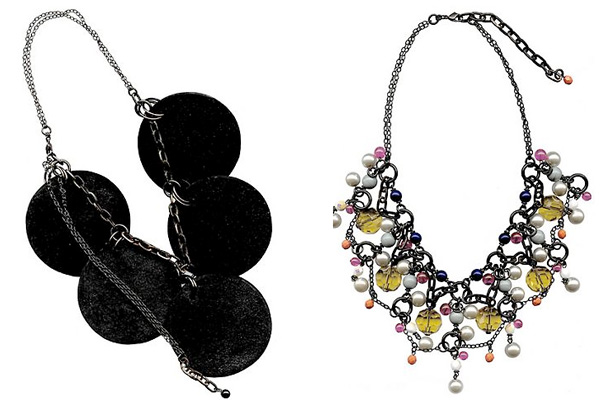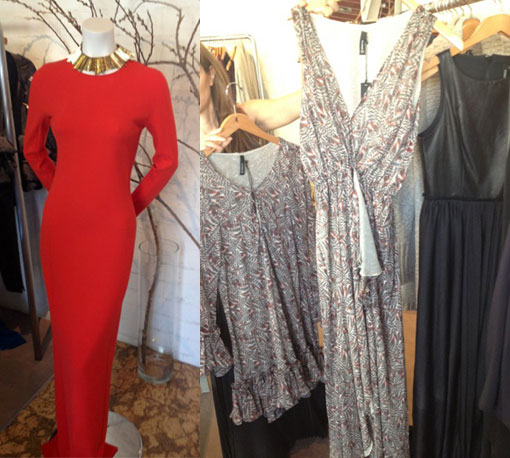 Accessories are also one of their go-to specialties. Designed for the DES KOHAN store by LA based designers Annie Costello Brown, Bare, and Gabriela Artigas, they each have quite a cult following! You might want to start with the BARE Fine Teardrop Ring (above) at $124.

This ring is a beautifully modern approach to the classic signet ring design in a stunning side-ways teardrop shape or several different shapes. You can even put initials or your constellation on the ring! So adorable and such great gift for a horoscope-loving friend! It can be worn on any finger but is particularly beautiful as a pinky ring. It comes in White Gold Alloy, Yellow Gold Alloy and Rose Gold Alloy. Allow 7-10 working days for all custom hand engraved pieces.
I also curated a few of my favorite looks which really add something special to your wardrobe.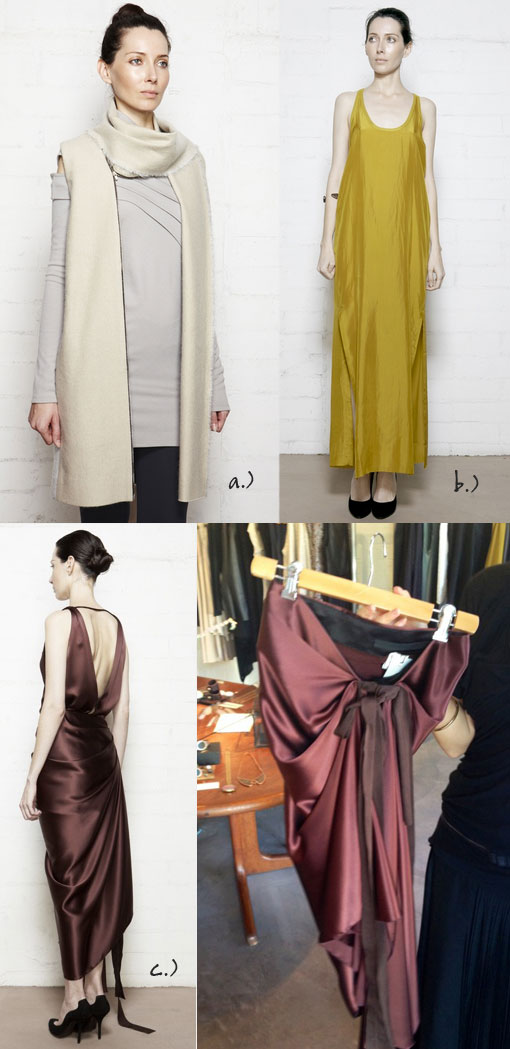 a.) SHARON WAUCHOB Multi Way Zip Gilet $1400
This Multi-Way Zip Gilet has exposed zip detail and can be worn many ways. This exquisite vest can unzip and create an open look, or have the side panels draped across your body as an attached scarf. To be worn belted or not, this Gilet is an essential in your wardrobe.Shown with Pleat Long Sleeve Knit Top
b.) DAMIR DOMA Long Silk Racer Back Dress $630
Racerback cropped front dress is made from pure silk. It fits loose throughout with a classic racer back style shoulder, back and arm hole, which are fully bound in monochromatic cotton jersey.
c.) JUAN CARLOS OBANDO Love Skirt & Reversible Blouse Set $1538
Made of Silk Charmeuse the skirt is wrapped around the waist and drapes through out. It is tied with a grosgrain ribbon and creates an asymmetrical hemline. The top has an open back with a cross strap and a deep v at the front. It can be worn with the skirt in a monochromatic way or uniquely versatile with the green graphite of the reverse side. Pair together as evening attire or you can be sold. This skirt has unbelievable draping with a fluid silk fabrication!
One last thing. There are special perks to the Des Kohan boutique experience. Great Hollywood customer service as they deal with so many celebrities, complimentary alterations from a couture seamstress or a meet and greet with your favorite designer to design a piece just for you. .
All items are available online or by calling 323.857.0200 Address: 671 Cloverdale Avenue/Los Angeles, CA 90036/Hours:Monday – Saturday 11 – 6/Thursday 11 – 7/Closed Sunday/ General inquiries order@deskohan.com/
Happy Shopping!
-Kathryn, The Blonde