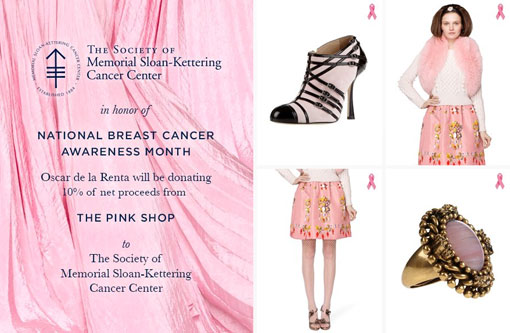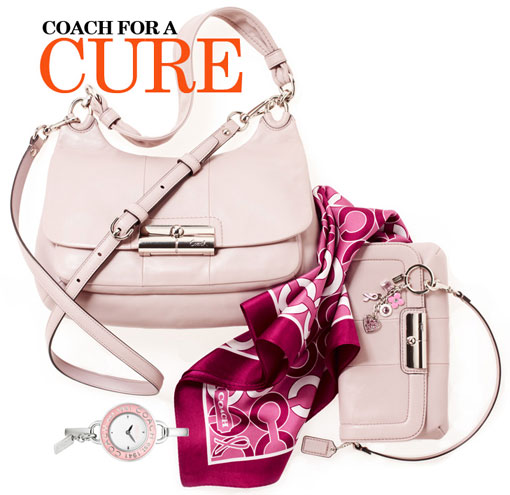 One last reminder, it's never been more chic to wear pink. Just ask designers like Coach and Oscar de la Renta, who have brought pink ribbon pride to the next fashion level with their ready to wear lines benefiting breast cancer research. With pieces such as a stunning pink silk print skirt, a vintage-inspired fox stole, pink and black leather strap pumps and a pink crystal cocktail ring, the Oscar de la Renta Shop Pink collection is a sophisticated way to support breast cancer research no matter your style or price range. And you'll have your Breast Cancer Awareness Month accessories covered when you shop the modern pink bangles and dusty pink wristlets in the Coach For A Cure line. A percent of sales from each collection goes directly to breast cancer research and you know this is a cause near and dear to The Blonde and The Brunette team.
There's a reason why luxury designers and other high-profile companies stand behind Breast Cancer Awareness Month: the disease affects nearly 1 in 8 women in the U.S., putting our mothers, sisters, wives and the other women in our lives at an increasingly high risk for this deadly form of cancer. And although some 40,000 American women lose the breast cancer fight each year, the 2.6 million-plus survivors in the U.S. should remind us that sometimes, preventative measures and early detection can make a difference.
Here are some easy ways to ensure the health of your breasts:
1. Diet

Omega-3 Fatty Acids: Eat foods high in Omega-3 Fatty Acids to decrease inflammation and reduce the effects of estrogen in the breast tissue, which plays a role in some breast cancer tumors. Nuts, flax seeds, salmon, herring and oral dietary supplements such as Nordic Naturals are all good sources of these acids.

Green Tea: Drink a few cups of green tea daily to gain health benefits such as reduced risk of heart disease, lower blood pressure, and healthier breasts.

Antioxidants: Eat foods such as blackberries, kale, spinach and broccoli to reap the benefits of cancer-fighting antioxidants.

Avoid Bad Fats: Avoid animal fats, trans fats and too much Omega-6 Fatty Acids, all of which increase inflammation and the risk of cancer. If you're eating red meat, go with chemical and hormone-free beef. Avoid oils such as cottonseed, corn, margarine, safflower and sesame.
2. Lifestyle

Exercise: Exercise regularly to strengthen your defense against disease. Lowering body fat helps regulate your estrogen levels, which is key to preventing breast cancer.

Don't Smoke or Drink: Don't smoke or drink excessively, as both activities have been shown to increase the risk of cancers, including breast cancer. Limiting alcohol consumption can directly lower your risk for this type of cancer.
Of course, there's no better way to ensure the health of your breasts than early detection. Conduct a quick, at-home breast exam, using the WebMD guide, each month to increase your chances of early detection and consult a doctor before undergoing hormone replacement therapy, which can increase your risk of breast cancer despite alleviating some menopausal symptoms.
We're all in this together.
Robert M. Applebaum, M.D., B & B Health & Beauty Contributor