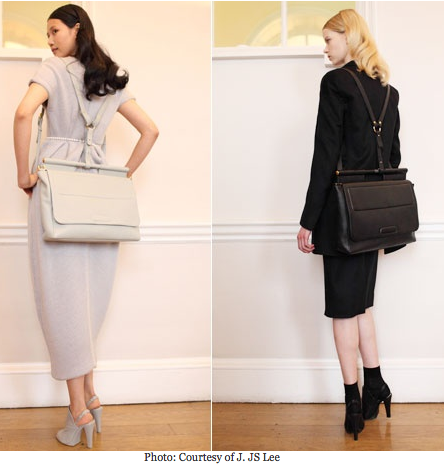 I am intrigued by this innovative and functional frame-briefcase-backpack hybrid. New designer, J. JS Lee featured this bag in her runway collection, full of androgynous silhouettes. The Korean-born, London-based designer's elegant brief-pack invention has inner laptop and iPhone compartments and offers all the beauty of a traditional purse, but comfortably suspended on a shoulder-sharing harness.
I love the gentleman's briefcase look that this bag embodies. It comes in dove-gray, tan, and black and is the size of a portfolio; perfect for a fashionable business executive. Lee says the bag captures "the feeling of an old bag that can be carried in a modern way". Her collection was picked up by Harrods.
Now who doesn't want a bag like that?
– Kathryn, The Blonde