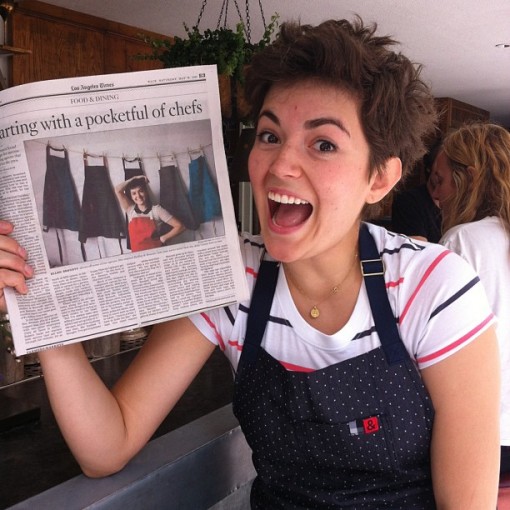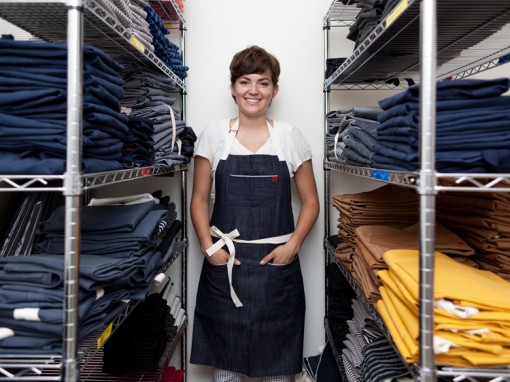 Recently featured in the Los Angeles Times, I got to visit the ladies behind Hedley and Bennett at their downtown warehouse and talk shop! Join me, as Allie Epstein and Founder, Ellen Bennett talk kitchen style.
What inspired you to start cooking?
Allie: I grew up right outside of NYC. We are all big "foodies" in my family, so we would spend the weekends trying all sorts of restaurants around the city. I loved the passion and creativity behind a good meal, and I was inspired to start creating them myself.
Ellen: Growing up, my parents were divorced, so I always wanted to have a good meal on the table when my hardworking mother came home. I started experimenting in the kitchen after school, and it wasn't long until I discovered just how passionate I was about it.
Where did you go to school, and what was your first restaurant experience?
Allie: French Culinary Institute, followed by a job at Jean-Georges in New York City.
Ellen: I studied Business Administration in Mexico, followed by an internship in Greece, LA and Mexico. Shortly after, I got a job at Baco Mercat followed by Providence, the restaurant I still currently work at.
What inspired you to go from chef to fashion designer, and create this line of aprons?
Ellen: I have always hated the classic "white" uniform every chef is obligated to wear. While I was studying in Mexico, I was working as a model as well. I always felt so unattractive changing from my street-wear into my unattractive chef uniform. It made no sense that I would spend hours turning peoples meals into a work of art, yet I was not able to bring any sense of my personal style to the kitchen. I had a vision of creating unique, stylish, durable aprons that gave the chef a bit of personality.
Last May, a week after I had my "vision" and set up my business license, the owner of Baco Mercat, (where I was working at the time) asked If I would like to order a new apron. Within ten minutes, I had talked him into canceling his previous uniform order, and letting me take on the job of creating 40 new aprons. At this point, all I had was my business license, so within the span of 24 hours, I had to find the fabric, a pattern maker and return with samples to show him the following day. I guess you can say, my "dream" actually became a reality overnight. Within two weeks, I had the 40 aprons completed, and realized there was no turning back from this adventure.
Where did the name Hedley & Bennett come from?
Ellen: Hedley, is the last name of my grandfather, who was a very classic, elegant and dignified man. Bennett, is my last name, as well as my "kitchen" nickname. I look at myself to be much more carefree, edgy and wild. I see Hedley & Bennett being a perfect combination of the two. Old vs. the new, classic vs. the current.
Where are your aprons sold?
Steven Alan – Venice Beach
Heath Ceramics – West Hollywood
Monsieur Marcel – Los Angeles, Beverly Hills
Mozza2Go– Los Angeles
Poketo – Downtown
Publican Quality Meats – Chicago, IL
70% of our orders are special "direct to restaurant" orders. We have our products in restaurants spanning all over the United States, and have recently taken on clients in London as well.
What restaurant would be a "dream" to see your aprons in?
The French Laundry – Napa Valley
In Ellen & Allie's opinion, "The best restaurant in the United States."
Where do you see yourself in 5 years?
Ellen: Seeing how quickly our company has been moving this year, god only knows! My dream is for the apron to become a kitchen "staple" I want every kitchen to have a Kitchen Aid, Cast Iron Skillet and Hedley & Bennett Apron. Aprons are the underdog of the kitchen, and I want to put them in the spotlight.
Allie: Because of shows like Top Chef, restaurants are beginning to showcase "open kitchens" more and more. These TV shows are carving the way for us to make a fashion statement in every restaurant around the world. There is no reason you cannot bring art to the plate as well as the chefs themselves.
Just for fun, what is your favorite restaurant, and cuisine?
Allie: Gjelina – Venice Beach. Din Tai Fung – Los Angeles. Cuisine : Cuban & Italian
Ellen: Providence – Los Angeles. Daikokuya – Downtown. Cuisine : Thai
Nothing like a stylish new apron to motivate you to spend more time in the kitchen!
Xx. Jadan Huter