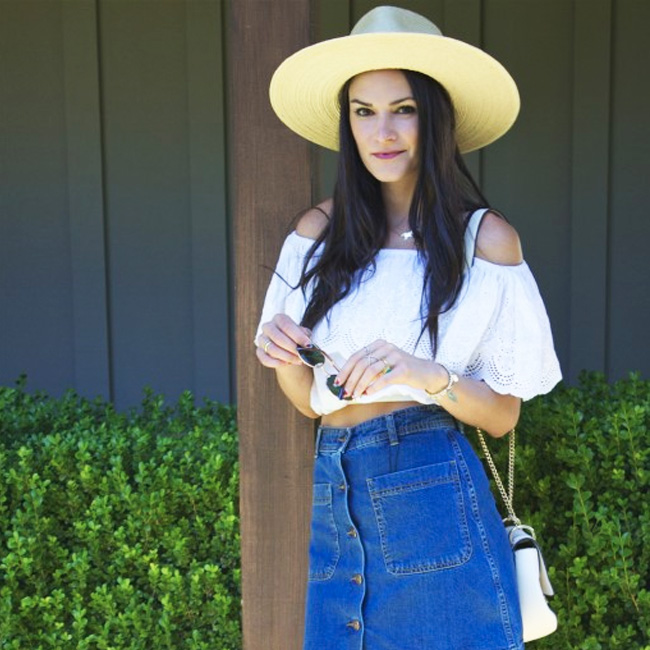 If I had to pick one 70's trend to adopt, which would be incredibly hard, because I've always believed I was meant to live through that era, it would have to be… the button-front A-line skirt! It seems this skirt is having a major moment, just like we've seen a number of other 70's trends have expereinced in recent years! I guess I don't have to go back in time to live the 70's after all.
I think the revival started back in January when we featured Alexa Chung's AG Jean collaboration (and yes, our very own NJ was at the LA launch party at a very 70's whacky private home). Her line included a perfect little A-line denim skirt with sculpted seams, exposed buttons and a slightly flared silhouette! (Shown above.) Thankfully, this year, there is more than one skirt to choose from! The shopping options are plentiful, and the prices are reasonable!
I've worn this simple skirt in so many ways and that's probably why it's stolen the summer. .My favorite way to approach it, has been the classic and cool route, adding a crop top & a pair of chucks. I also LOVE the denim on denim look, as we all know, I can never get enough denim. Last but not least, I felt absolutely divine pairing it with my favorite Everlane cashmere & Zara booties, and was shocked at how nicely it could be dressed up!
We've rounded up the best of the season before they're gone because the heat waves are rolling in one after the other. From Topshop to Nordstrom to Asos and more, it's such a go-to. Whether you're looking for a mid length or a mini, a button down or a slit skirt, you won't regret adding one of these to your wardrobe. Flash back to the 70's without ever leaving your seat.

I think it's safe to say this is THE SKIRT that stole summer!
Xx. Jadan Huter