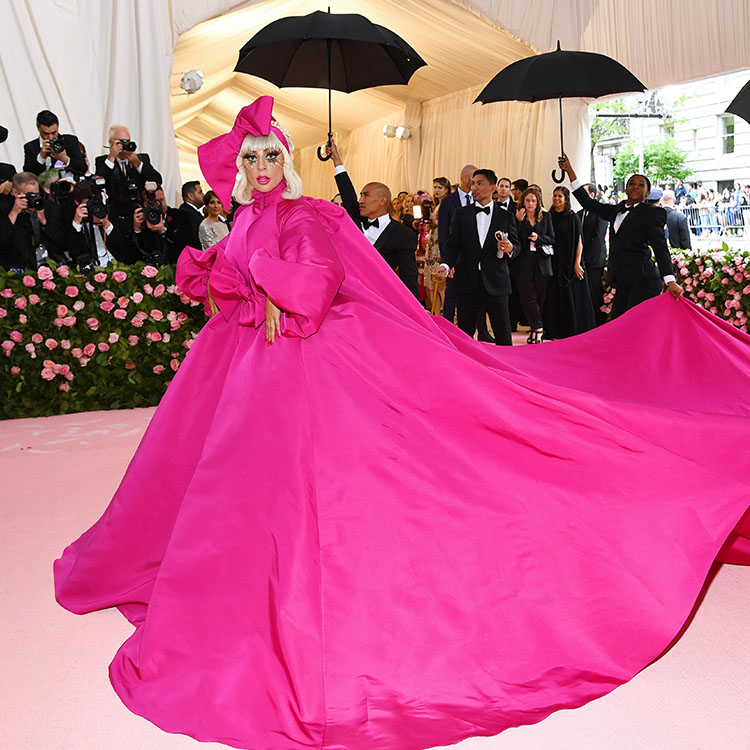 If somehow you missed it last night, The Met went to camp. In fashion terms, Camp is as the infamous Susan Sontag says a "love of the unnatural:on the topic which was the stake in the ground that served as inspiration for this year's aptly named Met Gala,"Camp: Notes on Fashion."
So designers and muses pitched their tents for the biggest night in the Fashion Year and the chosen few walked the pink carpet last night. The show began with gala co-chair Lady Gaga executing not one, not two, but three costume changes before even reaching the top of the Met's infamous stairs. int; This is about the combination of entertainment and fashion.
Arriving in a voluminous pink gown by favored designer (and date for the evening) Brandon Maxwell. Gaga soon shed the top layer of her look, revealing a strapless black satin ball gown she paired with an umbrella before once again discarding part of her look; this time showing off a neon pink satin gown accessorized with black sunglasses and a vintage phone. Gaga's final look consisted of a black satin bra paired with matching shorts and fishnet stockings which were worn as she pulled a red wagon across the carpet. The definition of performance art.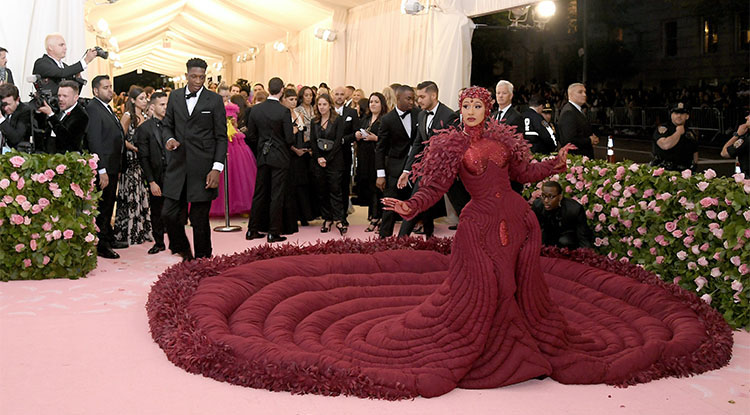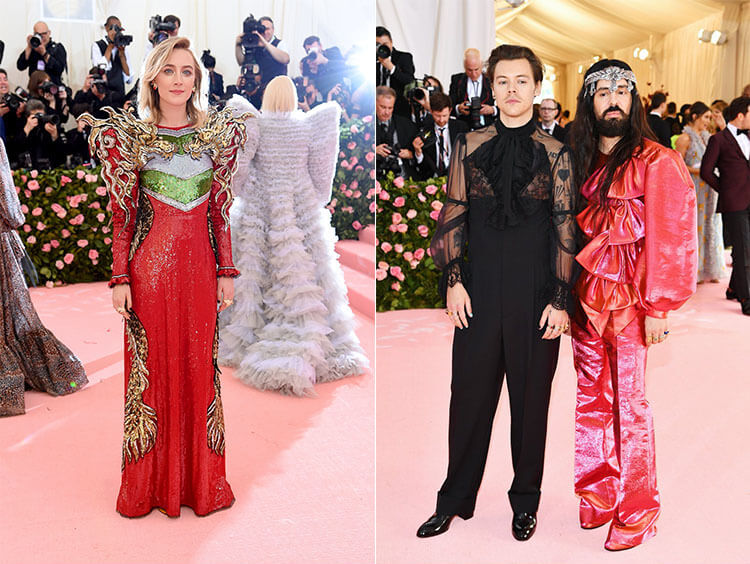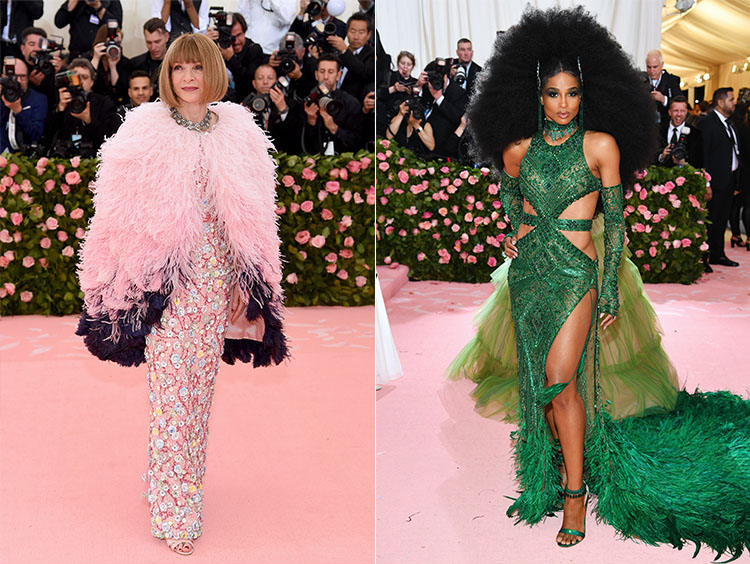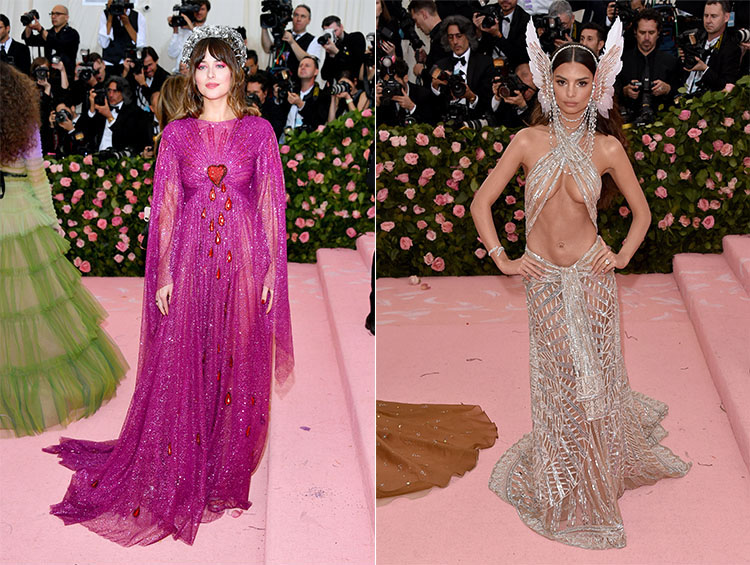 If you are wondering how this will all trickle down like The Devil Wear Prada. Wonder no more. Think feathers, bold colors, over-the-top, accessories, embellishment and the dawning of the Age of Aquarius.
Editor-In-Chief of Vogue Anna Wintour was one of many donning feathers in a nod to camp. Wintour chose a pink embroidered Chanel Haute Couture gown topped with a pink feather cape while Janelle Monae chose a surrealist facial inspired number by Christian Siriano, accented with black feathers used as eyelashes. Sisters Kendall and Kylie Jenner both wore feathered gowns by Versace – Kendall in orange and Kylie in a shade of Lavender. Cardi B was hailed by most as the best dressed of the night in a ruby red Thom Browne ensemble complete with over 30,000 coque feathers, a hat from the designer's collaboration with milliner Stephen Jones, and a train the likes of which we haven't seen since Rihanna's Guo Pei look from 2015.
In addition to Anna Wintour and Lady Gaga, Serena Williams, Harry Styles, and Alessandro Michele of Gucci served as co-chairs for the event. Williams wore a pastel yellow gown embroidered with pink leaves; Styles and Michele both predictably wore Gucci. The first in a pair of incredibly high waisted black pants with a sheer victorian-esque black top and single pearl drop earring. The latter in a pink velvet jumpsuit.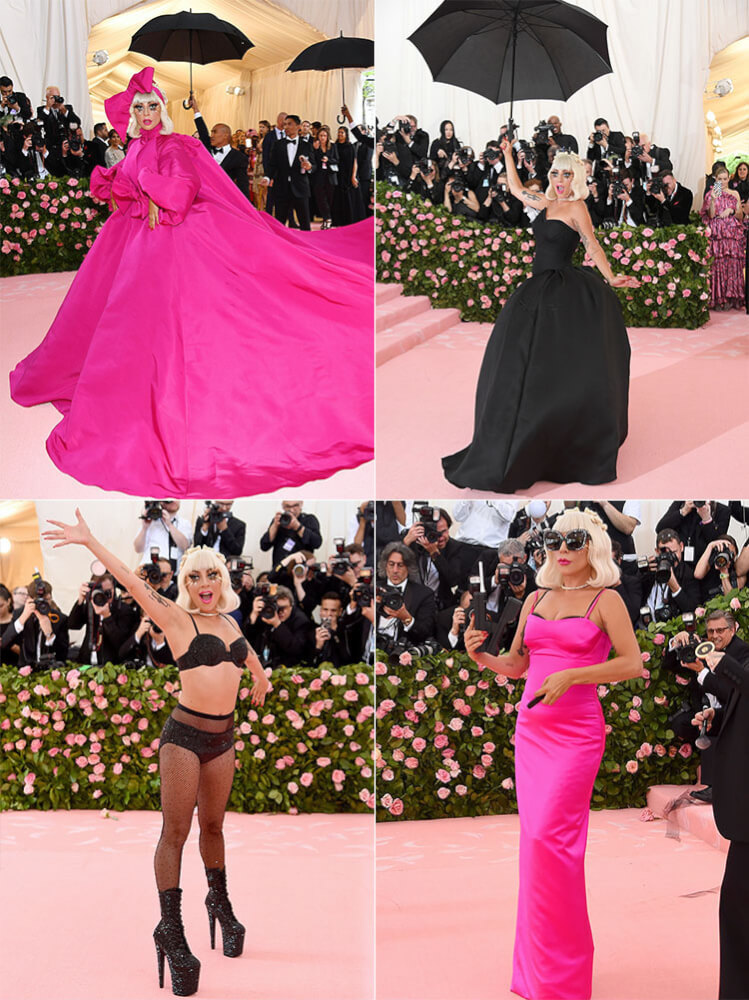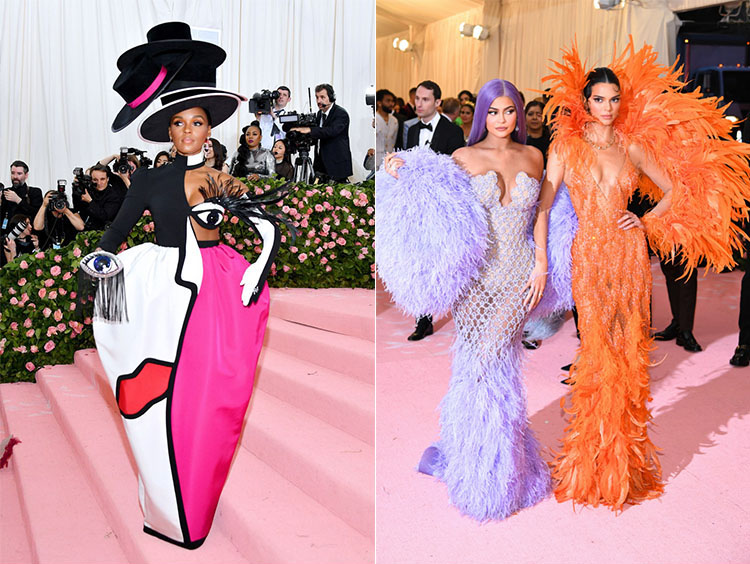 As the lead sponsor for this year's fete, Gucci dressed everyone from Dakota Johnson to Saoirse Ronan, and Jared Leto (and had the most looks on the carpet. We counted 17). Johnson wore a purple tulle gown embroidered with a bleeding heart while Ronan chose a sequin column gown with exaggerated shoulders earning props from many as one of the best dressed of the evening. Leto turned heads by carrying a lifelike replica of his head while wearing a red look layered with crystals.
A certain few attendees chose to pay homage to the LGBTQ+ origins of camp. Broadway star Michael Urie chose a half dress, half tuxedo look by Christian Siriano that was far and away the most captivating look of the night. Actress and screenwriter Lena Waithe selected a lavender suit with the words "Black drag queens invented camp" emblazoned across the back. Others chose to pay tribute to figures often associated with camp. Model Emily Ratajkowski wore a silver halter dress and headpiece by Peter Dundas, inspired by Cher; Ciara, also in Dundas, chose to give a nod Diana Ross with her hair and green sequin gown.
Whatever the choice, it was a brilliant theme. The show must go on and it did.
Reporting From NYC,
Nolan Meader and NJ Falk