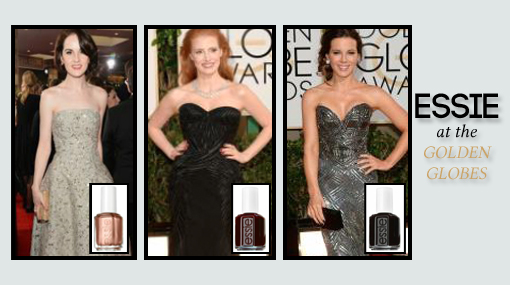 You can be all dressed up but if your nails aren't as pulled together as the rest of your look, well, you might get called out by Joan Rivers, the Fashion Police or the E! Red Carpet manicam! So what did most of the winners and nominees on the best dressed list have in common? They went with classic, sophisticated nail shades.
We rounded up some of the best looks and thought this might give you a little inspo for your next over-the-top event. By the way, everyone of these beauties had on an Essie polish and several of the the celebrity manicurists gave us the scoop on the color choices. Style tip: Either do a subtle contrasting color that matches your shoes and clutch or go with a slight contrast to add an extra element to a more neutral look.
Actress: Michelle Dockery /essie shade: penny talk
Inspiration: Celebrity Manicurist, Michelle Saunders said itwas the perfect complement to Michelle's rose-gold Bulgari jewelry.
Actress: Kate Beckinsale /essie shade: licorice
Inspiration: Kate's dark nail was a bold choice for the red-carpet. The effect looked like patent leather and was the perfect addition to her metallic gown and black clutch.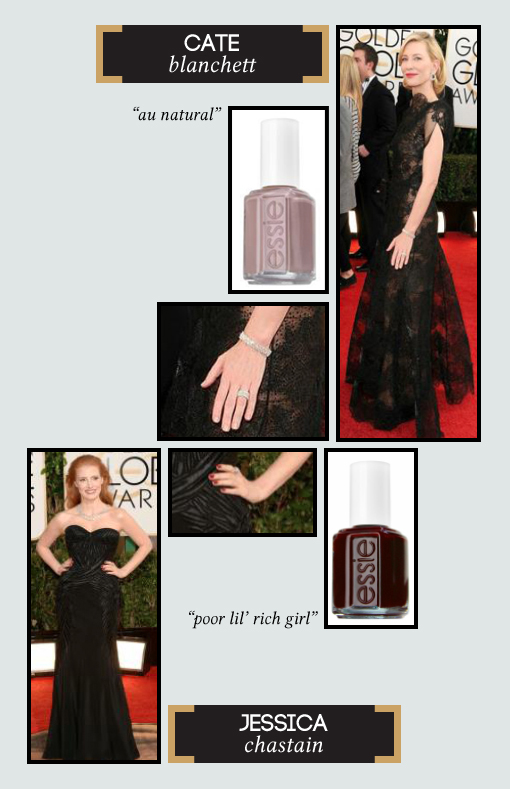 Actress: Cate Blanchett /essie shade: au natural
Inspiration: Universally voted the Best Dressed at the Golden Globes, Celebrity Manicurist, April Foreman said "We chose the perfect sheer nude with just a hint of sparkle to pick up the light on the red carpet." They wanted to keep everything elegant and clean – from Cate's nails to her hair and makeup – for a classic red-carpet look. It worked!
Actress: Jessica Chastain /essie shade: poor li'l rich girl
Inspiration: "Set against Jessica's gorgeous black gown, a red nail was a no-brainer," said Celebrity Manicurist, Christina Aviles. We thought poor li'l rich girl was the perfect deep red to stand out against her dark dress and compliment her gorgeous mane.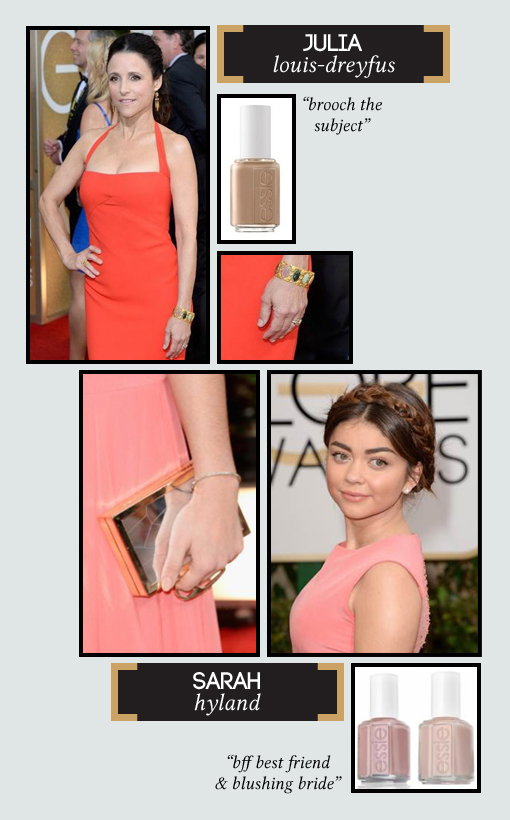 Actress: Julia Louis-Dreyfus / essie shade: brooch the subject
Inspiration: Celebrity Manicurist, Emi Kudo. said "The choice of a a creamy cashmere cameo made sure the focus stayed on Julia's orangey-red gown."
Actress: Sarah Hyland / essie shades: bbf best boyfriend and blushing bride
Inspiration: "A very fresh, nude nail – something very different from Hyland's usual red-carpet nail look,"according to Celebrity Manicurist, Christina Aviles. To get the look, use two coats of essie's bbf best boyfriend then add one coat of essie's blushing bride on the top to give the nail a slightly peachy-pink hue it's the perfect way to to complement a dress in a striking color.
With Love From LA and The Golden Globes Red Carpet,
NJ Goldston, The Brunette
Photos: Courtesy Getty Images