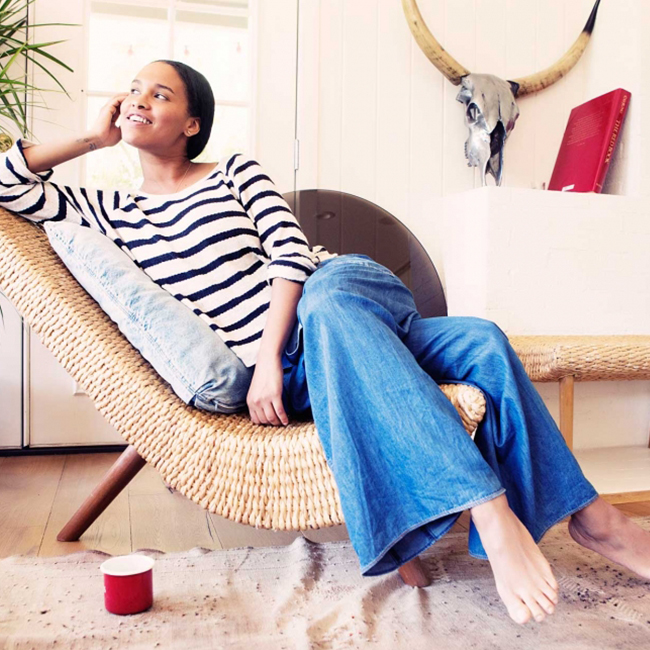 Joy Bryant. We've always admired her style and acting chops. The famed model/actress is now bringing her great love of the outdoors to life with her recently launched Basic Terrain line. A joint venture with her hubby, David Pope, it's not what you'd expect from my buddy who's often on the Red Carpet and attends some of the most incredible events in the world. But if you know Joy, you know she has a great flair and love for casual style—always with a twist— that works with her laid back California life.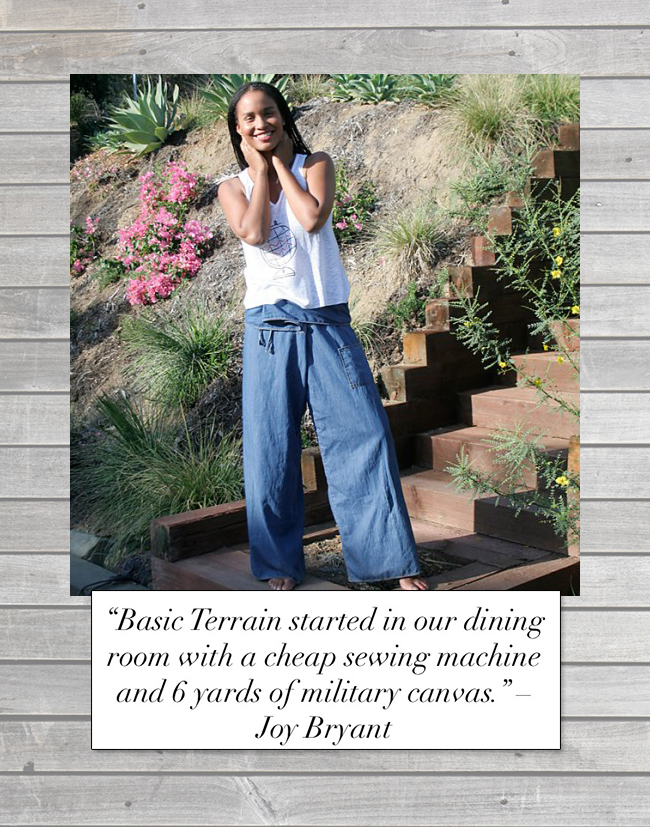 It wasn't so long ago that I talked to Joy about her idea for a line of basics that actually work for any type of terrain. With culottes taking off, Joy is on the cutting edge of this trend. Her Basic Terrain line recently debuted with a wonderful pre-fall capsule collection of slouchy, wrap-front cotton "Edun" pants in a variety of colors. As Joy told us, the inspiration for her new line was "to make the things we like and the things we want to see, all inspired by our love of travel, adventure, and laid back living." Mission accomplished.

For me, Joy's created the perfect transitional pant that can be worn casually with just a tee and bare feet to dressing them up with strappy sandals, pumps and a great top or jacket. There's even a video demonstrating the special, fold down and tie technique that gives the "Edun Pant" just the right look; but, my favorite feature just might also be the single pocket. Perfect for a smart phone, keys, a wallet, and my very mobile lifestyle.
By the way, if it seems slightly familiar, the Eden Pant is Joy's version of the Thai fisherman pant, a 'one size fits all' silhouette that has been around for a long time. There is no hardware, just a generous waist and a tie strap. You can even wear them before, during, and after your pregnancy. You can dress them up, dress them down. Wear them to yoga or just lounge around.
Style Tip: Go for a casual look with a jean jacket or tee and flats.
For The Office: Style with a Jacket, Strappy Sandals or Pumps
Evening: Dress Up The Look With A Fitted Jacket, Leather or Sequined Top & Pumps
I personally love the black heavy cotton "Edun" styled with a sequin tee, two tone menswear booties and a great watch. The cropped bleached version is great for casual Fridays. The "Edun" is available in both cropped or long in bleach, army, black or vintage colors online at Bri Holloway or Basic Terrain. They're my new wardrobe go-to staple. I'll be wearing them to work again tomorrow.
With Love From LA
NJ Goldston, The Brunette