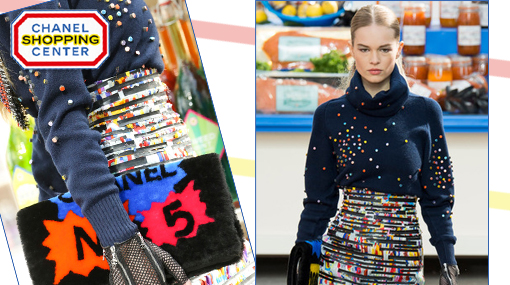 "Luxury should be worn like your going to the supermarket. It's the pop art of the 21st century." Why not! That's the message Karl Lagerfeld sent out at the Chanel Paris runway show at the Grand Palais yesterday. In a Fall show like no other, models walked the aisles and luxe fashion spilled from Chanel shopping baskets and shopping carts models casually carried and pushed.
Bottom line. The world's changed and Lagerfeld just put us all on notice — if you don't think the young rule and everyone doesn't want that fountain of youth, then you're not paying attention. It's as close as your nearest supermarket. Look around! Fashion has become so integrated into our daily lives that you might as well throw it on, head to the grocery store, all decked out, and start your shopping frenzy. But this time, in a Chanel track suit, loose silver or black leggings, trackers, fur bags, or carry an egg carton handbag. Of course your liquor might be Chanel and whatever else your heart desires. It doesn't matter where you live, it's invaded our lives.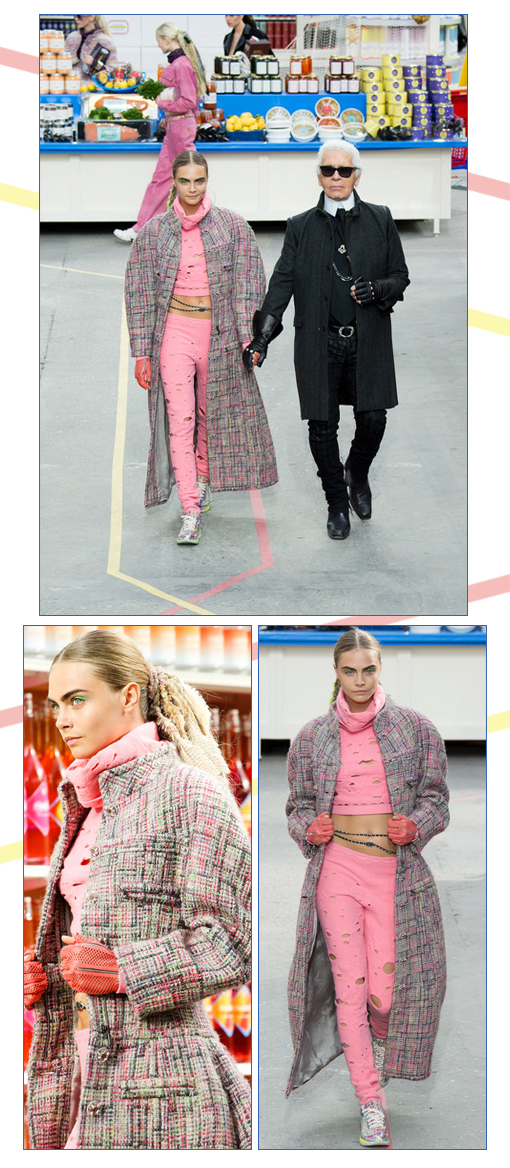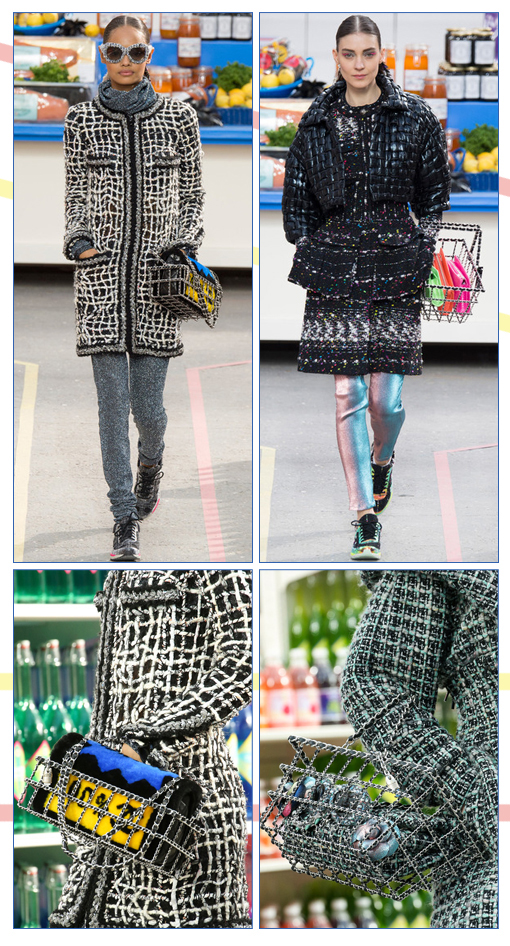 Let me step back. The entire fashion world, or maybe the whole world, is buzzing about this show from the mega Chanel super market that was the backdrop filled with Chanel custom groceries to shopping baskets that were, yup, Chanel Shopping Baskets, a silver metallic Chanel cooler, a Chanel Egg Carton Bag, or a Ka-Pow fur twist on the Chanel No. 5 logo. Just go shopping Chanel style and it better be LUXE! We collectively gasped and tried to absorb the scope. So much so that at the end, shoppers looted the shelves after being encouraged to take a bit of produce home with them. No such luck. It all had to be returned.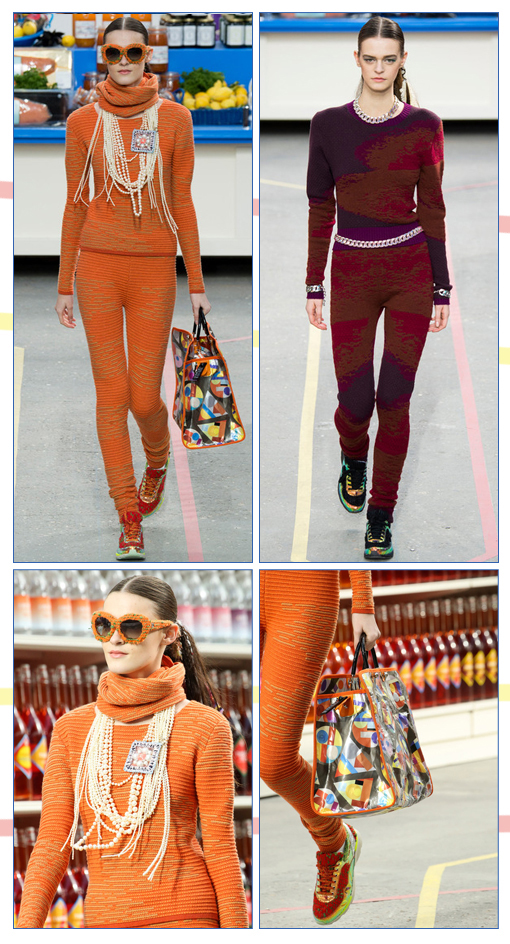 And, if you're also wondering what you're going to be wearing next Fall, after all it was a fashion show, it's rounded shoulders, cinched and exposed midriffs, lashings of tweed all mixed and matched with over-the-top trackers, layered necklaces and delicious bags. It's enough to drive you on a shopping spree.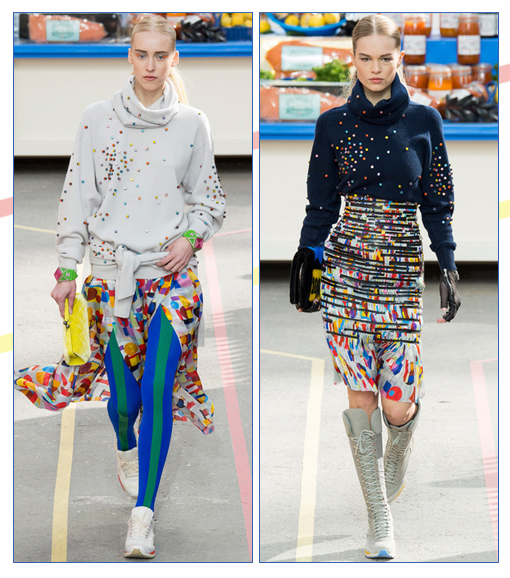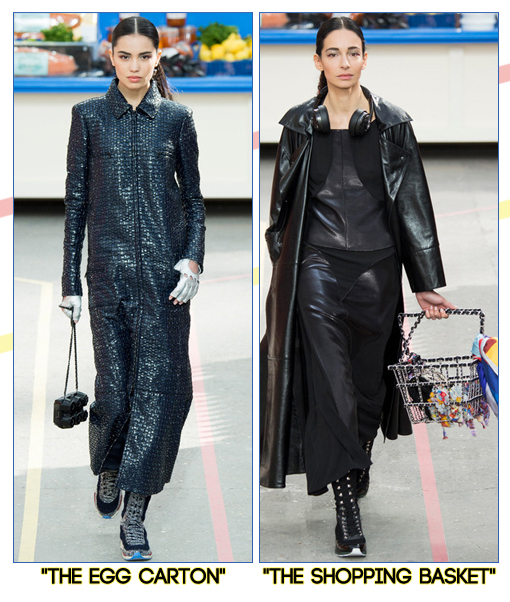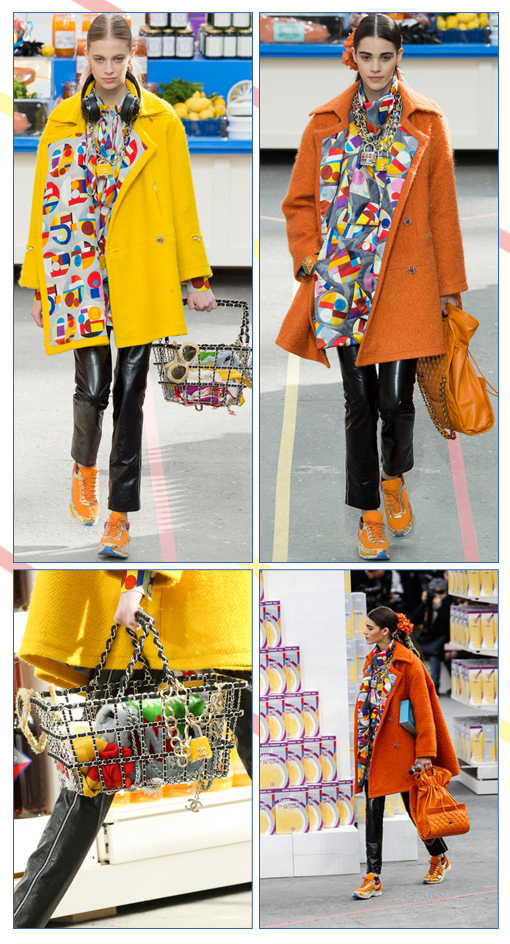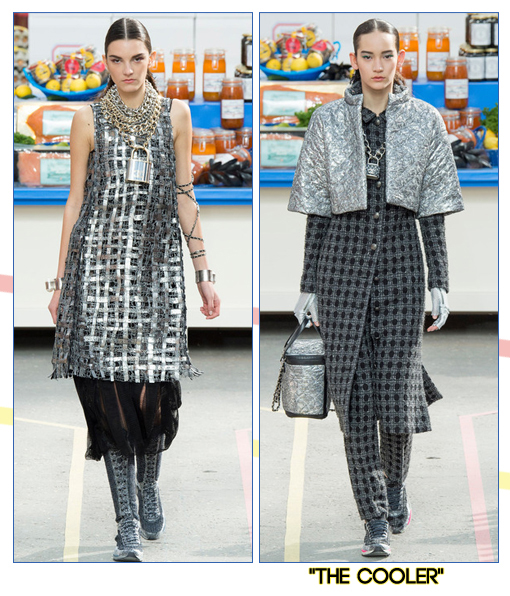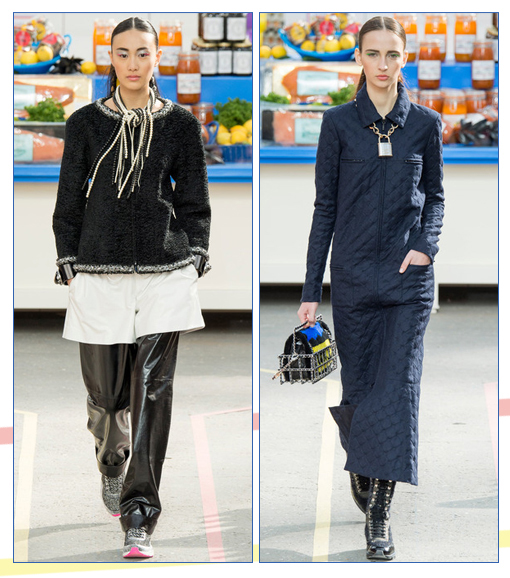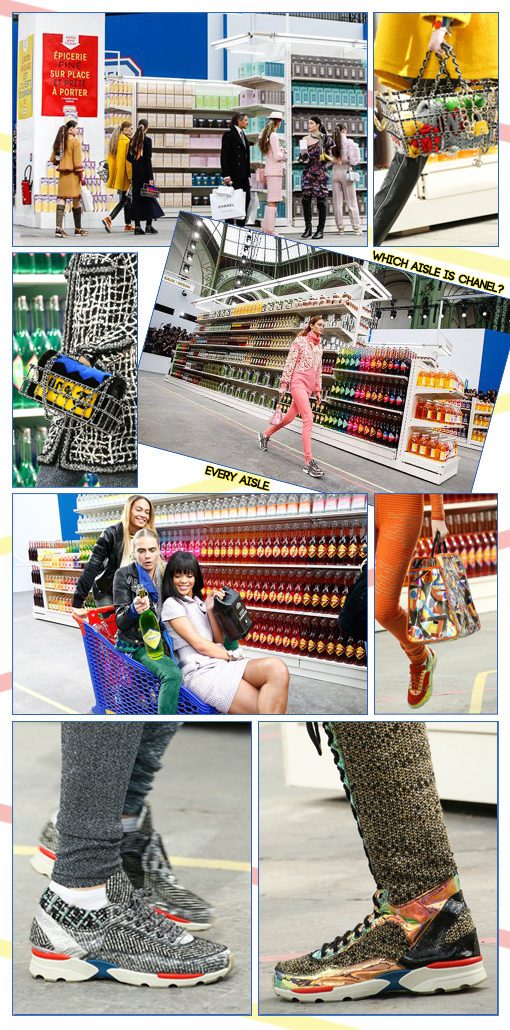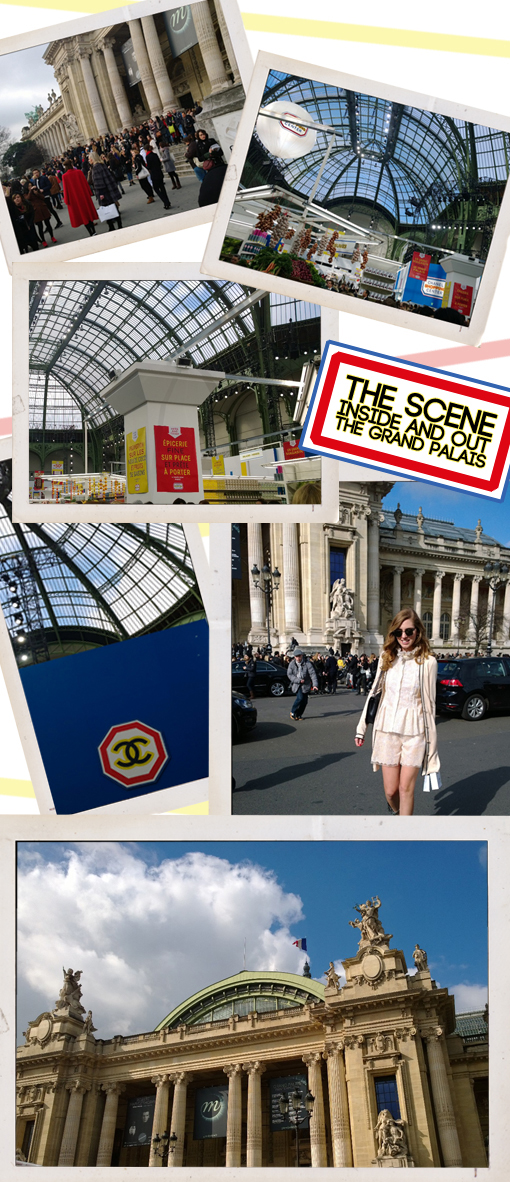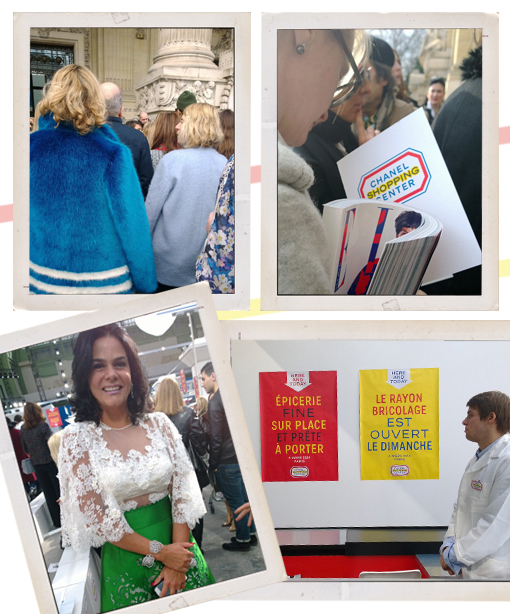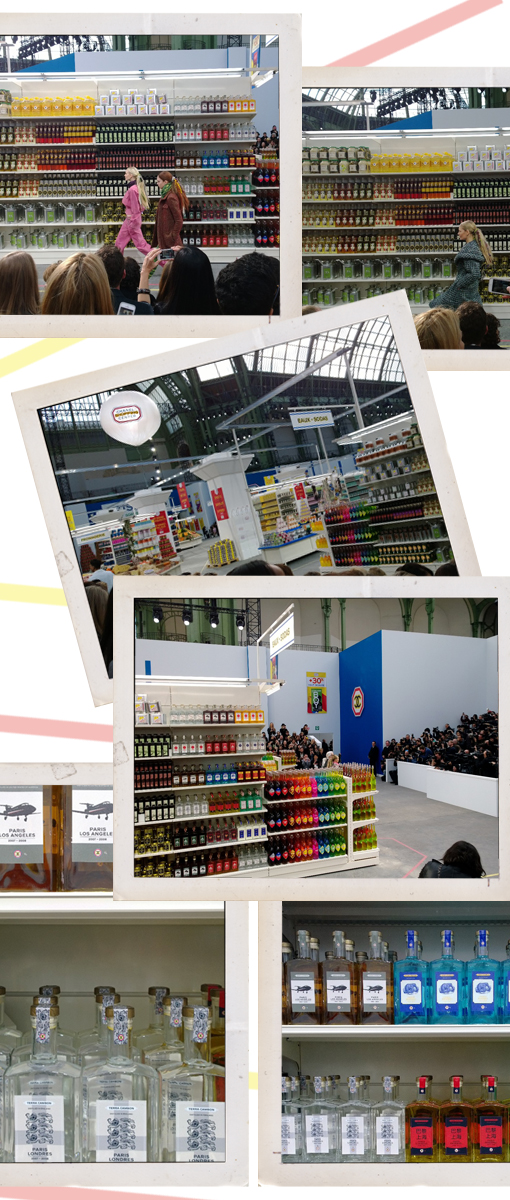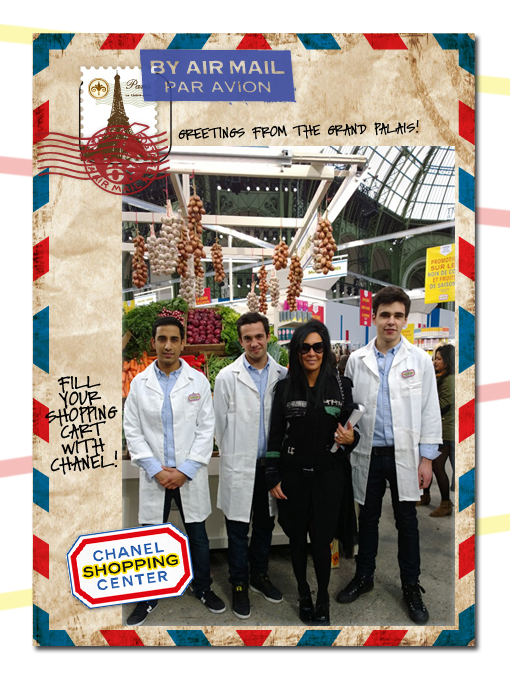 Ultimately, the medium was literally the message. "You're never too young for today's standards. The older the women are the younger they want to look." So if you're wondering who was the youngest person in the room: it's Karl Lagerfeld. See you in line at the Chanel register. That's me in line.
With Love From Paris and the Grand Palais. Thank you, Chanel. Thank you.
-NJ Goldston, The Brunette