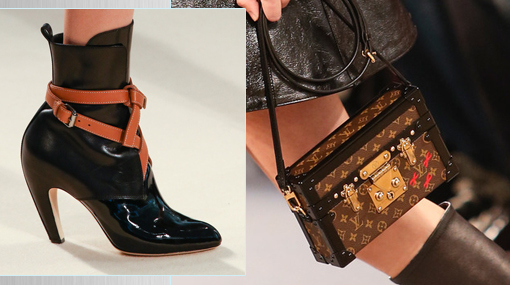 Alors. It was the last day of Fashion Week and I along with my guest Aimeé Song, gal-pals Anna Itkin and Christine Chui, plus everyone in the fashion world, made their way to Paris to breathlessly await the debut collection from Nicolas Ghesquière for Louis Vuitton. He didn't disappoint. In fact it was a triumph that has laid the foundation for a new era at Louis Vuitton.
With enormous crowds around the Cour Carée du Louvre, we made our way into the show. Gone were the elaborate sets that were a hallmark of Marc Jacobs. Instead, it was a surreal almost space-age, stripped back look with plain benches and massive steel shuttered sheaths. The energy and excitement was palpable with everyone from Ana Wintour, Catherine Denueve, the Arnault clan, Chloë Sevigny and moi in attendance.
The music started and the subdued lighting changed as the shutters opened and the light poured in. A new era was born. This one marked by a modern, architectural silhouette, with highly wearable A-line skirts and cropped sweaters, lots of leather (it's the house's and Nicolas's trademark), shiny pants and Chelsea boots to little gems of "trunk" bags in the famous monogram and lipstick red with "clues' (which are the gold fasteners) and kisses, scattered on some of them, to techno fabric and amazing textural combinations.
The color palette, now referred to as "LV Central", covered sky blue, browns and oranges. Accessories featured single geometric earrings, amazing boots (which will surely sell like hot cakes), and bags that luxury buyers will be clamoring for around the world. This time, white on black, that has historically been used inside of trunks, was incorporated into much of the line. Pay attention. Trunks is one of the underlying inspirations throughout the collection.
There was also a letter from Nicolas waiting at each seat "saluting the legacy of Marc Jacobs." It was an elegant gesture which not only set the stage for the runway show but cleansed our mental palette. The new Louis Vuitton woman is here. She has a distinct look, point-of-view, and is still totally enamored with her timeless stash of LV accessories and handbags. Luxury has a new name. It' s Nicolas Ghesquière + Louis. Vuitton. Have no doubt. The brand is in good hands.
With Love From Paris and a Big Thank You to Louis Vuitton,
NJ Goldston, The Brunette