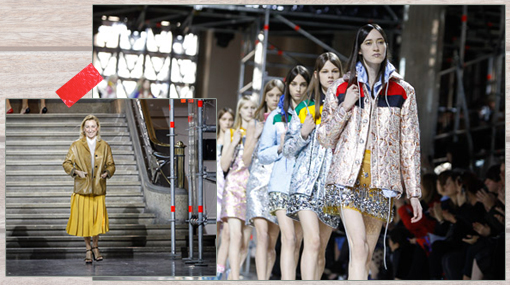 I was one of the lucky ones, along with Rihanna, who arrived 25 minutes late surrounded by bodyguards, Dakota Fanning, newly minted Oscar winner Lupita Nyong'o, and Jared Leto (who received most of the applause) at the Fall 2014 Miu Mui show. One reviewer dubbed it "so subversive, and skewed that it reached new heights of the "avant-bland."
Well, not really. This is Mrs Prada after all. It was a deceptively daring foray into wearable outerwear and short skirts for the new Miu Miu girl who also happens to wear lurex and metal appliques (and Mrs. P loves her appliqués).
Enveloped in totally yummy sorbet colors, this is utilitarian fashion, that we suspect will make its way from the streets of Milan to the slopes of Switzerland as well as the buyer's list at Nordstrom. Why not? With over 60 models, Mrs. Prada trotted out brilliant but sensible outwear, wet weather looks in clear plastic (!) raincoats and boots (!!!!!), short skirts (I mean short!) along with wool skirts, knits— strewn with metallic sheens or silvered decorations (love, love love).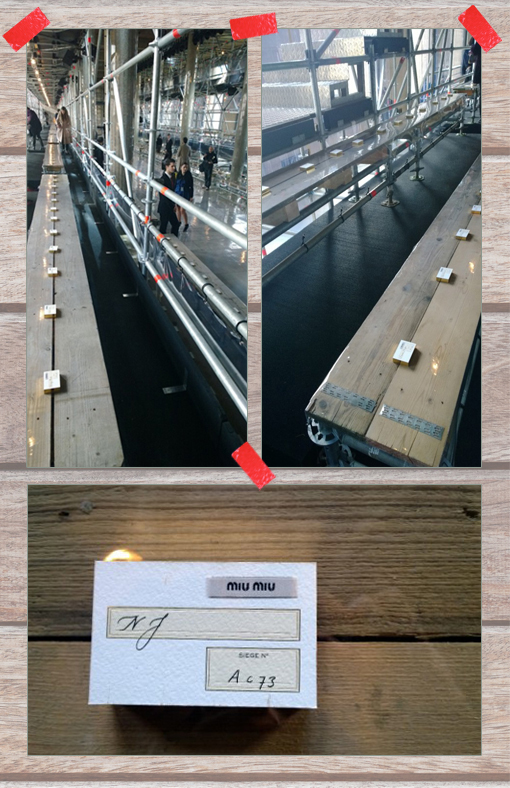 In the end, it all made sense. Clear plastic and scaffolding on the set mirrored the clear raincoats and booties while scaffolding elements served as shoe heels. This is the queen of the "waist down." However, this time, she focused on quilted nylon; and it works. Bet we'll all be walking around in it next Fall. We all might as well look as dramatic as the bad weather.
With Love From Paris,
NJ Goldston, the Brunette