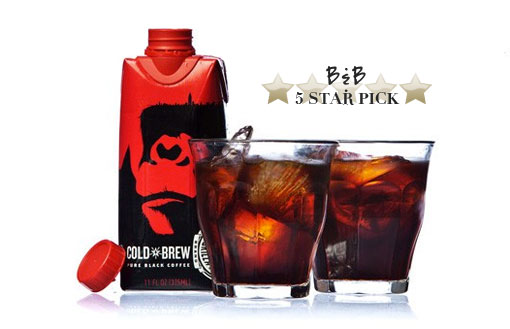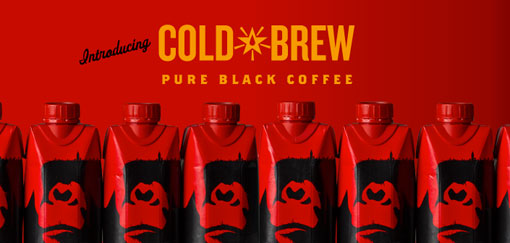 We're coffee freaks at the Blonde & the Brunette. First thing in the morning, at 4 PM when we disintegrate, and mostly all day long. When it's ninety degrees, like right now, we start thinking about cold as in iced. Hmmm…we just discovered Gorilla Cold Brew pure black coffee on the shelves at the super market two blocks from our office. Chilled coffee in a striking black and red iconic propaganda-like juice box with utterly compelling branding. We were skeptical. Could it be as good as it looks? We put it to the test. Yes, we have a fridge at our offices. Chill. Drum fingers. Wait. Taste at…4 PM.
A collective "Wow!" erupted after we unscrewed the top, smelled real coffee and each had a sip. This is premium coffee. Strong. We each took another sip to really appreciate it. We kept going. We poured it over the rocks, added some milk for a few of us and I added a touch of sweetener, as I always do, although most of the team preferred it black. We suddenly became a very happy group of coffee drinkers who could face the last two hours of the work day.
Time to do some homework. What is it exactly? Part 1: The first 100 percent pure black coffee with no preservatives that has only two ingredients: coffee and water in a 11oz. recyclable, resealable screwtop, tetrapak box that is shelf stable and needs no refrigeration. Part 2: It's LOW CAL!! Only 30 calories and it turns out you can drink it cold or pour it in a mug and microwave it hot. No more awful office coffee or running to the local barista for your afternoon fix.

So who are they? A legendary Brooklyn based coffee company, and we admit we didn't know about them before, with a cult-coffee following. The long weekend is almost here. This is a stellar foodie entertainment solution, self-indulgence or office treat. Gorilla Cold Brew is sold at Whole Foods, Union Market, Gorilla Coffee flagship, and at select stores and via online at www.gorillacoffee.com. Gorilla Cold Brew product 11 oz. package yields two servings and retails for $4.00 to $4.25. The packaging is sexy and it does taste as great as it looks.
Excuse us for pounding our chests but it really is the rage.
NJ, The Brunette