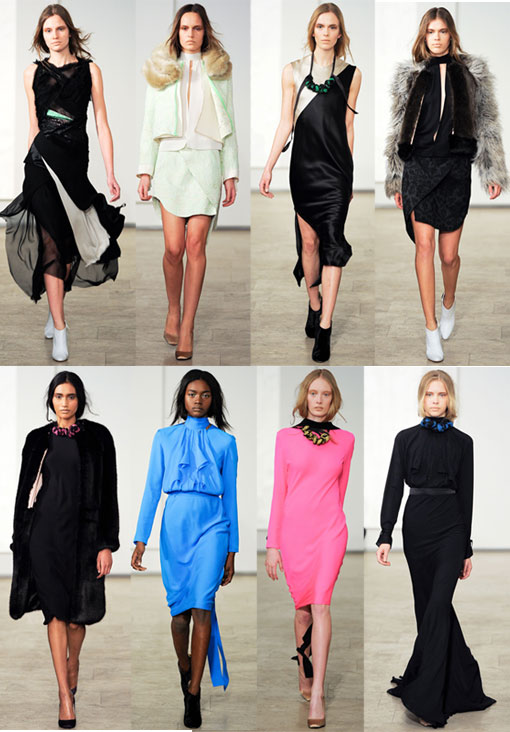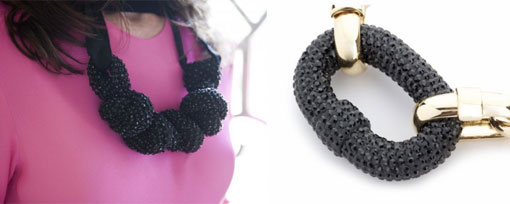 "It takes a lot of reality to build a beautiful fantasy." Ain't that the truth! Enter fabulous LA-based designer Juan Carlos Obando. I had zeroed in on his Fall 2012 collection, which was showcased at Barneys New York in LA months ago, and almost completely sold out on the spot. Gone. Gone. Gone. Everything from the fuchsia and cobalt blue confections, above, to the one-of-a-kind " bejeweled fishnet necklaces" It took almost an entire day to make each one which is hand-made by Obando. You may have even spotted them on every Kardashian sisters at the Fall network up fronts.
Then something special happened. We met by chance at The Met Gala. He had designed Mackenzie Bezo's stunning gown which Anna Wintour helped orchestrate and bedazzled the press. We said, let's have lunch and we did! Of course I asked Obando about the machinations of building a collection. He likened it "to the flu or an antibiotic. You have to get very sick before you can get better." Makes sense. The creative process is complicated but you love it when it produces beautiful results. We also talked about that dreaded topic: age. His philosophy is "mature woman are setting the standard for young woman, with elegant but unassuming style the definition of good taste." He elaborated saying, "with age you have the normal insecurities but you can manage them with style." I couldn't agree more.
So if you admire Obando's vision, and I do, you can indulge online at Barneys or with his stunning, award-winning jewelry collection (above) for Atelier Swarovski . Each piece, with black crystal links set in ceramic, takes inspiration from industrial climbing equipment with two of the pieces named for LA locales, the Bel Air Necklace and the Glen Bracelet and one, the Vestone Earrings, for the Italian province Brescia in Lombardy. Prices range from $425-$450. Exquisitely feminine with a touch of luxury.
Join the fan club.
xo
NJ, The Brunette