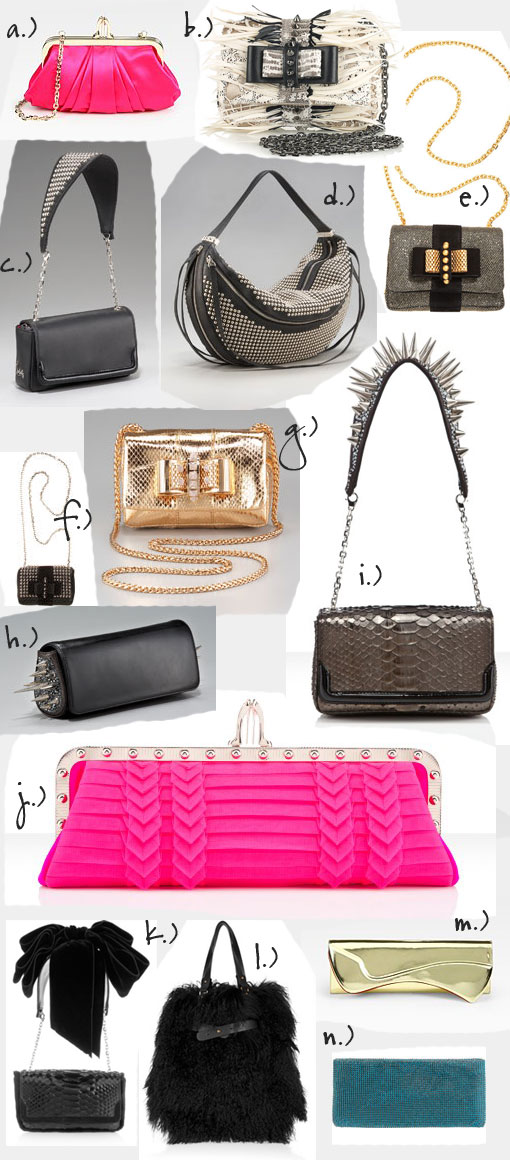 They might not have his signature red soles, but Christian Louboutin has created a new collection of amazing bags. They are immediately recognizable and so original. Each bag is a statement about the character of the person carrying it; from the studded clutch to the more doll-like purse.
You won't miss the red soles, because inside each purse is Louboutin's signature "red" lining and every zipper has a little Louboutin shoe attached on a chain.
I don't know which one I want… I love them all…. What is your favorite one?
a.) Mini Lula Silk Clutch $895
b.) Sweet Charity Woodoo Calf Hair Shoulder Bag $1,395
c.) Artemis Studded Shoulder Bag $1,095
d.) Edie Studded Hobo $2,345
e.) Mini Sweet Charity Glitter Bag $795
f.) Mini Sweet Charity Spike Bag $1,195
g.) Sweety Charity Mini Shoulder Bag $1,295
h.) Spiked Marquise Clutch $1,995
i.) Artemis Spikes $1,995
j.) Louvicious Clutch $1,495
k.) Artemis Glossed-Python Shoulder Bag $1,595
l.) Sybil Reversible Shearling and Leather Tote $1,795
m.) Pigalle Metallic Clutch $775
n.) Maykimay Clutch $2,695
– Astrid Bryan