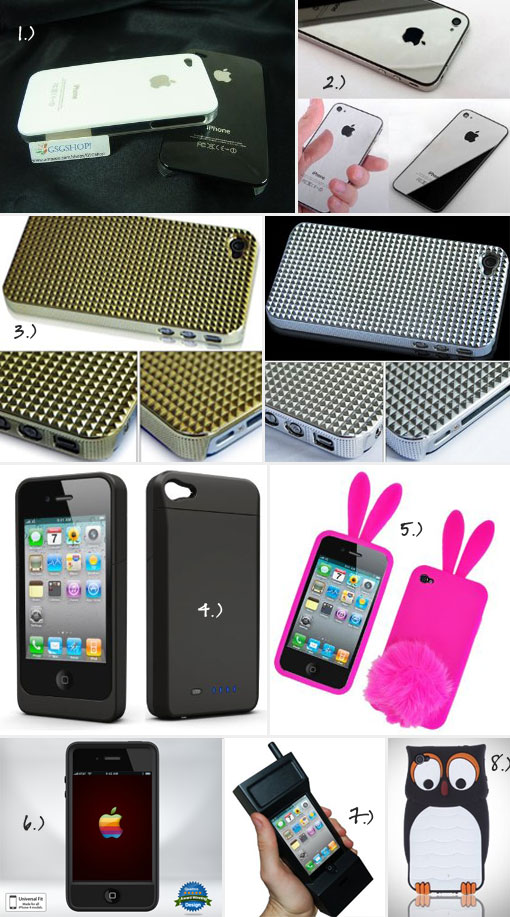 To kick off the New Year right, I FINALLY decided to treat myself to the new iPhone 4s! Being a Blackberry girl through and through, it was really was tough to make a switch to the "dark side" as many people call it. But alas, it had to be done.
The moment I got my hands on it, it was love at first sight! The next step was finding the perfect case. I did quite a bit of extensive online shopping, and came up with my top 7 favorites to share with you! From most durable, to most fashionable, to even a few wacky cases, here are my favorites.
White Replicase Hard Crystal Air Jacket Case (Also available in black) $1.90. If you got the black iPhone and wish you got the white (or vice versa), just switch up these cases, and it looks like you have both!
Triangle Chrome Hard Back Case Cover (Available in gold, silver & black) $5.80. I own all three colors and LOVE them all!
Verizon Iphone 4 mirrored Back Cover Housing (Available in gold & silver ) $12.99.
Apple iPhone BUNNY Silicone Skin Case (Available in red, white, blue, pink, purple, black, grey, and hot pink) $6.99
External Battery Pack Portable Power Bank Case Charger For iPhone $29.99. Never have your iPhone 4 iPhone 4S run out of battery. This compact backup battery will let you carry the power where ever you go. There's no need to charge your device through an electrical outlet, the case is the charger!
iPhone 4/4S Wrangler Case (Available in white, red & black) $49.00. From introducing the first SmartCase, to winning the best iPhone case of the year award, the course of iPhone protection and design has long been guided by IvySkin. The all-new Wrangler Case leads it boldly into a new era. From its Touch-Thru grille to its muscular body and impeccable material, it's an ultramodern classic.
80's Retro iPhone Case $29.99. and last but not least…
Black & White Owl "Flexa" flexible silicone soft skin case $13.95. Owls have been one of my favorite animals growing up, so I couldn't help but stick this one on the list!
Xx. Jadan Huter