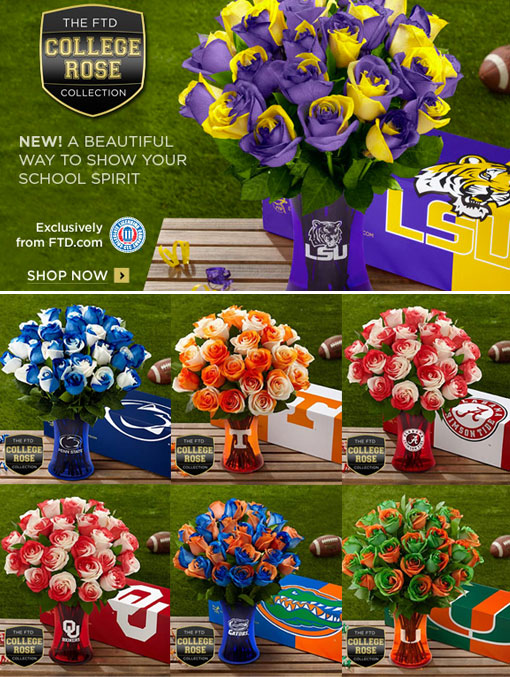 The Blonde & The Brunette just found out about this and love the idea. It's that time of year all across the U.S. with college spirit, football games and tailgate parties at a fever pitch. Now FTD has come up with a spectacular College Rose Collection. Clever, right? Perfect to send friends, alumni or yourself. Even guys are saying they love it.
Choose from the Oklahoma Sooners, the University of Florida Gators, the Louisiana State University Tigers, the Tennessee Vols, University of Miami Hurricanes, University of Alabama Crimson Tide or the Penn State Nittany Lions for the perfect rose bouquet. Each bouquet arrives in a memorable gift box displaying the colors and logo of the university you've selected with a great vase. It's a wonderful way to celebrate birthdays, anniversaries, homecomings, graduations, and any of the accomplishments students and alumni achieve throughout their lives.
FTD has lots more schools on the way too. Allow at least two days for delivery. You can order online at FTD.com or call 1-800-736-3383. Arrangements of 12 stem roses start at $79.95 and go up to 24 stem rose bouquet options.
It's the perfect way to show some spirit. Rah! Rah! Break!
– NJ, The Brunette