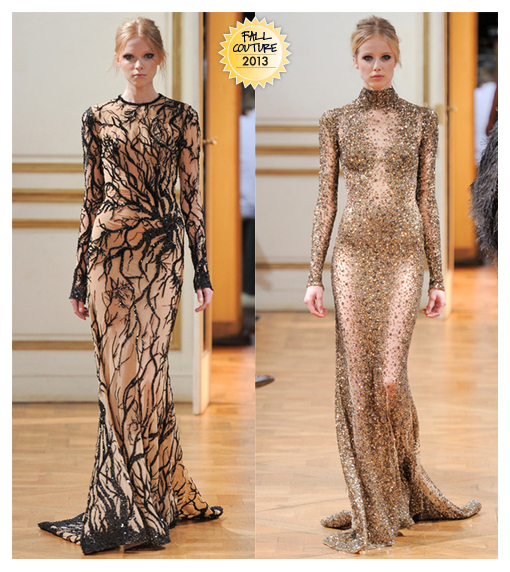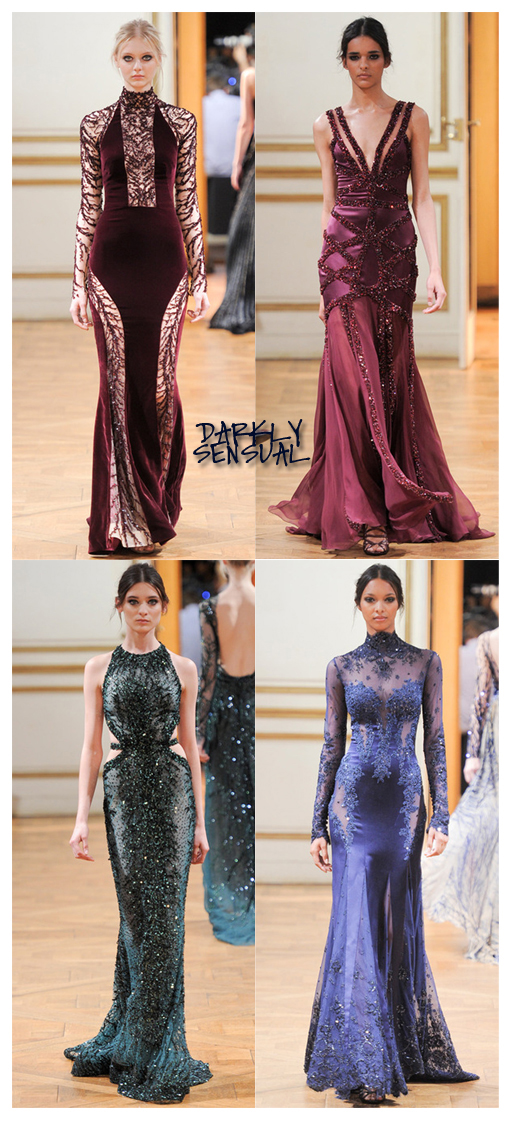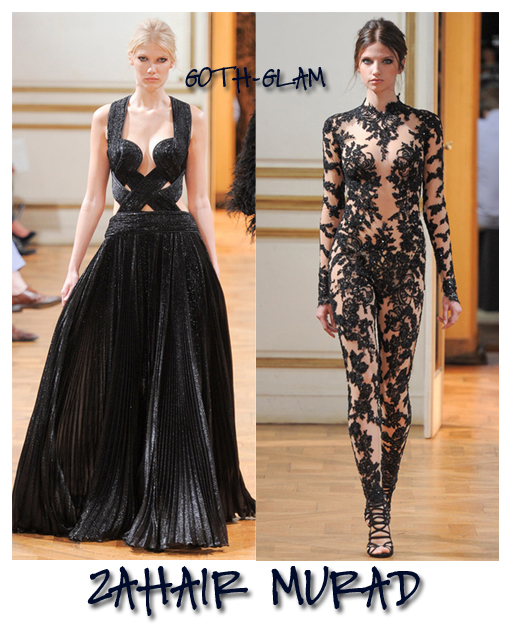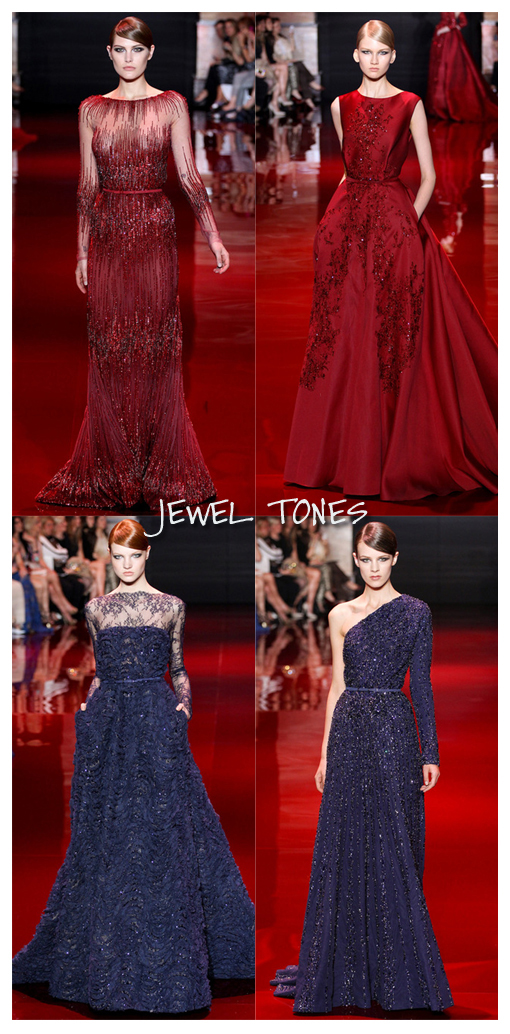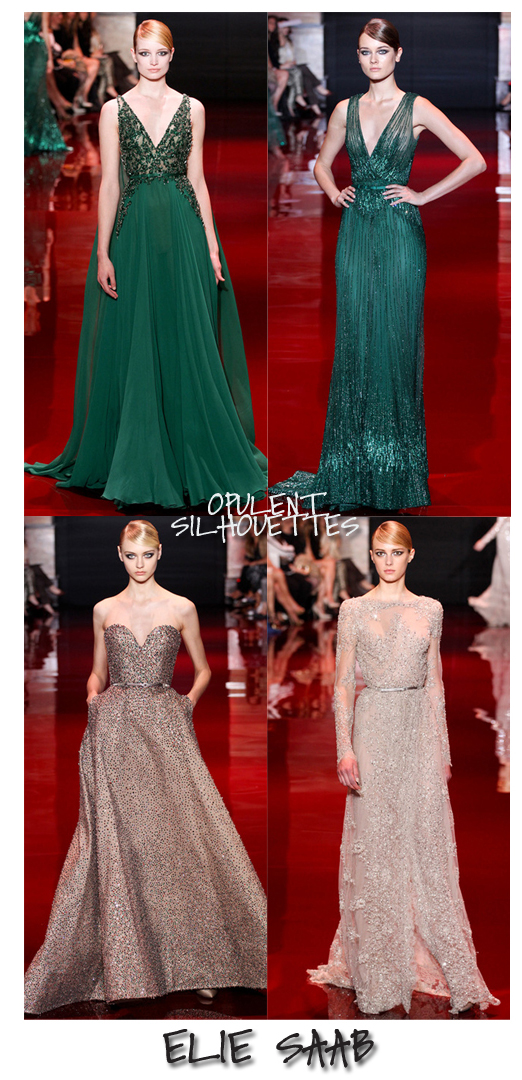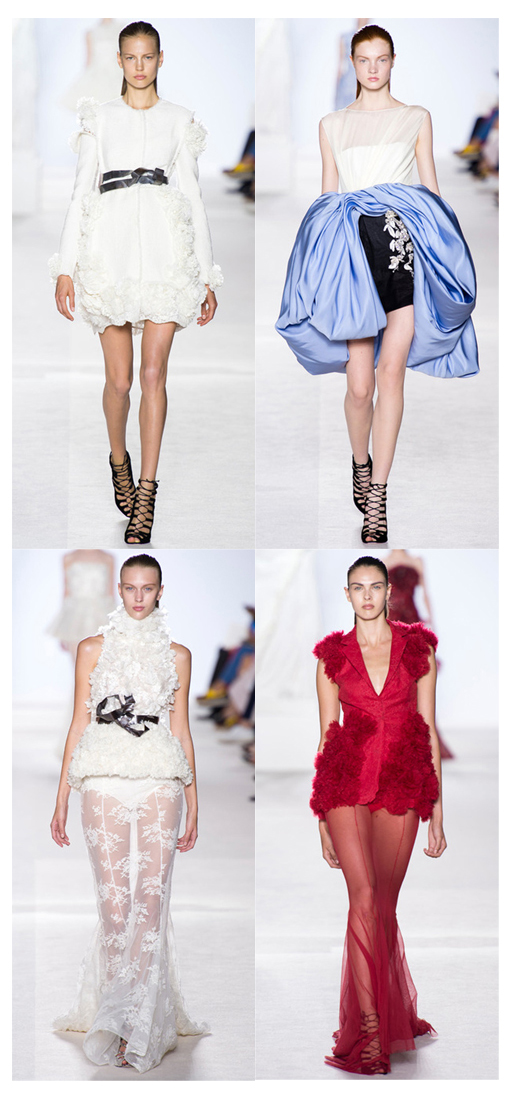 This is my favorite fashion game. Picking Red Carpet gowns from the couture collections that will be on loan for all the lucky Celebrity Cinderellas. This season it's the usual suspects; however we saw a bit more of goth-glam and a drop of risk-taking than usual. This is good news for actresses and their stylists who need to break thorough the crowded media gauntlet for "the look". As the ante is upped, it's not easy trying to generate world-wide publicity, tweets and unprecedented gown-manship. Think Gwyneth Paltrow in Antonio Berardi and Eva Longoria in her Cannes snafu. We're loving it. Lush tone-on-tone beading. See-through panels. Daring catsuits. High-low hemlines. Transparency. No underwear required!
We have a few predictions. We totally expect to see Kristen Stewart in something from Zahair Murad (she was front row at his Paris runway show) and it even seemed the hair and make-up was inspired by her distinctive look. Most likely he'll customize a few of the gowns just for her.
Next up. Elie Saab. The master of intricate tone on tone bejeweled opulent gowns, stayed within his comfort zone. Each gown, as always, a complicated work of art that is perfect for classic beauties, princesses and an occasional pop star. I'm thinking Jessica Chastain or Emma Stone in one of these looks; and, I can also picture Julianne Moore or even Taylor Swift turning up in one on a night when they want a more restrained look. Translation. No media backlash.
Finally, as we all know, celebrity stylists are also gobbling up lots of florals and colors these days. Want to get photographed, wear a color. Want to get photographed and talked about, add some drama. Giambattista Valli nailed it with trumpet skirts, sheers, intoxicating florettes and striking column silhouettes. Long legs required. Hmmm…Diane Kruger, Anne Hathaway, Jessica Biel and maybe even Rihanna.
One quick style tip. Complicated gown. Uncomplicated hair. Can't wait to see who wears what outfit to what event. Any guesses?
xo
NJ Goldston, The Brunette