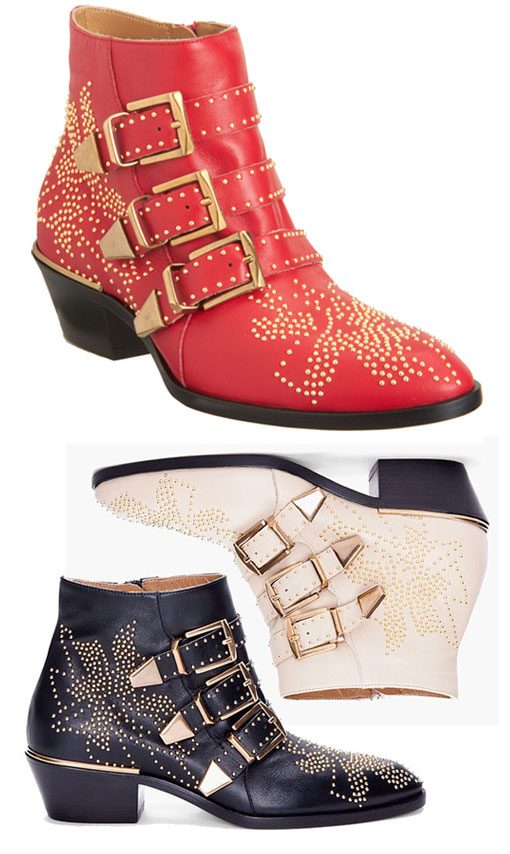 It's been four years since Chloe first released her 'Susan' Studded Ankle Boots back in 2008, and four years since I have been lusting over these beauties! I have never laid eyes on a more perfect pair of boots. Even though they cost more than most peoples monthly rent (me included) they sold out at a rapid pace back in 2008. Since then, Jeffrey Campbell along with various others have worked on mimicking the look for a more reasonable price. Pretty soon, even all of the knockoffs were sold out.
For a while, I would peruse the world of eBay late night, in hopes someone just miraculously decided to get rid of an old pair, but with no luck I eventually just stopped trying.
Until now! Just today, I found out that Chloe has reissued the boot. They are selling at various retail stores such as Saks (for pre-order) and Barneys, Polyvore and possibly more . Although this is still a "lust" item for my wallet, I can't help but be excited they are back! Hopefully they stay in stock longer than last time. With a bit of savings, I might just be able to gift my closet with a bright new pair of red booties! (A girl can dream right?!) I hear Kate Bosworth was so obsessed with hers, she wore them every chance she got. And we don't blame her!
If you happen to get your hands on a pair please send us photos! We would love to see what you pair them with!
Xx. Jadan