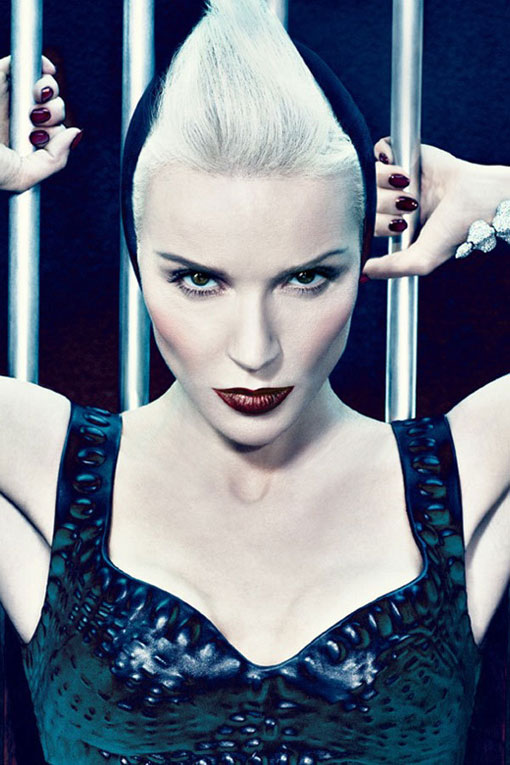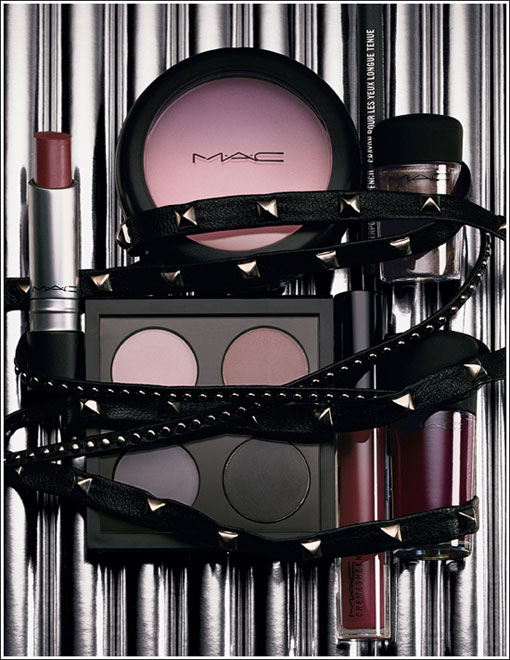 Here's a first look of MAC Cosmetics limited-edition winter 2011 makeup collection created by the multi-talented Daphne Guinness; heir to the Guinness fortune and maven of style, jewelry, art, and fashion. The new line includes eyeshadow palettes, fabulous lipsticks, and blusher in colors that are unusual, beautiful, and, (according to Stylelist.com) "creepy/awesome"!
Pro Longwear Lipcreme (Retail $17.00)
Approaching Storm Deep rose
Seasoned Plum Mid-tone lavender
Red Dwarf Blue pink
Warp Speed Light silver
Interior Life Eyeshadow Quad (Retail $38.00) in:
Stratus Light pink (Matte)
Interior Life Mid-tone gray blue (Pearl)
Bruised Sky Dark lavender gray (Satin)
Heather Belles Dark charcoal/carbon (Satin)
Nail Lacquer (Retail $15.00) in:
Endless Night Pale gray pink with iridescent pearl (Frost)
Hyperior Light gray blue-green (Frost)
Blueblood Deep eggplant (Creme)
Pigment (Retail $20.00) in:
Aurora Pinked taupe (Frost)
Nebula Dark grayed brown with pearl (Frost)
Circa Plum Frosty dirty mid-tone lavender (Frost)
Powerpoint Pencil (Retail $15.00) in:
Engraved Etched-on forever black
Grey Utility Uniform grey
Brow Pencil (Retail $15.00) in:
Fling Light taupe/ash blonde
Stud Deep rich blackened brown
Cremesheen Glass (Retail $18.50) in:
Japanese Spring Pale dirty pink
Narcissus Dirty eggplant
Borealis Pale gray pink with iridescent pearl
Richly Revered Deep brown plum
Blush Ombre (Retail $26.00) in:
Azalea Blossom Light cool pink
Vintage Grape Mid-tone violet pink
This limited edition collection will be available on December 26th, 2011 in North America and Worldwide in January 2012.