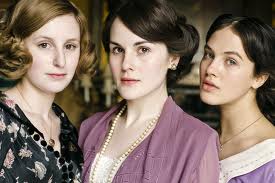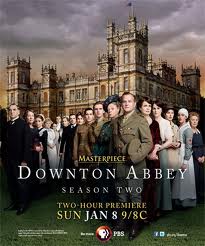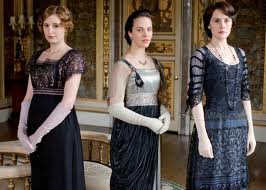 Just in case you missed Season One on PBS, it's not too late to become addicted to Downtown Abbey. Starting again tonight, with the two-hour premier of Season Two, it's a juicy British television period drama. Last season, set during the late Edwardian era, after Edward VII's death, the series originally kicked off with the news of the Titanic sinking. Cut to the fictional estate of Downton Abbey in North Yorkshire, a magnificent ensemble cast, and suddenly a wonderful British soap opera was launched in the best and most aristocratic sense. Season Two tackles The Great War, the dissolution between the upstairs and the downstairs class structure and the world in the grip of dark, trench warfare raging across Europe. Here's a quick glimpse of what to expect in case you tune in tonight.
Season Two picks up with Downton Abbey's Granthams and their family of servants having already weathered scoundrels, scandals, and a momentous succession crisis. But by November, 1916, the Great War has rendered everything — and everyone — changed. Even Downton Abbey itself, like its residents, has risen to the call of duty and transformed. So PBS, right?

At the war front, life intensifies for Downton's young men (and they are a handsome and fascinating group just like the trio of female stars) in the face of untold horrors. Meanwhile, at Downton, the war makes new and often unjust demands and the possibly doomed love between the beautiful Lady Mary and the dashing heir to Downtown Abbey, dramatically unfolds. With the magnificent Maggie Smith as Dowager Countess, some rise to the call for a stiff upper lip and helping the war effort and others see the war as an opportunity for either growth or exploitation. Far from the trenches, there remains no shortage of scheming, meddling, and dangerous attractions.
As so many other great houses crumble, a diminished Downton Abbey struggles to prevail as a new era dawns – hopefully with its residents and its honor intact. To get completely up to speed, watch Season 1 online at PBS and then start looking forward to Sunday nights at 9 PM. It's such a treat.
-NJ Goldston, The Brunette