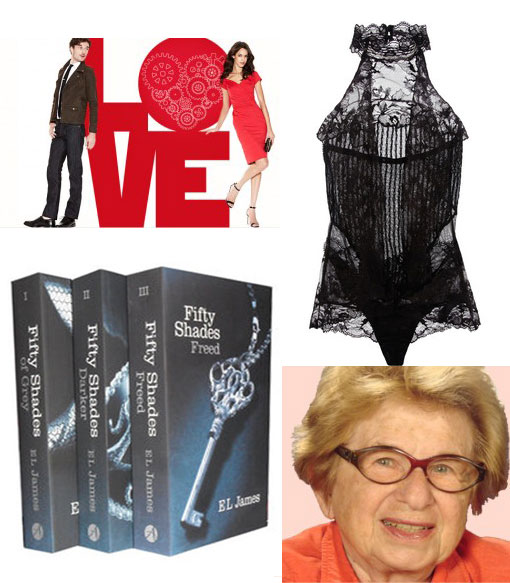 What do love, lingerie, 50 Shades of Grey and the absolutely hysterical Dr. Ruth have in common? Romance and your mind. You probably don't even know Dr. Ruth is one of America's most trusted names in relationship therapy. If not, you need to get acquainted with this 80+ year old no-nonsense psychological dynamo whose specialty is romance and sex. She was Dr. Phil way before Dr. Phil. Why are we bringing this up now? A lot of guys and some gals are "like why is Valentine's Day even important." Well, Dr. Ruth was recently asked the same question.
"Even though it is a very commercial day, I am all for it because I like people to say to their significant other that they are glad that they are in their life. It's a reminder not to take things for granted, an opportunity to say to someone: "I love you, I'm happy not to be alone. I'm happy to have you in my life."
You've got a few hours left to get your act together before the big day. So how do you spice it up and keep that love alive today and the rest of the year? Dr. Ruth breaks it down. Simple. Make some time for each other. Get your body and mind circulating with a little activity. She means things like go ice skating, take a run together, go for a walk. Just get moving.
Yes, ladies, go ahead, read Fifty Shades of Grey. Guys too. We need a bit of psychological stimulation and Dr. Ruth believes Christian Grey is so appealing because he actually understands what women want. Spice things up. Take out the lingerie but maybe have that close encounter before dinner so you can actually relax and enjoy the evening.
To do your own private research, Dr. Ruth has her own website and old clips of her show on YouTube, go to Amazon and buy the Fifty Trilogy and finally, depending on your style, Net-A-Porter has some stunning under garments or go for the pretty "So In Love" Bed Head pj's.
Love is in the air.
NJ, The Brunette