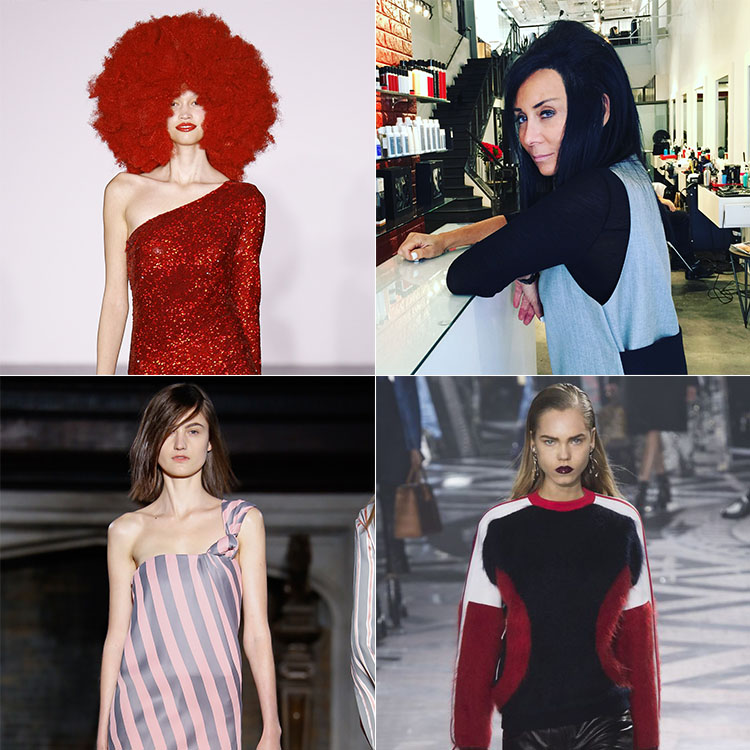 I've had a chance to absorb NYFW and I've got my fashion marching orders in my head. I am fully focused on sequins (and they are here through Spring 17), anything pink, the hotter than hot one-to-watch Monse line, my skin (and I'm finally giving away my skincare secret), and the pairing of red and black. Bright reds are also carrying through as an important color into the Spring 17 collections. Let's get started.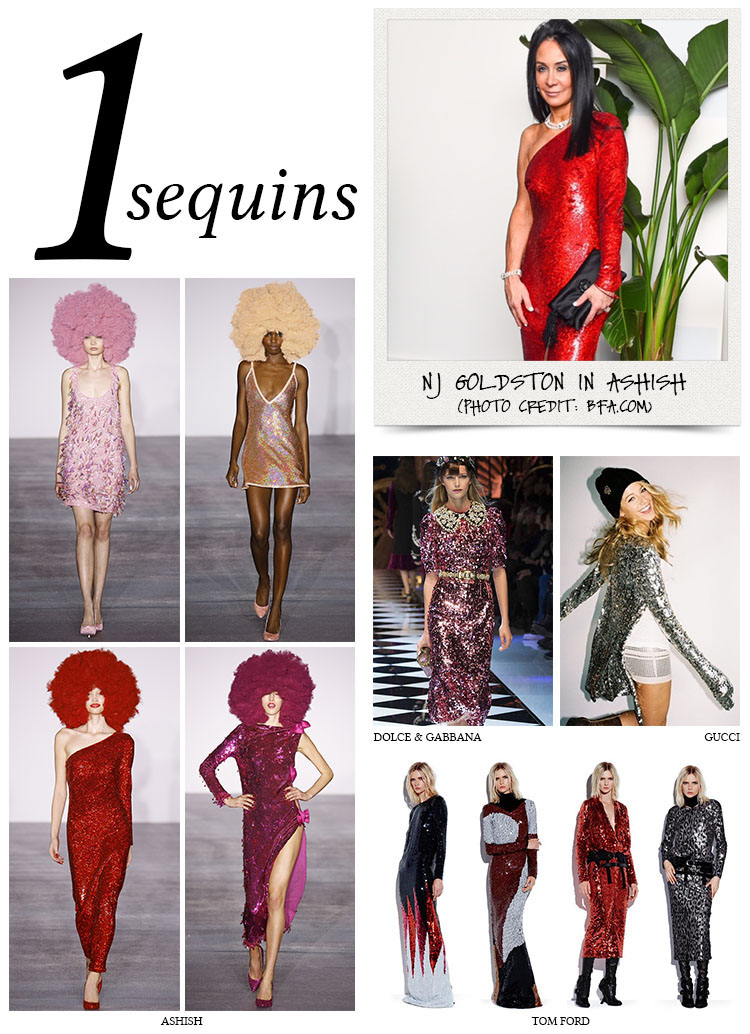 SEQUINS
Sequins are back with a vengeance. My fall calendar is starting to fill up (what fun!) and I am totally looking for anything shiny and sparkly that dazzles. If you don't know Ashish, the London-based designer, is the "King of Sequins." He uses high octane colors and makes denim sparkle too. I just wore his red off-the-shoulder dress (yes, I wore a color) to the Cartier packed to the gills Mansion Party in New York last week, and well, it was just purrfect. You won't be sorry as sequins are all over the runways (and the Red Carpet) for Spring 17 and the Tom Ford gowns from his runway show. If you're not convinced, one last thought. Stefano Gabbana says, "Today, every girl wants to be a princess." I'm in violent agreement.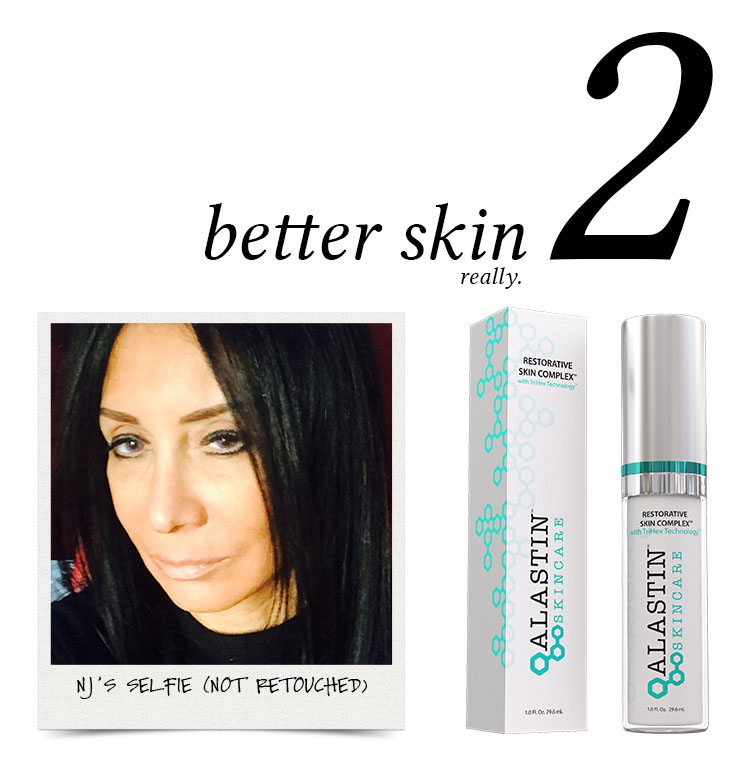 2. Better Skin. Really.
Everyone's always asking me about my skin. What do I do? How does it look so great? I haven't wanted to share my secret but I was honestly think it's about time. Don't be selfish. My crackerjack dermatologist had me go on the Alastin Skincare regimen with the Restorative Skin Complex. Say that three times very fast. There's so much hype about so many products but this is the real deal. I'm not going to give you a lot of technical mumbo jumbo. Bottom line it increases collagen & elastin (o.k. a little techie stuff) to restore your skin's strength and flexibility, gets rid of fine lines, wrinkles, and folds plus brightens your skin. I won't lie. It's very expensive (be prepared for sticker shock) and you have to stick to the twice day regime. Also, drum your fingers because it takes about three to four months to see results and then you're suddenly golden. Alasatin. $195/ounce.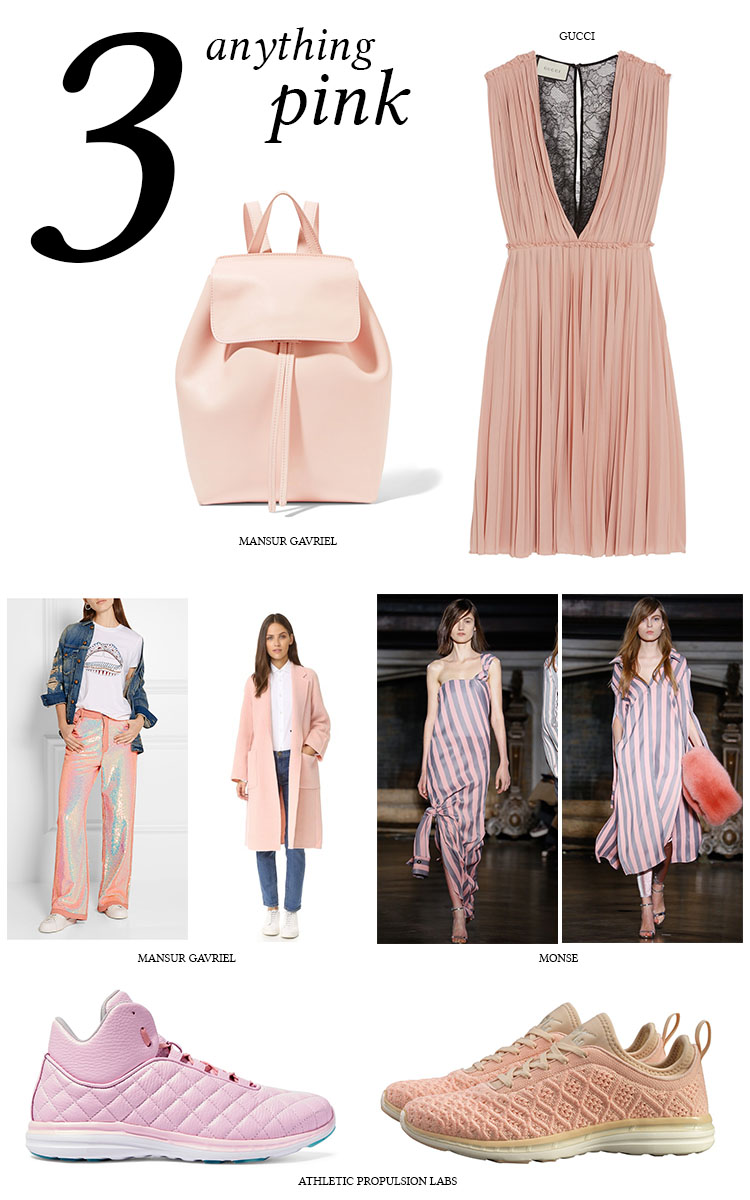 3. Anything Pink

Pinks just suddenly look so fresh for Fall and frankly they've been pretty hard to find but suddenly designers have all new shades. Soft. Feminine and ultimately alluring. New favorites include the Mansur Gavriel mini backpack, Ashish sequin jeans, a romantic cocktail dress, a pink overcoat and my current favorite is the Club Monaco Amelda Petal Pink Overcoat, and Athletic Propulsion Labs (APL) lux pink quilted handmade Lusso or their blush/cream TechLoom Phantom kicks. Perfect for the gym to the street.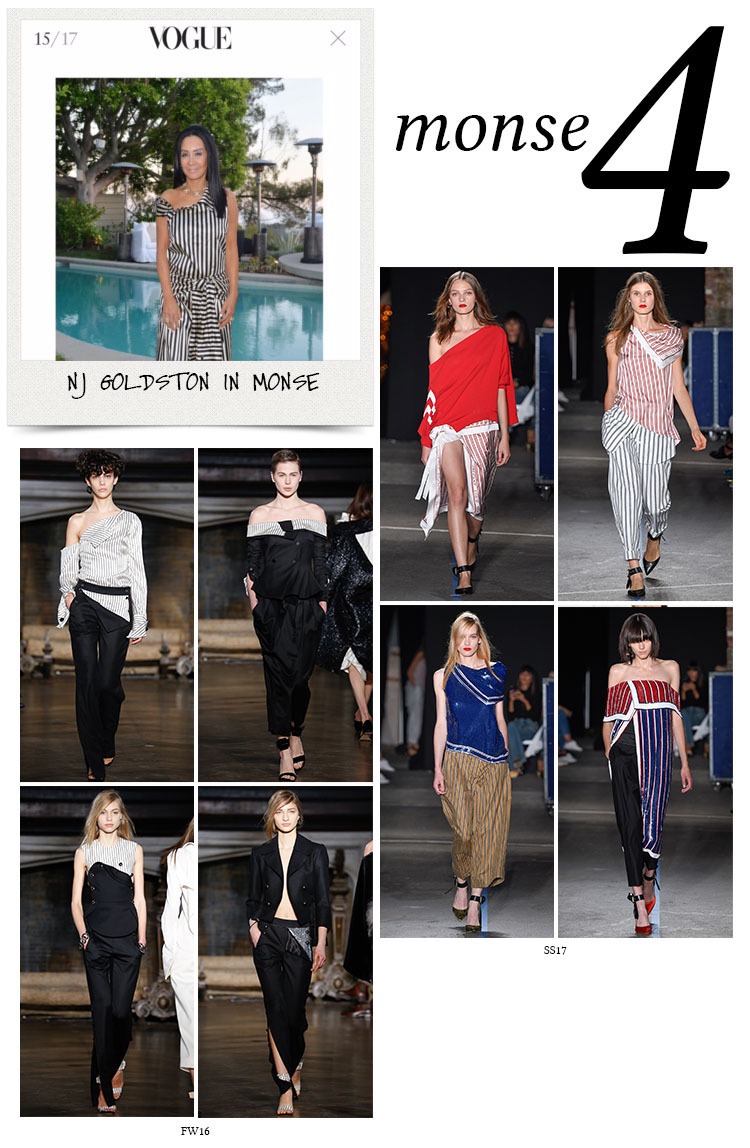 4. Monse
Let's just say I am completely and totally besotted by this line. Call me an early adapter and remember you're going to be in love with them as much as I am in no time. They upped their game for Spring 17. They're "blouse is enough approach" is what I've been saying for months. A great blouse makes everything work and so do great party clothes. I'm a sucker from them every time. This time round they upped their game with sequins and must-have day-wear.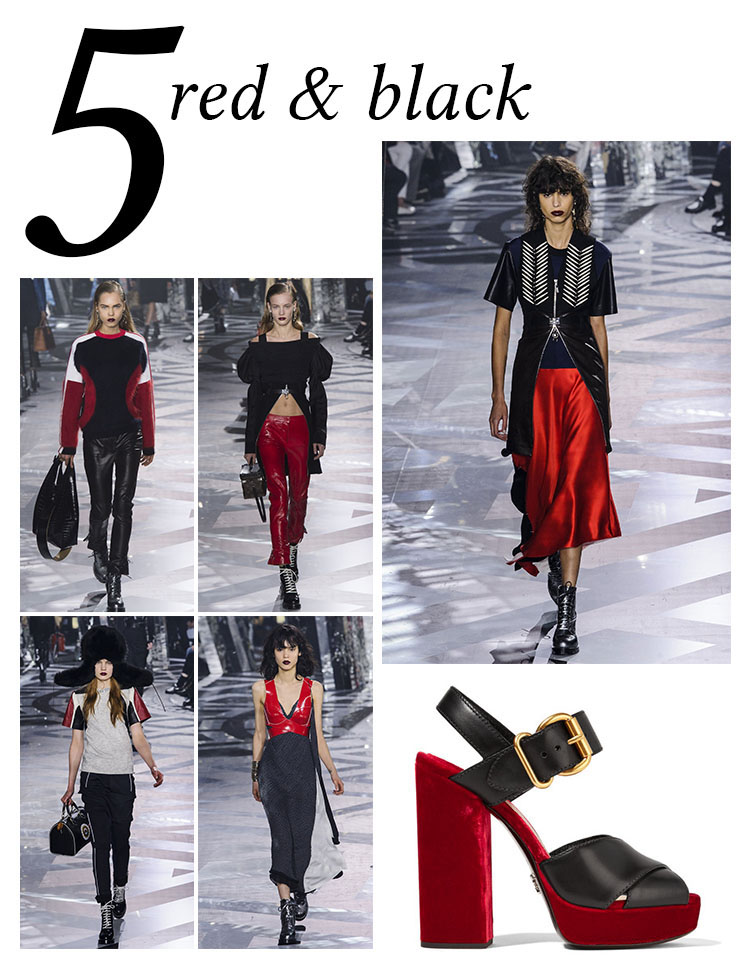 5. Red and Black
This classic is back and I am planning this look for the depth of winter. That pop of red is electric. It even carries over to spring as we saw bright reds in many of the runway collections. Even a red cashmere scarf or a bright red lipstick can add just the right amount of color. Louis Vuitton has some of the best looks but a pair of red J Brand jeans, or the Marc Jacobs platform boot make it all work.
xo
NJ Goldston, The Brunette